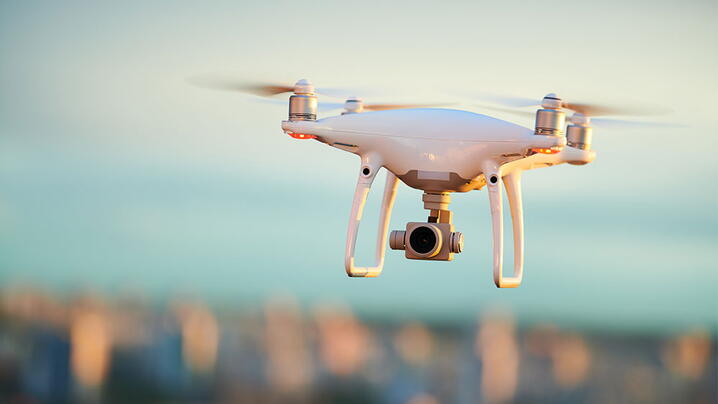 by Brian Aylward, association manager, Tyler Technologies
Cities and counties nationwide are delivering services, solving problems, and improving local government communities every day. How to do this in the context of reduced resources, political uncertainty, and an evolving workforce can be challenging. In addition, the public sector is inherently risk averse. Creating a culture and infrastructure able to keep pace with the digital world requires permission to innovate and think outside the box.
Smart, successful governments are using current technology to streamline operations, create efficiencies, and accelerate results with no additional resources. Here are some inspiring examples from peers who are reaping the benefits of innovative approaches to operations.
1. Using Drones to Increase Revenue
Horry County, South Carolina, is one of the fastest-growing counties in the nation and covers more miles than the entire state of Rhode Island. To effectively manage vast infrastructure on pace with rapid growth, the county creatively uses drones. Drones measure impervious surface data to calculate stormwater fees as soon as any new property project is complete, enabling immediate collection. The county anticipates a $300,000 ROI over three years from this drone use alone. Read more about Horry County.
2. Sharing Software with Other Municipalities
Lake County, Illinois, worked with its software vendor to create a contract for municipalities to purchase just the software licenses they need from the county. This provides municipalities with access to a state-of-the-art system without having to purchase it in its entirety. In addition, the county shares services in areas of overlap, such as inspections, to streamline workflows across the region, saving everyone time and money. Read more about Lake County.
3. Training Realtors on Public Portals
Onslow County, North Carolina, is experiencing rapid population growth and an associated need for new residents to find housing. The county is enhancing connections between homebuyers and realtors to make the process of finding and buying a home more efficient. To achieve this, the county is training realtors on how to use its public portal to access the information they need on their own, without having to submit requests and wait for responses. Read more about Onslow County.
4. Putting Data in the Hands of Those It Impacts Most
The city of Henderson, Nevada, made its data available not just to IT experts, but to all potential consumers of that data, including nontechnical staff and the public. The city uptrained staff to use data to make their own jobs easier and allowed public stakeholders to work with it. This has resulted in 17 custom-built, public-facing applications that received 4,600 views in one month alone. Internal applications collect, for example, GIS data from all departments for new, organization-wide use. Read more about Henderson, Nevada.
5. Increasing Citizen Engagement with Technology 
The city of Temecula, California, is creating strong connections between government and the residents it serves. It combines technology tools to increase public engagement. These tools include mobile apps, videos, television, social media, and internal transparency and accountability systems. This new level of connectedness increases resident education, participation, and communication with government, for example in reporting public works issues for faster resolution. Read more about Temecula, California.
Explore these successful innovations and others in more detail – and bring these ideas to your own organization – by visiting Stories to Inspire You to Love Your Local Gov.
New, Reduced Membership Dues
A new, reduced dues rate is available for CAOs/ACAOs, along with additional discounts for those in smaller communities, has been implemented. Learn more and be sure to join or renew today!