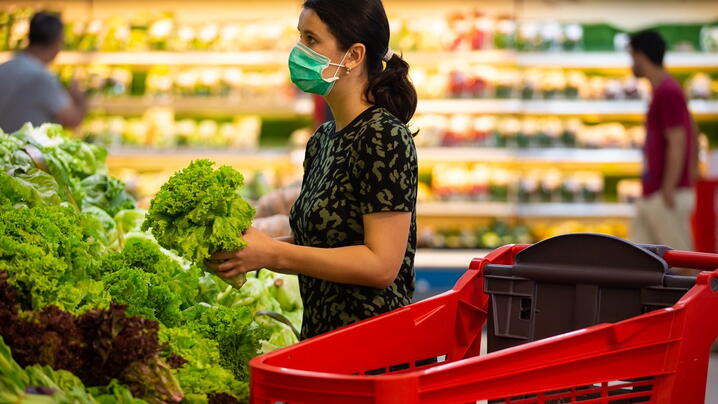 by Matt Zavadsky, MS-HSA, NREMT, chief strategic integration officer, MedStar and Tom Wieczorek, president, CPSM LLC
One of my favorite shows during this quarantine period has been "The Masked Singer."  The premise of the show is that famous people are disguised and perform a vocal arrangement each week. The panel of performers attempts to guess the identity of the singer (usually wrong) and each week the audience votes to unmask a performer. 
While the Masked Singer is whimsical and enjoyable, a more serious situation is facing not only the United States but also most countries. Citizens are being asked to wear masks when going outside their home, particularly when they enter grocery stores, dry goods centers, and other public places. The purposes of the masks are to create an additional layer to filter out temporarily airborne particles that contain the COVID-19 virus.  
Several states and communities across the country have passed ordinances or issued executive orders requiring the public wear face coverings. There is also an increase in people voluntarily wearing masks.   
Since the practice of wearing of face coverings varies and the laws and regulations can vary among jurisdictions, it can be confusing for the public.  It is helpful from an enforcement perspective to have consistent laws and regulatory practices.   
Requirements for mask use should be well communicated through the news media, social media, and even signboards to announce any requirements that are in place.  If local authorities do issue a mask requirement, a thoughtful decision needs to be made about the level of enforcement.  Some executive orders may not include any penalties per se, so a violation of such an order may not be consequential.  Generally, if the law requires individuals to wear masks in public places where it is difficult to social distance, it may be best to gently approach enforcement. 
In Fort Collins Colorado, both city and county officials have said the mask requirements are not about penalizing or shaming people. Individuals are not likely to be cited for violating the city requirement. 
Law enforcement challenges 
Law enforcement may receive calls about a person not wearing a required mask.  In responding to such calls, a good starting point is to explain the requirement for wearing the mask. Law enforcement should not assume the public knows the regulations for face coverings and can assist in that education.  Some agencies are distributing basic masks to individuals they encounter who are not wearing one.  If that strategy is adopted, be sure to have a sufficient supply available and refresh it before it is depleted.  
If masks are required, first responders should wear them, too.  The intent is to prevent people from spreading COVID-19, and that includes police officers, firefighters, paramedics, EMTs, and emergency call takers.  It not only protects them but sets an example in the community.  However, just as officers may be concerned about others wearing a mask, the public may have the same concerns as the police. When interacting with the public while wearing a mask, try to start your conversation by explaining, "I apologize for the mask, but I am wearing it for your safety and mine. Can you hear me ok?" This may be especially true when dealing with younger children who may be afraid, or the elderly or others who may not hear well. 
The stress of responding to mask complaints can be significant. As states have begun the phased approach to reopening, one of the flash points has been wearing masks. There have been several stories about customers entering stores without masks only to be confronted by private security. At least one instance in Michigan resulted in the loss of life, while others have led to other less lethal forms of violence. 
And in California, two men are facing felony battery charges after breaking the arm of a security team member inside a Target Store. Florida mayors have also been forced to close beaches that only recently reopened because people crowded together and ignored recommendations.
A recent case in Texas for which an opinion was released, stated that cities and counties cannot be more restrictive in their guidelines than that of the state. The Dallas County Judge (which in Texas is the county's emergency manager) was reprimanded by the Texas Attorney General for exceeding the guidelines issued by the governor. Cities and counties should issue unified guidance in concert with the governor's office to avoid being overruled. 
Examples
New York City: Governor Cuomo issued an Executive Order (EO) that mandates that anyone going out in public must wear a face mask, or cloth covering, when unable to stay six feet away from others.  This may be a reasonable balance for local communities to adopt.  There are currently no set penalties under the EO and the governor said he expects most New Yorkers to simply adhere to the order in an effort to stop the spread of the virus and that any potential penalties would be civil in nature, not civic, unless there is mass noncompliance to the order. 
California: Masks are now required in six Bay Area counties of Alameda, Contra Costa, Marin, San Francisco, San Mateo, and Sonoma.  Law enforcement officers could write tickets to people who are not wearing masks in public.  Masks are also required on mass transit.  BART's officers will not let people on the trains without a mask.  
Pennsylvania: Secretary of Health Dr. Rachel Levine issued an order that wearing a mask in an essential business is no longer a strong suggestion, it is now a requirement.  Now customers and workers must cover their faces at businesses like grocery stores and post offices.  Enforcement of the order is up to businesses to enforce the rule.  Stores can deny entry to people who do not have something to cover their face. 
References
Centers for Disease Control and Prevention. Recommendation regarding the use of cloth face coverings, especially in areas of significant community-based transmission, April 3, 2020. 
https://www.coloradoan.com/story/news/2020/05/08/fort-collins-coronavirus-mask-faq-how-enforcement-look-covid-questions/5176762002/ 
https://www.nbcdfw.com/news/coronavirus/dallas-county-posts-another-record-day-for-covid-19-cases-with-3-additional-deaths/2363034/ 
https://dailyvoice.com/new-york/northrockland/lifestyle/covid-19-heres-how-police-will-enforce-nys-mask-face-covering-order/786858/ 
https://abc7news.com/face-masks-bay-area-coronavirus-pandemic-requirement-covid-19/6122194/ 
https://kywnewsradio.radio.com/articles/news/pa-enforcing-face-mask-order-to-prevent-covid-19-spread 
https://www.cdc.gov/coronavirus/2019-ncov/community/guidance-law-enforcement.html 
New, Reduced Membership Dues
A new, reduced dues rate is available for CAOs/ACAOs, along with additional discounts for those in smaller communities, has been implemented. Learn more and be sure to join or renew today!