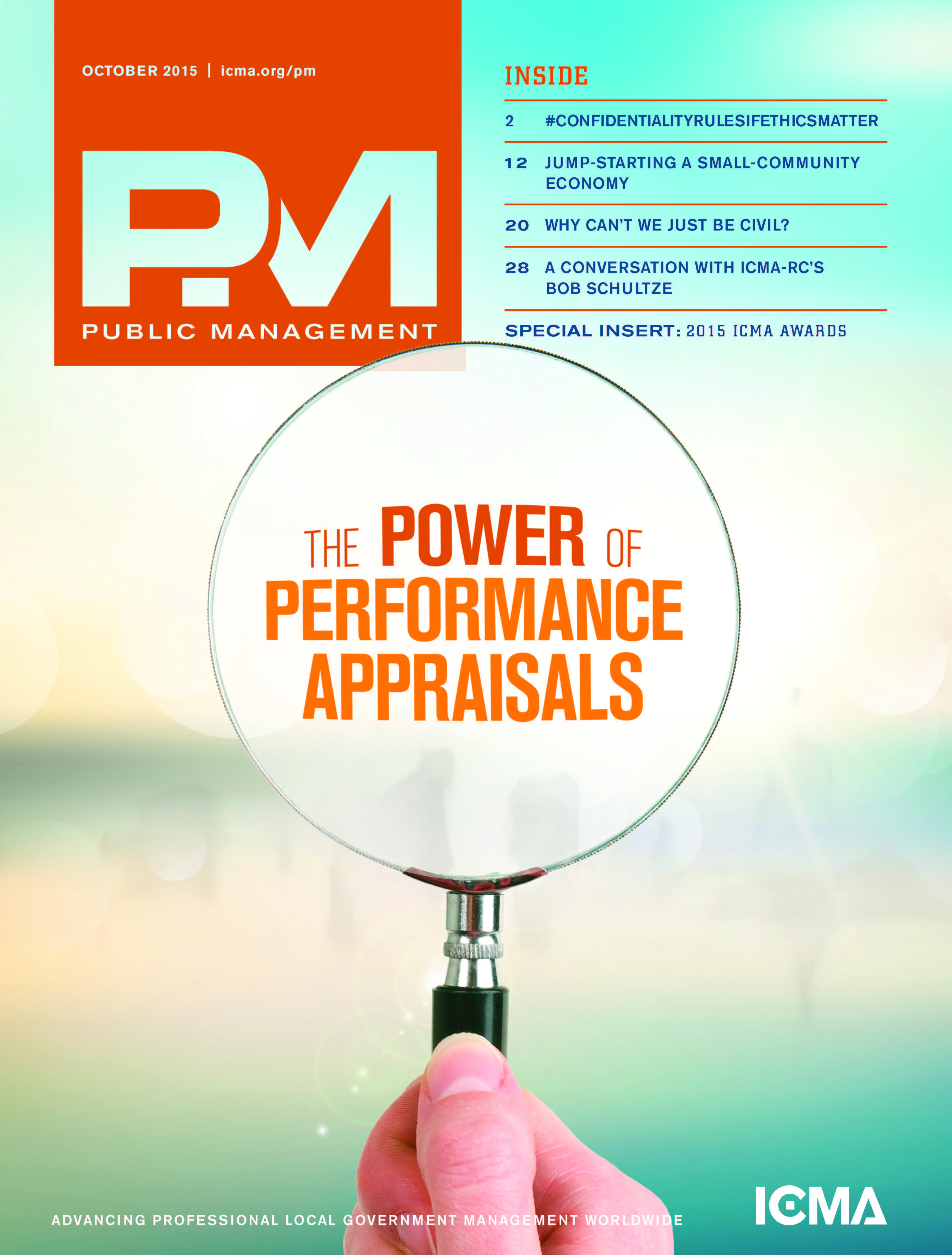 You might want to take five and read the October PM cover story "A Manager's Performance Appraisal: Prepare with Confidence." As author and management adviser Rick Dacri writes: "An evaluation of the manager—a process hated by most and ignored by others—should be an opportunity to both develop a manager's knowledge and move a community forward." His article includes sections on what makes a good evaluation process and what are the potential stumbling blocks.
Local governments with small populations are well-represented in the October issue. Any community struggling with economic development might want to know more about how City Manager Randall Wheeler helped orchestrate it in Poquoson, Virginia (12,048 population). His advice is always look forward, use talent in your organization to make things happen, and change strategies that aren't making things happen.
When City Manager Phillp Messina, Carnation, Washington (1,848 population, and yes, same state where ICMA's annual conference is being held in Seattle at the end of September!), was asked to talk with students at Oregon's Portland State University, he talked about what he loves most: local government management. His guidance for job seekers and those who work in public service urges students to do one thing in their careers: make a positive difference—to the people they work with, to the managers who hired them, and especially to the communities they serve.
Are you having problems with ill-mannered people in your organization? Interim City Administrator Mitchell Berg, Mahnomen, Minnesota, and Professor Craig Waldron, Hamline University, think managers can encourage courtesy and respect by considering a code of conduct. Read more to find out what other efforts can be made to tackle this real work–life issue.
ICMA members Charles Penny, Eileen Stein, Kevin Sweet, and Carina Walters share their tips on "meeting management" in the On Point question: What's It Like to Be in a Meeting Run by You? Meeting purpose and meeting rules are common policies found in their answers.
In this issue you can meet ICMA-RC's new President and CEO Bob Schultze, who answers questions on the challenges facing local governments and how RC is helping public sector employees with their retirement planning.
There are more articles in this issue that can meet the five-minute cap, including 10 straightforward leadership tips from author Joseph Gulfo. I love how he words this one: "Determine who is on the bus and who is off the bus, then close the door and drive." Also remember to check out the two PM online-only articles, one on what to use to understand a local government's annual budget process and another on conversation motivators to keep a job interview or difficult workplace discussion going.
Really, can you pack much more into five minutes?