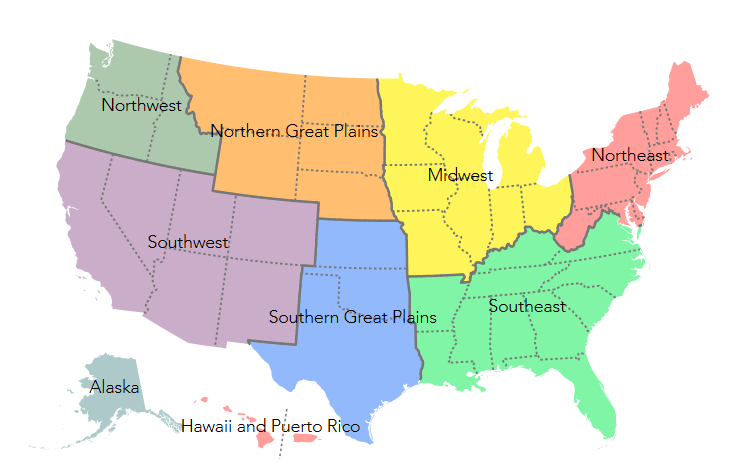 Today, the effects of climate change have become nearly impossible to ignore. From increasing wildfires in the West to increasing downpours in the North, and with thawing permafrost in Alaska plus rising sea levels in nearly all coastal regions – the effects of climate change are being felt throughout the United States. The U.S. energy infrastructure is especially vulnerable to climate-related impacts, which can pose a serious threat to America's national security, energy security, economic wellbeing, and quality of life.
According to a new report released by the Department of Energy, changes in climate create diverse challenges across the U.S. energy system. The report examines current and potential future impacts of a changing climate and extreme weather on the energy sector at the regional level. An overview of environmental conditions are provided for 9 regions covering the continental U.S. plus Alaska, Hawaii and Puerto Rico.  
While government, academia, and technical institutions continue to provide supporting research, data, and tools, energy system planners, owners, and operators are already identifying vulnerabilities, monitoring resources, investing in resilient technology, and planning for rapid recovery. Continued and expanded efforts by states, localities, and tribes will build regional energy resilience capabilities.
Smart decisions today will help to provide a robust and resilient energy system for tomorrow. Working together, the private and public sectors can make sure that the United States continues to deliver the reliable, affordable, and increasingly clean power and fuels required to maintain a healthy economy and comfortable standard of living.
Key takeaways from the report by region includes the following:
Oil and gas upstream operations are most vulnerable in the Southeast, Southern Great Plains, and Alaska.
Fuel transport in every region is vulnerable to a variety of climate impacts, including increasing heavy precipitation, heat waves, drought, hurricanes, and sea level rise-enhanced storm surge
Thermoelectric power generation is vulnerable to increasing temperatures and reduced water availability in most regions, particularly in the Midwest, Great Plains, and southern regions.
Electric grid operations and infrastructure in every region is vulnerable to a variety of climate impacts, including increasing temperatures, heavy rainfall events, wildfire, hurricanes, and storm surge.
You can access The Energy Department's full report, "Climate Change and the U.S. Energy Sector: Regional Vulnerabilities and Resilience Solutions" here. An interactive map can also be found here with a breakdown of climate change and the energy sector by region.
If you are interested in learning how your community can diversify your energy portfolio by harnessing solar energy, ICMA can help. Through the DOE-funded Solar Outreach Partnership, ICMA is offering complimentary workshops and technical assistance tailored to municipalities that are eager to advance their own clean energy future.
If you are already a solar leader, keep an eye out for the upcoming Solar Powering America by Recognizing Communities designation program!