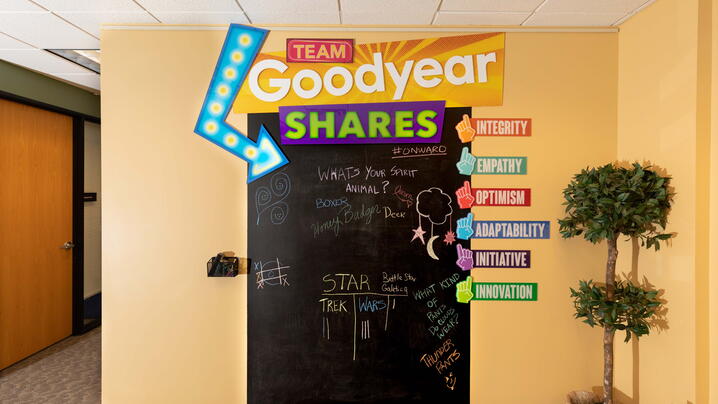 When was the last time you touched a piece of chalk? For those of us who can remember actually using chalkboards instead of computers at school, the last time we have probably touched a piece of chalk is during childhood. The feel of chalk on a board and the sound of an eraser that follows is unmistakable.
We're making new memories with chalk at the city of Goodyear. When you step off the elevator onto the second floor at city hall, you can't help but notice a giant chalkboard wall adorned with quirky questions, clever answers, jokes, a game or two of tic tac toe, and doodles. Framing it are colorful signs with the words "Team Goodyear Shares" and the city's six core values:
Integrity
Empathy
Optimism
Initiative
Adaptability
Innovation.
It's not something you'd expect to see in a government office, and that's exactly why we have added not one, but five, chalkboard walls in offices around the city.
Non-negotiable
The culture at the city of Goodyear is as special and unique as the public servants who serve the ninth fastest-growing community in the country. When I joined the city at the start of 2018 as city manager, I sensed immediately that Goodyear was special. Different. A blend of energy, motivation, and new ideas peppered with a hefty dose of genuine kindness and respect for one another. Everyone I spoke with said that one of the reasons they enjoyed working for the city is because it felt like working with family.
I knew that with the continued boom in growth that we needed to keep this family feel and the mixture of teamwork, dedication, and elbow grease. It was also imperative that, from the minute a potential new hire filled out an online application, they understood the city's core values are non-negotiable. Because they are.
Thus, we embarked on an intentional culture journey.
Earning Attention and Avoiding "HR Speak" 
The city's human resources (HR) team reintroduced the city's core values to all employees in 2018, spending 18 months focused on each core value in three-month blocks. We know from our biennial employee survey that city employees overwhelmingly prefer to get important news and information directly from their supervisors and department leaders, so we used a cascaded approach for the rollout. As the city manager, I introduced each core value to the organization, then department directors took the lead with their teams to ensure all employees had access to the same information at the same time. HR created branded tools and resources, which included custom presentations with detailed speaker notes and relevant videos. These videos were complemented with supporting collateral to help lead team discussions and activities over each three-month time frame.
When we first began our journey to focus on our core values, we wanted to make sure employees didn't see it as temporary, or a feel-good marketing campaign. By rewarding and recognizing employees who demonstrated our values, staff began to realize it was legit–and wasn't going anywhere. And, in the spirit of innovation and customer service, the team encouraged department leaders to add the core values focus to already-existing meetings. Instead of one more thing to do, our core values focus became a part of what we already do. It's been three years since we launched our first core value, and I'm happy to say that our core values continue to be the guiding principles here at the city. We have moved the needle on employee satisfaction since we started, and 96% of city employees recently said in a survey that they like working for the city. We hope and anticipate those numbers will keep on rising.
Celebrating Achievements
I firmly believe that in focusing on our core values as a city, Team Goodyear will maintain its family feel and provide exceptional customer service internally to each other and externally to our growing community. If I were to offer advice to others, it would be to only move forward when you're fully committed to the process. It can't be a "when we have time" or "only when times are good" effort. To be successful, it needs to be an organizational and leadership commitment of time, energy, and resources. And don't forget to celebrate and have fun along this incredible journey!
At the city of Goodyear, we often say, "We care. We achieve. We celebrate." This applies to achievements, both big and small. Achievements that are sometimes born from something as small as thoughts on a chalk wall, and the inspiration–and dare I say fun–it can bring each day.
---
Subscribe to ICMA's new podcast, Voices in Local Government for an upcoming episode on "Building a One-Team Identity", with Tallahassee, Florida city manager, Reese Goad and three department leaders.
New, Reduced Membership Dues
A new, reduced dues rate is available for CAOs/ACAOs, along with additional discounts for those in smaller communities, has been implemented. Learn more and be sure to join or renew today!