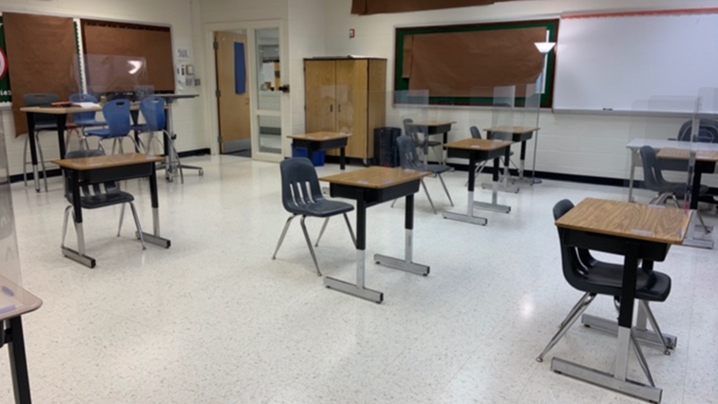 By: Pooja Di Giovanna, assistant director, Davenport Institute for Public Engagement and Civic Leadership, and Abigail Scott, graduate research assistant, Davenport Institute for Public Engagement and Civic Leadership
This spring marks just over one year since the onset of the COVID-19 pandemic and the transition of every industry to a digital work environment. It is no secret that this shift was difficult, particularly on schools and the education system.   With no idea of when schools would reopen, educators across the country shifted their lesson plans online and grappled with the digital divide.
Local school boards quickly stepped up to help their local school districts by providing access to technology, Wi-Fi networks, and other resources. Now, the challenge facing local school districts is reopening schools for in-person learning while ensuring safety.  This challenge has created space for creative innovation on the part of school districts and communities alike.
In California, there has been a shift toward community education "pods." One student parent is leading these efforts, made possible by her affiliation with the Orange County Educational Advancement Network (OCEAN): a consortium encompassing local K–12 schools, various nonprofits, and UC Irvine. The idea behind this model is to connect small groups of students with undergraduate "fellows" who can provide academic support and facilitate community building.
The San Francisco Unified School District has been busy gathering tree stumps to provide an environment for outdoor learning. This district is the seventh largest school district in California, educating over 57,000 students every year. "We're trying to help schools think about outdoor learning as the new plan A," said Sharon Danks, executive director of Green Schoolyards America. This provides maximum flexibility and is made possible from widespread community buy-in. For instance, local lumber companies provided stumps for students' seating while families donated outdoor gear.
In Texas, the Austin Independent School District was recognized by the National COVID-19 Outdoor Learning Initiative for innovative instructional delivery, such as using green schoolyards and parks, as well as moving desks under pop-up tents. This district is growing and serves approximately 80,000 diverse students. The initiative was made possible by incorporating outdoor learning strategies into district-wide professional development.
In New York, Essex Street Academy transformed the school building's outdoor roof into a socially distant learning environment. Going far beyond the tradition of online instruction, Essex Street Academy has made it a priority to highlight the importance of using resources within the community that often go overlooked, such as something as simple as a rooftop.
These creative solutions would not be possible without community engagement. Many school districts have embraced the need to be flexible, creative, and student-centered in their approach to reopening.  As the stories across California and Texas demonstrate, the most powerful resources for reopening schools can be found within the community, whether that be community members or the nearby environment itself.
The federal funding that will soon make its way to America's cities presents local management with an incredible opportunity to set their communities on a path toward economic recovery and prosperity. As local school district leaders evaluate the most pressing needs of their community, the importance of responsive—and responsible—fiscal decision making has never been more evident.
New, Reduced Membership Dues
A new, reduced dues rate is available for CAOs/ACAOs, along with additional discounts for those in smaller communities, has been implemented. Learn more and be sure to join or renew today!