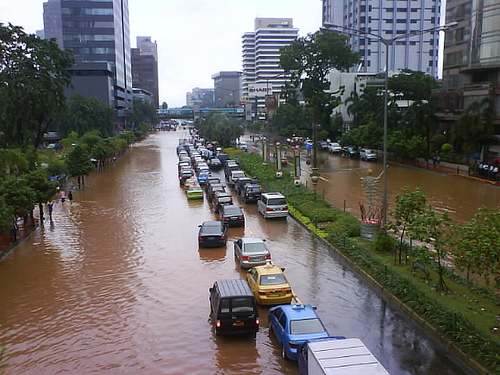 With more than 50 percent of the approximately 600 million people of ASEAN now living in cities, new climate-related risks, including extreme precipitation, heat events, and sea-level rise, are forcing more adaptive approaches to urban development. As a result, city practitioners across Southeast Asia are designing and building more resilient, ecologically integrated urban infrastructure, engaging their populations in inclusive decision-making, and collaborating across jurisdictions. CityLinks will assist these cities by hosting a Climate Leadership Academy (CLA) on Urban Adaptation in Jakarta, Indonesia from August 13-15, 2013. The workshop will provide a unique training and peer-learning opportunity for Southeast Asian government officials focusing on managing the social, political, environmental, and financial risks of urban infrastructure.
Together, the CityLinks team and the Association of Southeast Asian Nations Working Group on Environmentally-Sustainable Cities (AWGESC) recently chose the following cities to participate in the CLA:
Phnom Penh, Cambodia;
Palembang, Indonesia;
Paksane, Lao PDR;
Kuantan, Malaysia;
Legazpi, Philippines;
Chiang Rai, Thailand; and
Ho Chi Minh City, Vietnam.
Each city will send 5 representatives to Jakarta to participate in the CLA, which will be co-facilitated by the International City/County Management Association (ICMA) and the Institute for Sustainable Communities (ISC). The Leadership Academy will allow participants to collaborate with, learn from, and share best practices with peers throughout the region facing similar challenges. Throughout the week, participants will attend panel discussions and small-group working sessions focused on key challenges such as financing climate adaptation, developing and implementing climate adaptation strategies, and linking national and subnational climate action plans.
In preparation for the CLA, CityLinks will also host its second FREE webinar, "From Risk Barriers to Results: Managing the Social, Political, Environmental, and Financial Risks of Urban Infrastructure for Climate Adaptation" on July 16, 2013 at 10 pm EST. Presenters include Phong Tran, a Technical Lead from the Institute for Social and Environmental Transition (Vietnam), Baguio City's Environment Officer Cordelia Lacsamana (Philippines), and Sanjib Kumar Saha, a Response/Adaptation Management Analyst for the United Nations Development Programme in Bangladesh. Spots are limited, so don't forget to register!
To learn more about CityLinks, visit our website, follow us on Twitter at @ICMACityLinks, and join our climate change discussion in the Climate Preparedness, Adaptation, and Resilience group on the Knowledge Network. Please visit ICMA International's site for additional information ICMA's other global projects.