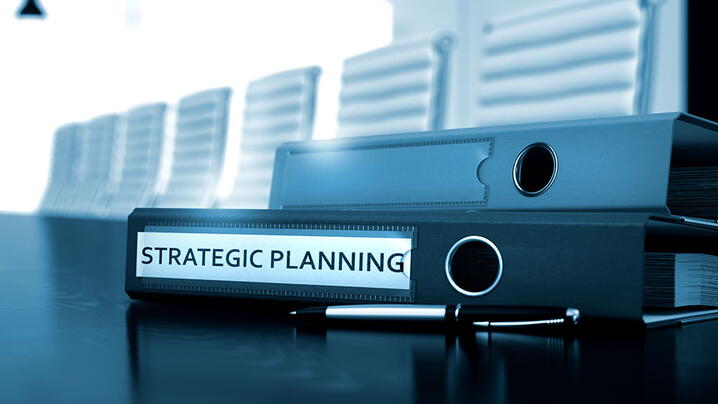 Many of us are familiar with the process of strategic planning for our organizations.  These plans provide the identification of a desired future state/vision and goals and action steps to bridge the gap from where the organization is presently and provide tangible, actionable, and measurable steps to lead forward toward the desired vision.  Many local governments utilize strategic plans to guide business operations, and the practice is widely accepted as an organizational leading practice for high-performing organizations.
So, if strategic plans are so great for our local government organizations, why don't we use the skills we have developed through implementing them in the workplace to identify our desired future and the goals and action steps necessary to achieve what we really want for ourselves?
Define It
Janice B. Gordon is a business growth expert, speaker, author, consultant, mentor, and a proponent of personal strategic planning.  In her article, "How a Personal Strategic Plan Helps You Achieve Life's Important Success Goals," she defines personal strategic planning as "a disciplined thought process which creates important decision and actions that shape what is truly important to you, because of who you are and what you uniquely do and guides how, when and why you do it."  She identifies the benefits of personal strategic planning as: 
Gaining clarity of your core values, beliefs, and aspirations.
Focusing your energies on what is most important to you.
Creating balance and freedom and reducing uncertainty, anxiety, doubt, and fear.
Creating personal well-being by gaining more from your life choices.
Develop It
In a recent ICMA Coaching Program webinar, the topic of personal strategic planning was discussed by three local government professionals and ICMA members—Jake Johansson, city manager, Port Orange, Florida; Susan Barbee, HR director, Leland, North Carolina; and Dallin Kimble, county administrative officer, Mariposa County, California—all of whom have personal experience and success with personal strategic plans. The panelists shared some great advice for local government professionals on this important topic, including:
Local government professionals who are interested in developing a personal strategic plan are encouraged to develop and maintain a "teachable mindset."  This includes being open to new ideas and feedback from others and including that information as part of your strategic plan utilizing that information to "grow forward" in their personal and professional lives.
Much like your organizational strategic plan, the major components of a personal strategic plan should include:

Vision.
Goals (be sure to make them SMART—specific, measurable, attainable, realistic, and timely).
Strategies/Objectives.
Actions.
Timeline.

Prior to building your personal strategic plan, be sure to do an "environmental scan" where you check in with your current situation in life (where are you in your life, career, family life cycle?)  This is where you can conduct a personal SWOT analysis and be sure to include your personal life, not just your work.  And do not forget about truly understanding your core values in any personal assessment.
With the assistance of family, friends, coaches, and mentors to develop a personal vision statement that identifies where you would like to be in at various points in your life, both personally and professionally.   From there, you can begin to develop those goals, strategies, actions, and timelines necessary to achieve your personal vision.  Be sure to include those important people as part of your plan where appropriate. . .especially your family.
Track the accomplishment of your goals and strategies and make efforts to meet the timelines you have established for yourself.  Measuring your progress and taking appropriate actions to update/modify goals is important to your personal plan just as they are to an organizational strategic plan.    Of course, you can also modify your vision as changes in life and career come about.  Just remember that it is important to have a vision of where you want to be, regardless of how often that vision may be adjusted to address the realities of life. 
Keep your eye on your personal vision and live your life with purpose.
Write It Down
Despite the many benefits of personal strategic plans, Gordon cites research from Dr. Gail Matthews of Dominican University's Department of Psychology that found that people are 42% more likely to achieve their aspirations just by writing them down.  Further, 70% of people reported goal achievement by sending updates to a friend, compared to 35% who did not. 
Unfortunately, in our busy work and personal lives, many people do not take the time to create a plan or even to write down their personal or professional goals. Even fewer people share their aspirations with friends or family.  Instead, we tend to work hard every day on short-term accomplishments and wonder why we do not make progress on the longer-term aspirations or those things that are important to us.
Local government managers who are interested in this concept are reminded of a very appropriate quote from Abraham Lincoln who said, "If we could first know where we are and where we are going, we could then better judge what to do and how to do it." 
Sounds great, right?  So, what is holding you back from creating your personal strategic plan?
The 90-minute webinar on Charting Your Future:  Developing Your Personal Strategic Plan is available on-demand, and learn more about ICMA's Coaching Program.
New, Reduced Membership Dues
A new, reduced dues rate is available for CAOs/ACAOs, along with additional discounts for those in smaller communities, has been implemented. Learn more and be sure to join or renew today!