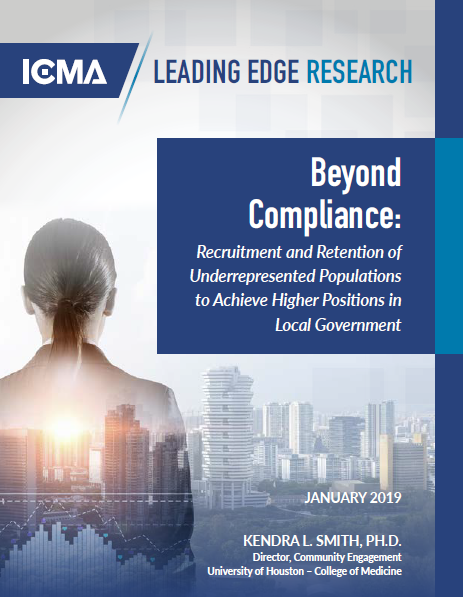 While underrepresented populations do exist in our local jurisdictions, there is optimism around local governments becoming more proactive and inclusive. And there is hope that local governments will create substantive programs that recruit, hire, and retain underrepresented populations into their ranks.
In this Leading Edge Research report, Kendra L. Smith, Ph.D., director of community engagement for the University of Houston - College of Medicine, highlights local governments that excel in increasing diversity and fostering inclusiveness. The report offers new findings and recommendations that can help local leaders in building programs that go beyond compliance and create hiring and retention processes that are robust and equitable and that secure the best candidates possible.

Expert Insight - Kendra L. Smith, Ph.D.

"When the local government workforce does not reflect the makeup of the community, it affects how welcome some residents feel in participating in and trusting the governmental process; it can squelch civic involvement and maintain a status quo that does not work for the community." 

 
Attend this Webinar on March 26, 2019
Interest, Confidence, Risk, Reward: Getting More Women Into
Local Government Management Positions
Join ICMA, the League of Women in Government, the Michigan Municipal League, and the University of North Carolina, Chapel Hill for a webinar on women in local government management, reporting on new research, new professional development models, and more barrier-breaking ideas. We will be discussing recent member survey data on career goals, the 16/50 Project from the Michigan Municipal League, ICMA's new research paper on Near the Top with UNC, and plans for the new partnership between ICMA and the League of Women in Government. #SheLeadsGov!
Registration is complimentary for League, ICMA, and MML members.