For over 10 years, ICMA has worked with a variety of different partners to help make solar energy adoption easier and more affordable for local governments across the United States.
Most recently, to assist more local governments in achieving their large-scale goals, ICMA has partnered with the American Planning Association (APA) on Solar@Scale, a new U.S. Department of Energy–funded project to help cities, counties, and special districts understand and realize the potential benefits of large-scale solar development. The project will provide resources to help local governments create catalytic impact in communities of all sizes across the United States with scalable procedures and tools for the efficient implementation of large-scale solar energy facilities.
Solar@Scale is convening public and private stakeholders to assist in developing a comprehensive large-scale solar guidebook. This guide will help planners and local officials take advantage of opportunities to site solar projects on public lands and to update plans, zoning regulations, development review procedures, and assistance programs to make context-sensitive, large-scale solar development on private sites easier. Beginning in 2021, the guide will be shared through trainings, workshops, webinars, and conference sessions for years to come.
While technological developments have dramatically reduced the cost of installing solar photovoltaic systems in the United States, soft costs or "nonhardware costs," such as permitting, inspection, interconnection to the electric grid, and customer acquisition, still represent significant financial barriers to the growth of the solar market.1 Differences in permitting and regulatory procedures, for example, can result in price differences from $3,200 to $4,700 for a typical residential solar installation. By taking steps to reduce these soft costs, municipalities can help homeowners, installers, and even their own local government save money.2
In order to better understand and address how local governments can take action to reduce soft costs, ICMA launched the Solar Outreach Partnership in 2010. Funded by the U.S. Department of Energy and managed by ICMA from 2010 to 2016, the project sought to increase the use of solar technologies and lower the cost of solar power by sharing best practices among local governments, funding research and development, and reducing common barriers to solar energy adoption. As part of the project, the ICMA team developed and distributed a guidebook and implemented national and regional workshops designed to help local governments overcome barriers to solar development in their communities that reached over 2,300 local government professionals. To analyze changes in the priorities and activities of local governments relating to solar, ICMA conducted surveys of communities across the United States in 20103 and 2016.4 Based on these survey data, ICMA identified significant growth in local government engagement with solar.5
SolSmart
In 2015, in an effort to build on these promising signs of growth in the solar market, ICMA, in partnership with The Solar Foundation, launched SolSmart, a national designation and technical assistance program funded by the U.S. Department of Energy that assists local governments in their efforts to reduce barriers to the adoption of solar energy systems. SolSmart provides no-cost technical assistance to local governments working to improve solar energy market conditions. As of November 2020, nearly 91 million U.S. residents live in a SolSmart community. More than 380 city, county, and regional organizations nationwide have been awarded SolSmart designation in recognition of their efforts to make it easier and more affordable for residents and businesses to install solar energy systems.
In addition to addressing soft cost barriers to solar through SolSmart and the Solar Outreach Partnership, ICMA aims to expand solar access to underserved segments of the market, specifically low- and moderate-income (LMI) households. To that end, ICMA supported the Department of Energy's Solar Energy Technologies Office by managing and administering the Solar In Your Community Challenge, a $5 million prize competition. The challenge was designed to incentivize the development of new approaches to increase the affordability of electricity while expanding solar adoption across America through grant cash prizes and services in the form of seed prizes, final prizes, coaches, general consultants, and expert technical assistance services.
The Grand Prize of $500,000 was awarded to The Care Project, created by the Denver Housing Authority (DHA), who developed, owned, and operated offsite solar arrays to power DHA's multifamily affordable housing buildings. As the guarantor of the power purchase agreement, DHA was able to ease financiers' potential concerns about lending to projects comprised of LMI households. DHA worked with Xcel Energy, the local utility, to develop the projects and apply the savings to the energy bills of LMI residents in DHA's buildings.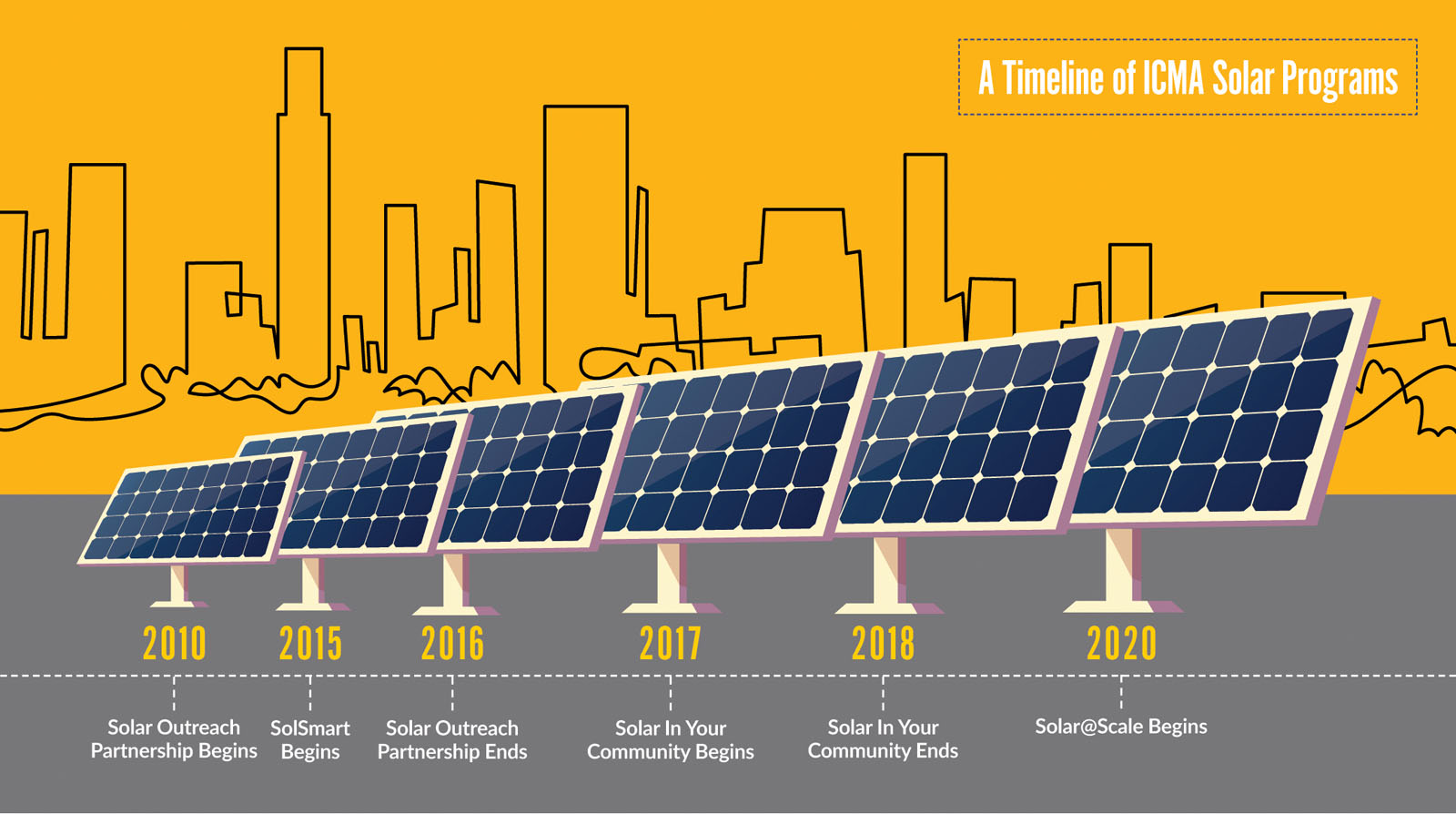 Ypsilanti, Michigan
Much like Denver, the city of Ypsilanti has also capitalized on services that ICMA offers to help local governments pursue their solar energy goals. Over the past 15 years, Ypsilanti, Michigan (pop. 20,995), experienced tremendous growth, from producing zero megawatts (MW) of solar power to producing 1.38 MW—enough to power over 210 homes.6 How did this happen? According to City Manager Frances McMullan, "It all started with a local resident, Dave Strenski, who had a passion for implementing solar power in Ypsilanti." In 2005, a volunteer grassroots initiative called SolarYpsi, led by Strenski, installed a four-panel solar array on the roof of the Ypsilanti Food Cooperative. Since that project, the group of volunteers utilized grant funding and innovative thinking to advance the use of solar energy in the community. In 2013, the city of Ypsilanti adopted a resolution to install 1,000 solar rooftops by 2020. City officials even collaborated with SolarYpsi to install panels atop the municipality's city hall. Today, the city stands among the top 20 municipalities nationwide for solar power production on a watts-per-capita basis, alongside the likes of San Francisco, Austin, and Hartford. "Our success has come from a 'stop talking and just do it' attitude," said McMullan. That decisive attitude has been bolstered by the city's effort to reduce soft costs of solar installation by streamlining the permitting and inspection process through the SolSmart program.
In 2017, the city received Gold designation from SolSmart Since designation, Ypsilanti has continued to learn more about how permitting can be improved. According to Strenski, "One lesson we're experiencing now is tracking data for the 70+ solar installations in the city. We should have changed the permitting process for solar to record and track total system wattage, panel wattage, panel and inverter type, and a few other details."
Local governments are not limited to demonstrating support for the residential rooftop solar market. As costs for utility scale solar have declined, large-scale solar projects have experienced a new surge in market share. In 2012, with the assistance of SolarYpsi and the Highland Cemetery Association, the city of Ypsilanti worked to build a 844-kilowatt array consisting of 2,520 panels in unused cemetery space, enough to power over 130 homes.7 Understanding these market drivers ultimately helps communities make informed decisions in evaluating renewable energy proposals and crafting plans about how future development could happen.
Edina, Minnesota
The city of Edina, Minnesota, is a prime example of how a local government can use that understanding of market drivers to develop innovative large-scale solar proposals that meet their community's energy needs. In 2015, in response to calls from city residents for a more environmentally friendly city, Edina's Energy and Environment Commission proposed to establish a subscription-based community solar garden. The solar garden accomplished financing by committing 68 households to subscribe for 25 years. The community solar garden serves households at any income level thanks to a collaboration that included Cooperative Energy Futures, a local solar developer that served Edina's Community Garden beneficiaries with power at a rate lower than traditional electricity bills. Completed in 2018, the Edina Community Solar Garden consists of 1,926 solar panels generating 618 kW of solar power for the community.8
During the implementation of this project, Edina worked with SolSmart to review the city's permitting, inspection, and ordinances to remove barriers to residents and businesses interested in installing solar. For over a year, city staff and SolSmart technical assistants critically evaluated Edina's processes and ordinances. Edina recreated the city's Photovoltaic Roof-Mounted System permitting process that produced permits within three days, launching an online scheduling platform for inspections. These efforts, combined with the completion of the Community Solar Garden, led to Edina earning the prestigious SolSmart Gold designation in early 2019, with special awards in permitting and inspection.
Solar Makes Cents
Communities are benefitting from the fastest growing energy source in the world.10 According to a study published in November 2020 by the International Energy Agency (IEA), solar energy is expected to account for as much as 60% of new clean energy capacity and generate 27% of the world's electricity in 2020.11 The United States led the second-largest market in cumulative and annual PV installations in 2019, with the first quarter of 2020 setting the record for the most PV installations in history in both residential and utility markets.12
The recent boom of solar installation can largely be attributed to significant declines in solar hardware and panel costs. Furthermore, the drop in solar costs made solar energy competitive without subsidies with fossil fuels across the United States for residential consumers, which saw a 57% drop in PV price estimates; commercial purchasers with a 76% drop; and local utilities with a 78% decrease in prices.13 Solar power is now the cheapest energy source in history, surpassing coal and gas in most countries.14 The affordability of solar presents an attractive investment opportunity to municipalities for a number of reasons.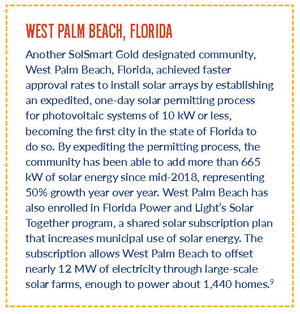 First, municipalities can simultaneously take advantage of plentiful sunny real estate on public buildings rooftops or publicly held land, while cutting down on the second largest expenditure for local governments—energy bills. Moreover, net metering provides incentives for residents to contribute to the energy supply and collect energy credits to lower their own utility costs later.15 Finally, municipalities can reinvest more money locally when they reduce electric bill payments to out-of-state utility holding companies. This investment is often realized in terms of tangible economic growth.
Solar energy drives economic growth by creating local jobs and stimulating the local economy. Since 2010, solar jobs in the United States have grown by 167%, almost 250,000 jobs. In the past five years, solar employment has increased five times faster than job growth in the overall U.S. economy.16
Increasingly, local governments are taking a leading role in the growth of the global solar energy market. By addressing soft costs of solar energy, local governments can make access to solar more feasible and reduce expenses for residents and businesses through the streamlining of permitting and inspections. They can act as a catalyst for their communities and local utility companies to institute large-scale energy solutions.
If your local government is interested in making your community "solar friendly," your local government can find solar resources and additional case studies at solsmart.org, or simply set up a consultation call through SolSmart.org to receive free technical assistance from a solar expert. Furthermore, if your community is interested in utility-scale solar, stay tuned for the Solar@Scale guidebook, expected in the second half of 2021. With a keen understanding of the challenges that communities face in enhancing solar growth, ICMA stands ready to assist local governments in achieving their energy goals.

 GABRIEL RUSK's passion for sustainability is reflected in his work on the SolSmart Program and Solar@Scale as an assistant program manager II at ICMA. Gabriel graduated from Xavier University with a master of arts degree in private interest and the public good in 2019. (grusk@icma.org)

DENA DELAVIZ earned a master of public policy degree from Carnegie Mellon and is an assistant program manager for ICMA, working on the SolSmart Program. She has worked in the solar industry since 2018. (ddelaviz@icma.org)