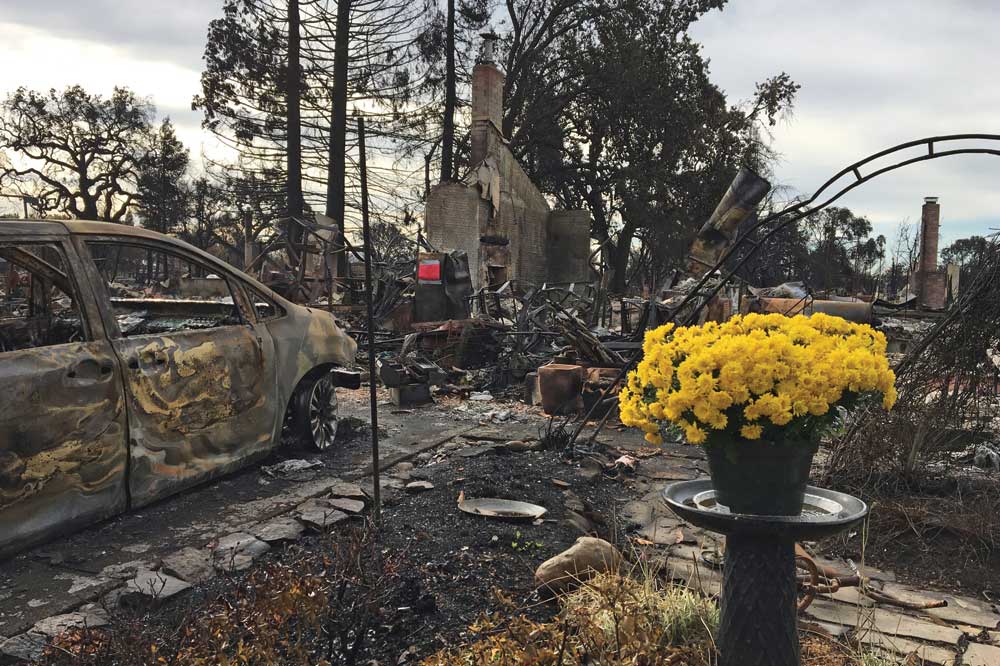 By Ellen Foreman
PM Magazine, January/February 2019
To get a sense of the nightmare that was the Santa Rosa, California, wildfire in October 2017, part of the Northern California firestorm, all you need to do is go to YouTube. There is bodycam footage of police, firefighters, and most impressively, bus drivers who heroically transported at-risk residents out of neighborhoods that were being engulfed by flames.
Arguably, nothing could have been done to prepare the city for the speed at which the fire, fueled by hurricane force winds, jumped across a freeway that would normally have served as a strong fire barrier.
"With the fire moving at that speed, there was not much time to get the word out," said former Santa Rosa City Manager Sean McGlynn. "So, in addition to the emergency communications being done by the city and Sonoma County," McGlynn said, "neighbors went door to door, helping each other evacuate."
Countywide, the fire claimed 24 lives, and in Santa Rosa, 5 percent of the housing stock—more than 3,000 homes—were lost, explained McGlynn. City employees at all levels became first responders, with some of the 62 employees who lost their homes serving in the emergency operations center, evacuation shelters, out in the field, or within other city facilities critical to the emergency response.
"What I'm most proud of is the speed at which the recovery process began," McGlynn said. "Once workers had stabilized the fire-impacted areas, volunteers, in addition to staff, helped keep these areas secure and private, giving residents time to grieve on their properties."
Just 12 days after the fires began, and with areas still under evacuation, the city partnered with Sonoma County and launched a joint website resource for fire survivors. It contained news, updates, and answers to frequently asked questions on recovery, mental health resources, housing resources, debris removal/fire cleanup information, upcoming recovery meetings, and more.
The city credits mutual-aid staffers from the city of San Rafael with helping to get the framework of the site put together. The site can be viewed at www.SonomaCounty Recovers.org.
Rebuilding Portal
McGlynn said helping home and business owners rebuild was a priority for staff early on. Creating an online portal that was focused solely on rebuilding information and permitting needs was as necessary to develop as it was to create a separate, physical permit center for fire survivors.
Adriane Mertens, Santa Rosa communications and intergovernmental relations officer, explained: "The site plugs in information from other departments beyond the planning department to make sure we put rebuilding information all in one place for fire survivors."
The site features an online rebuilding data tracker with up-to-the-minute updates on such rebuilding permit data as how many homes are under construction, have completed rebuilding, and are in the permitting process.
"There are also recovery map and parcel report search links that allow people to access specific information about an individual property, including setbacks and utility site information; if a rebuild is planning to make major or minor changes to their home rebuild design; what permits have been applied for; and where a property is in a particular stage of rebuilding," she added (see www.Srcity.org/rebuild).
Just over a year after the disaster, 51 homes have been completed and 700 are under construction. The building permits for another 540 properties have been submitted and are going through the review process or have been approved, and their home construction is pending. McGlynn said that one of the biggest questions his team wrestles with though is what about the 1,600 residents who still have not started the rebuilding process?
He pointed out that there are many reasons behind the numbers, including under-insured homes because the cost to build in the San Francisco Bay Area has escalated precipitously. People are also still deciding whether to rebuild or move on. And it's the start of the rainy season, which is causing a slowdown, and some of the homes had multiple families under one roof.
McGlynn explained that this last factor alone is a challenge when trying to assess the scope of the damage. "FEMA looks at every roof as a single-family residence and that's not realistic. It may be how is it defined on a state and federal level, but what does that really mean in your community? It impacts how much resource becomes available to you to address the needs of the community."
The city is working with the nonprofit community to get a better sense of what's happening to people who might fall outside the traditional support definition, he added.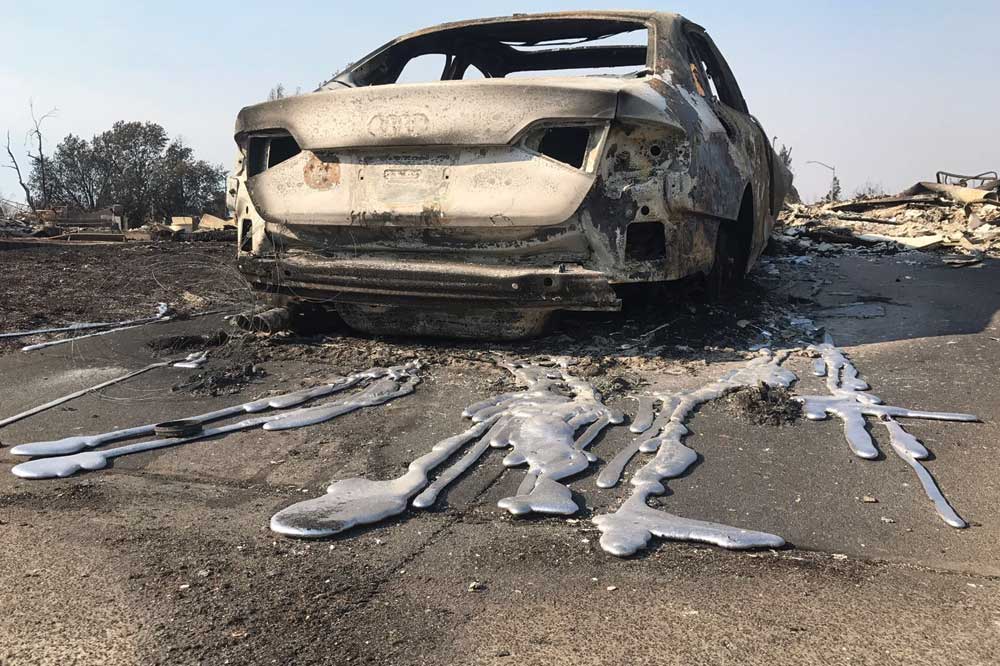 Preparing for What Is Expected
McGlynn said his city is working in partnership with the state and the region to prepare for an uncertain future, given the number of natural disasters plaguing local governments in recent years.
"We are working with our state to reposition resources to assist in high-risk events. As a region, for example, we're looking at vegetation management, something that doesn't help much to do exclusively as a municipality. We need to work across counties and across local jurisdictions to make sure we have a strong vegetation management plan to push down fuel loads and mitigate risks where we can."
McGlynn said that in addition to the state and region, Santa Rosa leaders have been working to "get our federal partners to look at fires in a slightly different way. Especially as they threaten these urban areas because again, it costs all of us when you have to take federal tax dollars to do this type of debris-removal-and-rebuild mission."
One of his objectives is to try to get some of the new circumstances Santa Rosa encountered into the FEMA playbook. How, for example, the removal of roughly 1 million tons of fire debris and the subsequent hauling in of new soil for properties degrades the roads.
"It would be great if all parties could agree to assess that and say this is the value that the impact of taking out fire debris had on your community's roadways and thus, we are going to give you a check to cover that," McGlynn said.
It would not only benefit his community but all communities experiencing these kinds of disasters.
A Marathon, Not a Sprint
In looking back over the past year at the time this was written, McGlynn said he hopes that people will say the staff did the best job they could possibly do.
"One of the challenges is recognizing what we did but understanding that there is so much more work in front of us as it relates to recovery. We're making progress, but recovery is a marathon not a sprint," he said.
McGlynn learned to "have faith that folks, if they are given the space to figure things out, will. We weren't flawless, but we owned our mistakes and we were trying to figure out how to do the best by our community."
He added that the help his fellow management colleagues gave him has led him to try a pay-it-forward scheme. "I've offered to help other managers by being a sounding board, and my council has been gracious enough to allow me to do that."

Ellen Foreman
is director, Outreach, Brand Management and Marketing, ICMA, Washington, D.C. (
eforeman@icma.org
).
________________________________
Navigating the Aftermath of a Disaster
Santa Rosa City Manager Sean McGlynn provided these three lessons learned from the disaster and ongoing recovery experience.
Trust and verify. Always assume that people who are there to help are trying to do the right thing. They're faced with circumstances, whether it's a manual that tells them "this is how you do it" or contracts that they have with third-party entities that bind them to certain criteria. The manager's job is to understand what those circumstances are as much as possible, and he or she might have to lean in and ask questions and push people to rethink some things.
Take assistance where you can get it. McGlynn relied on several of his colleagues. Malibu City Manager Reva Feldman assisted about a week into the fires to help on the leadership side and provided much needed relief in terms of staff resources and additional brain power. Henry Gardner, who was the former city manager in Oakland, was manager during the Oakland Hills fire in 1991. His advice and counsel for McGlynn and team were invaluable. A manager might not be ready but should take down names of individuals who he or she can call and then figure out when and how to use their support.
Keep people at the center. The emergency management process sometimes tries to wear out a person, and a manager needs to find the reservoir to always think about what is happening to community members. McGlynn advises to think about what decisions you would want people to make on your behalf if in the same situation. And it may not be easy, but circumstances might require that you go the extra mile—asking additional questions and pushing back on a partner about the decisions they are making and how it impacts the community.
________________________________
Disaster Resources
Homeowners' Guide to Forest Fires: How to Protect Your Home
How to Escape a Burning Building
Fire Safety in the Home: Minimize Your Risks & Keep Your Family Safe
Disaster Preparedness for Pets
Hurricane Survival Tips: How to Stay Safe During a Hurricane
9 Affordable Ways to Prep Your Home for Hurricane Season
Earthquake Recovery Resource Guide
Shake Out: 6 Steps to Quake-proof Your Home
These disaster safety/wildfire resources were provided by Brett Boynton, bboynton@disastersafety.info.
New, Reduced Membership Dues
A new, reduced dues rate is available for CAOs/ACAOs, along with additional discounts for those in smaller communities, has been implemented. Learn more and be sure to join or renew today!