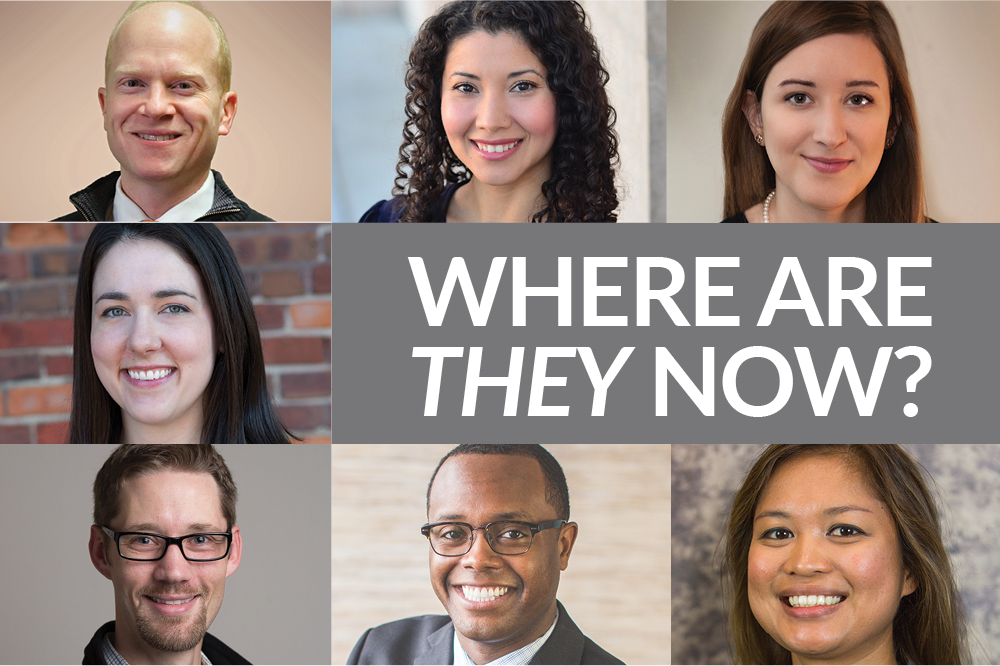 By Tanisha Briley
PM Magazine, January/February 2019
One of the coolest ICMA programs you have likely never heard of helped define this author's career. The Local Government Management Fellowship (LGMF) began in 2004, and I was part of the 2006 cohort.
I was attracted to the Fellowship (icma.org/lgmf) because of its explicit focus on mentoring and career development support from a local government manager. Because of that mentoring and support I received from a city manager when I was a Fellow, and subsequently a budget manager and assistant manager, in Davenport, Iowa, I have the tools and experience to successfully support my community today.
After nearly 14 years, LGMF has benefited graduates with groundbreaking career-entry experiences, generating 270 alumni, more than 20 of whom have risen to chief administrative officer roles. And now several alumni are hosting their own Fellows, continuing the cycle of mentorship.
This article features some of the LGMF alumni in "where are they now" profiles. You can find additional profiles online at icma.org/fellowstoday.
More than anything else, I urge my management colleagues to consider hosting a Fellow in their community. Not only will you gain more than you give, but your impact will extend beyond your community to places where Fellows will serve as local government leaders in the future.
Here are the stories of seven Fellows who, like me, have gained so much from LGMF.
Village Administrator, Pleasant Prairie, Wisconsin
LGMF cohort: 2007; Riverside, Illinois
After receiving my M.P.A. degree from the Maxwell School at Syracuse University, I landed in the village of Riverside, Illinois, as my LGMF host community. There, I served two years as the assistant to the public works director and as the interim public works director.
Since then, I have served as a budget analyst in Sugar Land, Texas; city administrator in Mauston, Wisconsin, and currently village administrator in Pleasant Prairie, Wisconsin.
LGMF was a catalyst and gave me confidence to aim toward becoming a local government manager. I have had the benefit of working in small and large communities and in rural and metro governments. I have learned that a community's size can play a significant role in the direct impact your efforts have in a community.
Fellows should take advantage of the opportunities afforded them and shouldn't be afraid to experience a market they might otherwise overlook. Chances are the position that looks less than ideal will afford more opportunities to make a direct and real impact than a person's "dream job."
As Fellows advance in their careers, I can assure them that new and exciting opportunities will come their way.
Deputy City Manager, Cupertino, California
LGMF cohort: 2009; San Jose, California
I started my Fellowship with the city of San Jose, California, in 2009 and stayed on in the budget office for a few years before receiving a promotion. I joined Cupertino as a senior management analyst in 2012 and worked my way up—and sideways—to my current role as deputy city manager (DCM).
As DCM, I oversee public affairs and sustainability and manage the city manager's office, including citywide policy and legislative affairs. I'm also on hand to help the council or departments with any type of priority project.
LGMF helped me understand the responsibility that comes with the profession and gave me a citywide perspective. It was also great to have a group of friends with whom to compare notes.
I advise Fellows to take advantage of the special access to leaders in an organization by being a part of LGMF. Take risks and raise your hand for special assignments that expand your skills and your portfolio.
Lastly, LGMF will help you find a champion in the organization who can open doors and provide you with opportunities.
Assistant to the City Administrator, Woodbury, Minnesota
LGMF cohort: 2014; Olathe, Kansas
Since June 2015, I have served the city of Woodbury, Minnesota, as assistant to the city administrator. Before moving to Minnesota for this position, I served in Olathe, Kansas, as its Fellow in the city manager's office and the budget office.
I was staff liaison to the Olathe Teen Council, organized a "Fresh Air" employee development forum, developed a crisis communications plan and a "Communities That Care" grant application, and presented the city manager's office year-end report to the city council. These experiences exposed me to a wide variety of operations in a large, innovative, and well-run suburb and reinforced my dedication to public service.
Based on my experience, I would recommend that anyone serving as a Fellow maximize that special opportunity to:
1. Ask questions. Nobody expects you to know more than you do, and this is a great chance to demonstrate humility and curiosity. Pay attention to the context. Sometimes it's helpful to ask questions right away in a meeting, but sometimes it's better to pull someone aside afterward and say, "Hey, can you explain what happened in there?"
2. Build relationships. Shadow people, ask questions, invite them to get coffee with you, and ask if you can tag along and sit in on meetings. If you happen to be bored (not often I might add), go around to different people, ask them what they're working on, and see how you can help them.
3. Make yourself useful. Volunteer for all the research, investigation, or busy-work things that come up in the meetings you're sitting in on. Earn a reputation for being helpful, prompt, curious, and resourceful.
Performance and Innovation Officer, Albuquerque, New Mexico
LGMF cohort: 2012–2013; Catawba County, North Carolina
After completing my M.P.A. degree at the John Glenn School of Public Affairs at The Ohio State University, I was an LGMF in Catawba County, North Carolina. I went on from my Fellowship to help improve nearly 50 local government organizations with The Novak Consulting Group.
In June 2018, I started a new role as the performance and innovation officer for Albuquerque, New Mexico. LGMF was an invaluable experience for me, primarily because it was instrumental in shaping my way of thinking. It taught me to think at the level of a local government leader—a mighty feat for someone straight out of graduate school.
If I could give one piece of advice to people who are just starting out in local government, it would be that a positive attitude goes a long way. In my experience, energy and enthusiasm for the work is contagious, so bring it with you and share it every single day.
Budget and Management Analyst, Greensboro, North Carolina
LGMF cohort: 2008; University Place, Washington
After finishing my M.P.A. degree at the University of North Carolina at Chapel Hill in 2008, I packed up and moved all the way across the country to start my Fellowship with the city of University Place, Washington.
After five years in University Place doing everything from dressing up as McGruff the Crime Dog to managing an economic development strategic plan update, my wife, young son, and I moved back across the country.
We settled in the Triad area of North Carolina, where I took an analyst position in the budget and evaluation department of the city of Greensboro and my wife continued her career with the Department of Veterans Affairs in nearby Winston-Salem.
Beginning my career in University Place, a small/midsize city with a small staff, exposed me to every aspect of local government. I worked with community leaders, local businesses, intergovernmental teams, and elected and appointed officials.
Working with a small team, some of whom are still trusted mentors, taught me what a high-performing team can achieve when it works together. LGMF opened the door to local government management for me, and I would encourage others to take risks and embrace new opportunities early in their careers while their personal situations are likely to be flexible.
City Manager, Springfield, Michigan
LGMF cohort: 2015; Tulsa, Oklahoma
I graduated from the University of Illinois at Springfield and started my local government career in Tulsa, Oklahoma, as a Fellow. I transitioned to Brookings, South Dakota, where I served as assistant city manager for nearly two and a half years. I was appointed city manager of Springfield, Michigan, in May 2018.
LGMF prepared me for my current position in many ways. My mentor had the most significant impact on me as it pertains to ethics and professional development. I truly valued his advice, perception, and opinions.
Current Fellows should diversify their experiences (outside of their comfort zone) even if they are assigned a specific department or project. Local government management professionals must have a well-rounded view of government. Prospective applicants should highlight their broad experience in working with people and executing projects that have made a significant impact on their community.
Assistant to the City Manager and Chief of Staff, Dallas, Texas
LGMF cohort: 2014–2015; Tacoma, Washington
In February 2014, I started my Fellowship with the city manager's office in Tacoma, Washington, prior to graduating from the Evans School of Public Policy and Governance at the University of Washington. LGMF was invaluable to my experience in Tacoma because it provided me with a support system of peers whom I could reach out to and learn from.
My one piece of advice for Fellows is that there's no such thing as a bad project or assignment. Don't limit yourself because it doesn't fit your "path"; view everything as an opportunity to learn and grow, especially at such an early stage of your career.
My mentors instilled this mindset in me from the beginning, and today I'm proud to serve as the assistant to the city manager in Dallas, Texas, the ninth largest city and third largest council-manager city in the country.
I'm excited about what lies ahead and look forward to the future leaders developed through LGMF and ICMA.
Tanisha Briley
is city manager, Cleveland Heights, Ohio (
citymanager@clvhts.com
).  For more information on the 2019 LGMF or to host a Fellow in your community and help start a new career, visit
icma.org/lgmf
or contact
lgmfprogram@icma.org
.