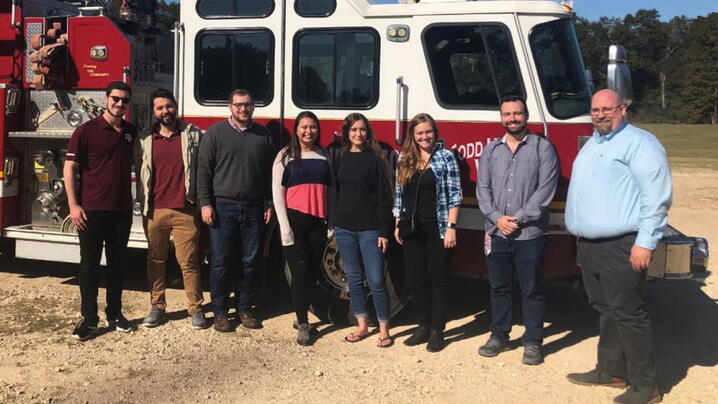 It has been a decade, and we celebrate growing to 120 student chapters, including 20 international schools! As part of ICMA's Next Generation strategies, ICMA Student Chapters began in January 2010, as a pilot program to expand on ICMA's long-standing student membership. It all started with a check from ICMA member Sam Gaston registering our first chapter at the University of Alabama, Birmingham, with 19 graduate students. Within a year, we were up to 10 chapters, and as word spread, more schools signed on.
The first goal was to connect existing student members in MPA/MPP programs that may not know about their shared membership in ICMA and interests in local government management. Bringing students together could also expand interest and inform students who were unaware of the profession, and allow them to get a better sense of the opportunities the career offers.
Baked into the original design was also the idea to engage undergraduates in the chapters, helping inform early career aspirants that local government generally offered a wide variety of career options and room for growth. A new flat-rate membership model for chapters encouraged growth without increasing costs for students or schools. Thanks to a grant from ICMA-RC in 2016, we were able to remove the cost barrier for schools and help individual fundraising efforts benefit chapter programs directly.
Over the past few year, we have found new ways to help our student chapters connect with managers and deepen their connection with the profession. Monthly newsletters sent to all student chapter members help keep our students, faculty advisor, and mentors aware of all programming and student-specific content. This fall, after seeing the success of connecting with groups of chapters in the spring as a way to support students during the start of the COVID-19 pandemic, the Student Leadership Network Series was born. This series is an opportunity for student leaders to come together quarterly to discuss successes and challenges in leading a chapter, as well as important local government issues that students are interested in exploring. Hundreds of students attended the UNITE Conference in September 2020 and took part in every aspect of the event. We offered multiple sessions and roundtables that were created in conjunction with students and gave them the opportunity to present to their peers and members.
One of our favorite ways to engage with students is to celebrate their hard work and early dedication to the local government profession. In the spring semester, 38 students were awarded the Local Government Early Career Service Certificate, a program that started in 2019. This certificate recognizes graduating students in good academic standing who have completed a major service project for a local government organization. We also awarded four chapters this year's Best Chapter Event prize. The University of Delaware, Arizona State University, University of Southern California, and Texas A&M University all held exceptional events during the 2019–2020 school year and received $1,000 to use for chapter programming and student professional development.
As we do every year, we collected annual reports from over 50 active chapters and published them on our website. This not only showcases the events and projects that our students planned in the past year, it also informs all ICMA members of the exciting work that the next generation of local government leaders are conducting.
We extend our thanks and gratitude to schools and chapter faculty advisors for their continued efforts to teach local government management, and the managers that mentor and advise chapters and students and engage them with the profession and local governments. One thing we know from these past years: student lives are changed when they hear from professionals. When we visit a classroom and share our experiences, challenges, and joys of working in this profession, we inform them often of a brilliant career path they never considered or didn't know about. A striking number of students we speak with say they learned about the profession, or were inspired to work in it, by meeting a manager, deputy, or other professional visiting their class.
We encourage you to engage with students when you have the chance: work with a chapter in your area, connect as an alumnus with your alma mater, or contact a school to help support or start a new chapter where you see an opportunity. You can find our roster of ICMA Student Chapters online at icma.org/student-chapters and also explore student profiles, chapter reports, or even sign up to mentor students directly with ICMA CoachConnect. We were all students at one point, and we all remember the mentors that helped us along the way. We serve our communities by being that mentor to others. Thank you for 10 great years, and we look forward to many more years of engaging with and supporting students!

 ROB CARTY is the director of career and equity advancement, ICMA (rcarty@icma.org).

REBECCA DESANTIS is a program manager of career and equity advancement, ICMA (rdesantis@icma.org).
Register for the ICMA Annual Conference
Join us September 17-21 in Columbus/Franklin County, Ohio for the 2022 ICMA Annual Conference.
JOIN ICMA TODAY!
ICMA provides the tools, resources and connections to help you become part of the international network of 13,000+ local government management professionals.