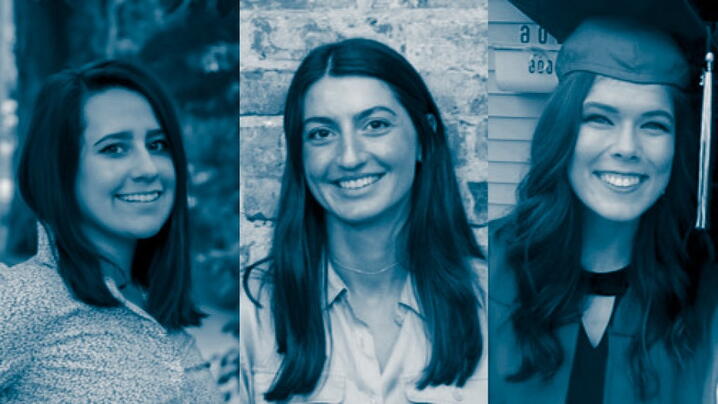 As the recent events across the world have unfolded, many of those actively participating in movements of change are the emerging leaders in public service. Ready to work to promote equity and inclusion in earnest, they make the commitment to pursue justice and build thriving communities in their careers as local government leaders.
ICMA is dedicated to raising up the voices of our next generation of leaders, as they will be the ones leading our profession in the years to come. To this end, we asked members of our student chapters to give us their perspective on the question "As a future local government leader, how do you hope to work toward building equitable and resilient communities in your career?"
Natalie Davenport | MPA Candidate | Grand Valley State University
My career in local government will focus heavily on inclusivity and equity for all by creating stronger community ties and ensuring all government employees receive bias training. It is vitally important to ensure that public services are distributed equitably and inclusively, however, it is imperative to identify the barriers that hinder disadvantaged groups of society from receiving fair allocation of government resources, programs, and services. By identifying these barriers, public leaders can strategically plan for ways to overcome them through education, planning, and policymaking. Public leaders must prioritize community engagement to address the unmet needs of the community and better strengthen the relationship between government entities and the public. Staff members of the organization must also be educated and trained to properly ensure that every community member is treated justly and in good conscience.
Equity and inclusion are not singular endeavors, but instead are attributes that must permeate through every action of the organization. I strongly believe that all public leaders have a responsibility to unpack implicit biases to ensure equity on the basis of race, ethnicity, gender, sexual orientation, economic status, and educational attainment at both an individual and organizational level. Being a public servant means serving every member of the community with fair, equitable, and inclusive treatment—not only serving the affluent. I believe that with proper education and resources, we can work to create and sustain equitable, inclusive, and resilient communities for decades to come.
Myra Ray-Howett | Public Administration Fellow | The University of Delaware, Biden School of Public Policy & Administration
As our country faces economic hardships from a global pandemic and the looming effects of climate change, meaningful commitments and actions toward building equitable and resilient communities are more important now than ever before. Resilience comes in many forms; therefore, efforts to build stronger and more inclusive communities need to be creative, collaborative, and provide multiple benefits.
During my past summer internship in communications at the Alliance for the Chesapeake Bay, I helped create case studies of environmental best management practices throughout the Chesapeake Watershed. I was inspired and energized by the various forms of projects in green infrastructure implemented by local governments and the options that exist to help fund those projects.
As an emerging leader in local government, I will support investments in green infrastructure because they are proven to create jobs, improve environmental sustainability, and when targeted in underserved communities that lack access to green spaces, mitigate existing environmental justice inequities.
I will foster a tight-knit community that can depend on and uplift one another by empowering residents of all ages to become community leaders. I will engage my community in the brainstorming, decision-making, and construction processes of green infrastructure and community revitalization projects. Residents will know that local leaders see them, acknowledge their worth, and will work with them to support a healthier and more civically minded community.
Jessica Harris | MPA Candidate | Grand Valley State University
What I have seen more than anything from governments at any level is the inability to prepare and adapt. After decades of taking a laissez-faire approach preparing for the futures of our local communities, the issues we are facing today are a direct reflection of the neglected matters of the past. For too long, governments have ignored the growing opportunity gap that has explicitly advanced some over others. Local governments specifically have tremendous power to start taking actions and facilitating community conversations now to implement change.
Conducting an annual community assessment focused on equity would be an excellent place to start. This assessment would help local governments capture detailed information about specific challenges that might otherwise fall under their radar, such as the intersectionality among issues. It is not enough to simply identify an issue—we must start analyzing the relationships between these issues in our communities and acknowledging the effects they have on one another. We cannot discuss the problems within our environment without acknowledging that lower-income communities are statistically more likely to live in neighborhoods with higher lead levels in the water, poor air quality and higher asthma rates, lower access to fresh produce, and less natural land. We cannot celebrate a "booming economy" without admitting that the policies and systems it operates under exploit Black and Latinx communities. Once we start exposing and responding to how these intersections occur in our communities, we can start developing a plan for a sustainable path forward for all.

 REBECCA DESANTIS is a program manager, career and equity advancement, ICMA (rdesantis@icma.org).
JOIN ICMA TODAY!
ICMA provides the tools, resources and connections to help you become part of the international network of 13,000+ local government management professionals.