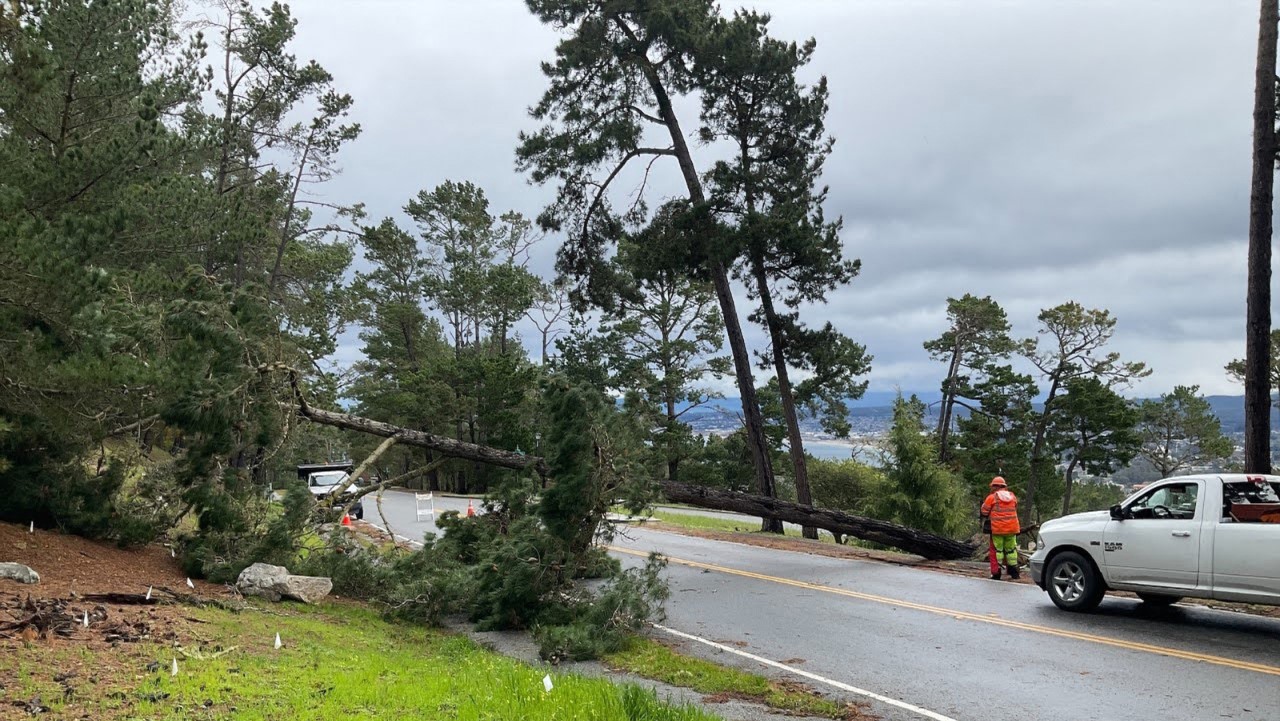 Our communities continue to face risks and hazards from disasters and crises. In 2022, the United States experienced 18 weather and climate disasters that each caused over a billion dollars in damage, the third costliest year of billion-dollar disasters since 1980. The frequency, number, and cost of disasters have surged over time due to increased exposure, vulnerability, and climate change. Natural and human-caused crises include earthquakes, tornadoes, hailstorms, droughts, wildfires, flooding, hurricanes, social unrest, cyberattacks, migrant overcrowding, the opioid epidemic, and acts of terrorism. Sobering data shows that 646 mass shootings and 44,343 gun violence deaths plagued the United States in 2022, sadly reminding us that no community in the United States is immune to mass shootings or gun violence. As professional managers responsible for the day-to-day operations of public agencies, we often focus time on our elected officials, constituents, and workforce. The focus on the "here and now" can lead to being underprepared for emergencies and crises.
Inadequate planning and training in the Emergency Operations Center (EOC), outdated emergency playbooks, dusty disaster plans, and unclear responsibilities can be some of the reasons for the lack of preparedness. However, in many cases, we are underprepared because we haven't taken enough time to build strong relationships within our teams and foster alliances outside of our agencies before a crisis hits.
"Build the relationship before you test it," states Leonard Johns, chief of police for the Federal Reserve Bank of Richmond. Johns is a former crisis management expert with the Federal Bureau of Investigation (FBI) and recognized the value of relationship-building during his tenure working closely with local governments while at the FBI. He added, "The first place to meet your partners (for the FBI, state, and local representatives) is not in the middle of a smoking hole." Internal trust and collaborative relationships with our agency's allies before a crisis strikes can make the difference between a coordinated response and a chaotic response.
Pineapple Express Hits California
In March 2023, emergency managers throughout much of California were given a four-day warning that a powerful atmospheric river, known as a "Pineapple Express," was heading straight for the Golden State. In the city of Monterey, atmospheric river systems over the span of three weeks brought wind gusts of up to 65 miles per hour, resulting in multiple days of widespread power and mobile communications outages. Over a three-week span, our coastal community of 30,000 residents and daytime population of nearly 70,000 experienced 151 downed trees, 82 road closures, mudslides, flooding, and over 250 fire department calls for service.
At its peak, the fire department received 136 call-outs in an 18-hour period. Most of the community was without electricity for over 36 hours due to downed transmission lines. For over two days, most of the Verizon Wireless mobile communications service citywide was down, immobilizing our fire department's mobile data systems on fire apparatus and in fire stations. After several hurdles, Verizon deployed generator-supported mobile communications towers to our community.
The atmospheric rivers brought together our city's fire, police, streets, harbor, sewer, library, parks, building inspection, and recreation teams in one of the largest coordinated responses our city has experienced in decades. Our organization's pre-existing team-oriented culture, fostered by City Manager Hans Uslar, helped us respond to the crisis in a coordinated, agile, and efficient way.
When our fire department responded to downed trees on roadways and homes, our police personnel, forestry crews, and streets staff swiftly responded at all hours of the night to clear trees and manage road closures. When trees toppled onto homes, building inspectors quickly arrived to assist. When the EOC was short-staffed, our parking division staff stepped up to provide support. When it was known that impacted electrical transmission lines would result in a multi-day widespread power and wireless communications outage, our fleet division transported and fueled generators to support library and recreation staff who opened up facilities as community resiliency centers. At the Monterey Public Library, at any given time, over 150 patrons relied on the city's free Wi-Fi service to connect with the outside world.
Building Trust Within the Team
As leaders of public organizations responsible for one or multiple aspects of crisis and emergency management, we must keep our team working effectively and collaboratively, and build trust within our organizations. As generalists responsible for multiple departments and with a larger span of control, it is important to realize that stand-alone department staff may not consistently collaborate and work with other departments as the city manager's office does.
"It can be challenging for department directors (especially new ones) to expand outside of their area of expertise for a couple of reasons. We feel we are hired to run the department in which we are the leader, and we tend to be loyal to people within our department," explained Jeff Boyles, fire chief for Newport Beach, California. He added, "However, building relationships across the landscape with finance, city attorney, human resources, public works, city manager, and other public safety departments can be just as crucial."
Monterey's team-oriented culture that led to our successful response to the Pineapple Express events did not happen overnight. One element of our success is that we have a full-service city with resources in multiple departments to rely on, yet we are nimble enough to address issues across our community's 8.4 square miles. We have also had the opportunity to become more resilient and trusting with each EOC activation in recent years: the COVID-19 pandemic in March 2020, lightning and arson-generated wildfires in August 2020, and the tsunami in January 2022 caused by the Tonga volcano eruption. Our muscle memory kicks in because our team has had practical experience with evacuation plans, emergency alerts to employees and citizens, emergency shelters, GIS mapping, crisis communications resiliency shelters, as well as harbor and beach evacuations.
Trust was paramount when, during the Pineapple Express, the Monterey Peninsula's population of over 100,000 residents was at risk of becoming an "island" with no road access to the rest of California. We notified all employees via their landline, cell phone, text message, and email about how to report to work and identified key staff who needed to be placed in hotels. Our employees appreciated that we looked out for the well-being of their families during the event.
While our team in Monterey has been fortunate to work together in less catastrophic EOC activations, the internal relationship-building outside of emergencies has made the difference. We intentionally collaborate on cross-departmental projects throughout the year, hold regular team-building and all-department management meetings, and foster a culture that encourages employees to grow their careers within the organization and experience working in multiple departments.
Conversely, teamwork built in a crisis can help build camaraderie that helps our organizations thrive outside of a crisis. Public leaders like Newport Beach's Fire Chief Boyles share that sentiment. He stated, "During the COVID-19 pandemic, we experienced a shared mutual bond during that time that strengthened our relationships beyond any I have experienced in my 30 years of public service."
Building Alliances Outside Your Agency
It can be too easy to go into a fight-or-flight mode in a disaster or crisis. We become overly territorial, telling others to "stay in your lane." We become dismissive and defensive of our mistakes by saying, "I didn't send out the wrong information to the public." We blame others for what went wrong, saying, "If they didn't ignore the issue, this wouldn't have happened!" We also become tightfisted when resources are scarce: "Let me secure this resource before someone else gets it." This is not a productive or healthy way to lead during a crisis. As leaders, we must work toward building alliances and preserving our relationships, not severing them.
Peter Neffenger, a former administrator of the Transportation Security Administration, who guest lectures at the Naval Postgraduate School's Center for Homeland Defense and Security and teaches at Harvard's National Preparedness Leadership Initiative, refers to crisis managers' fight-or-flight mentality as "going into the basement," a concept discussed at length in the book, You're It: Crisis, Change, and How to Lead When It Matters Most.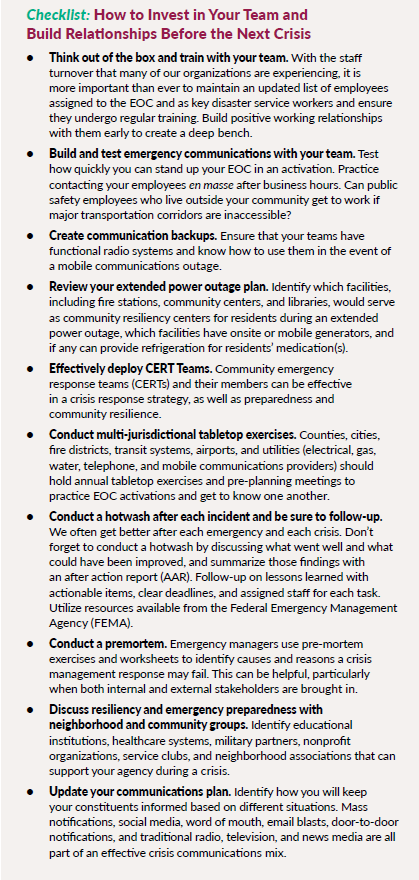 Neffenger has stated, "The whole goal of this is ultimately to get you to remove your ego from the situation. Worrying about 'what might happen to me,' 'what people might think of me,' gets in the way of actually making good decisions about everyone around you.' One of the mantras they have is, 'This is about the success of those around you.' It's not about you. If everyone works to make everyone else succeed, then everyone succeeds. That's a tool for getting yourself out of the basement—out of that panic mode—to say, 'Wait a second, everybody's going to be panicked here, but we have an opportunity to try to fix it.'"
Building trust with outside organizations before a crisis requires understanding other organizations' resources, needs, and roles. For example, the extended power outage during the Pineapple Express was frustrating. However, once we better understood the storm's impacts on major transmission lines and that electrical utility crews were stretched throughout the state, we could better work toward solutions for the public good instead of hastily pointing fingers. Public agencies are part of an interconnected and interdependent system that relies on collaboration and communication to be successful. Getting to know each other's resources and limitations allows us to be more solutions-oriented and serve the public effectively.
In addition to hotwashes and after action reports, an increasingly popular method of strengthening relationships ahead of a crisis is conducting a pre-mortem exercise with partner agencies, utilities, service providers, and community members to challenge assumptions and identify reasons a crisis management response may fail before the crisis occurred. Dr. John Comiskey, associate professor of homeland security at Monmouth University, and Michael D. Larrañaga, president of R.E.M. Risk Consultants, describe the process: "The premortem process reframes problems to identify threats a priori rather than a posteriori, as in the case of an autopsy (postmortem). A premortem analysis is a management tool that is the hypothetical opposite of a postmortem in which the question 'What might go wrong?' is evaluated instead of the postmortem question of 'What did go wrong?' to anticipate potential problems that can be avoided."
Relationship-building can also help us identify opportunities and our own shortcomings, explains Superintendent Lanita Cullinane, chief of the Bureau of Field Services for the Boston Police Department. Cullinane oversees the patrol division, community policing, special events management, tactical operations, and field support for the 20th largest law enforcement agency in the United States.
"I have found that building relationships across disciplines is a necessary part of capacity building. It's about breaking down silos, so we have an opportunity to look at operations from a whole systems perspective, learning where needs and blind spots may exist," explains Superintendent Lanita Cullinane.
Using some of these relationship-building tools helped us in our collaborative response during the Pineapple Express. Our Monterey city government had a strong relationship with the county of Monterey's department of emergency management because we've worked together through the pandemic, wildfires, and tsunami in recent years. In prior emergencies, our police department assisted the Monterey County sheriff's office during evacuations, our IT team provided GIS expertise to the county's EOC, and our conference center hosted a 30,000-square-foot evacuation shelter during the 2020 wildfire evacuations. Our fire chief and I have served as controllers and evaluators in the county EOC's functional exercise training events. Our police chief has a strong relationship with the sheriff, who was chief of a nearby city before being elected sheriff. While we've helped the county, they have also supported us during times of need.
Other community and governmental organizations have been critical to Monterey's resiliency during times of crises. Entities operating within our city limits, including the school district, community college, state parks, Navy, Army, Coast Guard, hospital, fairgrounds, and major employers have partnered with the city on emergency planning, community engagement, disaster response, and resource planning.
Lessons Learned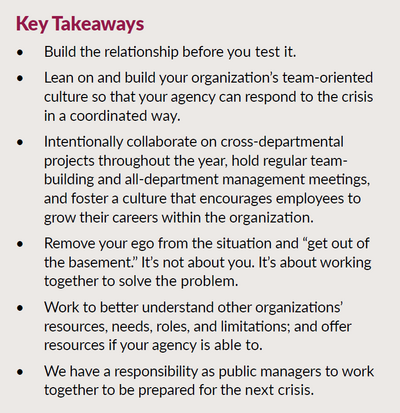 Further reflecting on the Pineapple Express event, there were gaps in communication and opportunities where we could have built stronger alliances before the crisis. The utilities and communication providers are one example. While our EOC kept in touch with Pacific Gas & Electric (PG&E) staff via text messages and phone calls, some communications were delayed. We didn't learn until several hours into a power outage that most of Monterey would be without power for over 36 hours, and some neighborhoods would be without electricity for over three days. When the fire department's mobile data system went down, it took us over 12 hours to connect with a Verizon Wireless representative two time zones away to receive an update on when service would be restored. Comcast's high-speed internet system was also shut off for extended periods. We knew extended power and communications outages were possible but didn't comprehend the actual effects of such an issue. In hindsight, we should have built stronger connections and relationships with both PG&E and Verizon Wireless. And with the Pineapple Express behind us, we will work on those relationships and become more resilient during the next crisis.
As chief of Boston Police Department's largest bureau, Superintendent Cullinane finds ways to complement and supplement another agency's needs if her agency has the capacity. She adds, "This idea of shared responsibility is not meant to do someone else's job, but to provide support in an effort to ensure we are holistically providing the best service we can."
In our profession as professional public managers, we have a shared responsibility to build critical alliances within and outside of our organizations so that our communities are better prepared for the next crisis.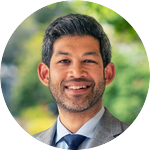 NAT ROJANASATHIRA is the assistant city manager for Monterey, California. He is an ICMA-CM candidate and is a 2022-23 Fellow of the Leadership Institute on Race, Equity, and Inclusion. He is a participant in the Center for Homeland Defense and Security's Executive Leaders Program at the Naval Postgraduate School.
New, Reduced Membership Dues
A new, reduced dues rate is available for CAOs/ACAOs, along with additional discounts for those in smaller communities, has been implemented. Learn more and be sure to join or renew today!