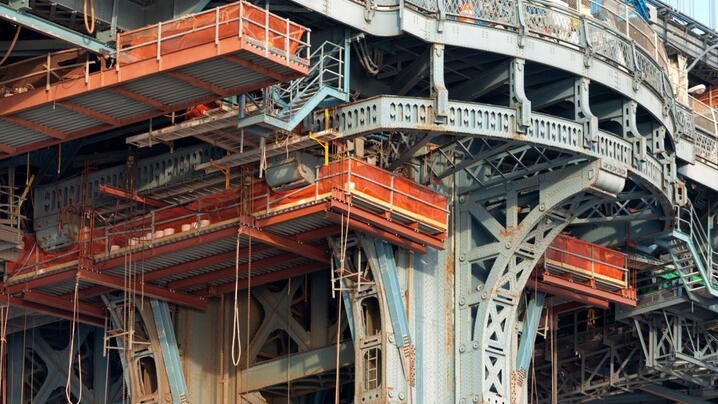 With the passing of President Biden's infrastructure bill and $1.2 trillion in stimulus funds incoming over the next five years, governments are faced with the challenge of utilizing these incoming funds in the most effective and impactful way possible to fulfill their communities' urgent needs while still preparing for the future.
Two significant infrastructure priorities—which will likely be found on most municipalities' agendas—include incorporating sustainability-focused initiatives and addressing degrading infrastructure. Striking this balance will present a precarious challenge for local governments, with both initiatives requiring strategic planning and careful spending.
Further intensifying this challenge is the fact that there is a notable generational divide in America around what to prioritize. According to a recent two-part study, 47 percent of Generation Z—which makes up 27 percent of the U.S. population and is the most socially minded, environmentally aware generation yet—want their local governments to prioritize sustainability. On the other hand, 59 percent of baby boomers want to prioritize cost-effective upgrades to infrastructure like improving road conditions. In any case, the state of America's infrastructure is a C- per the ASCE report card and that, in itself, is a cause for concern.
American Perception
While the study revealed a difference in opinion by generation, it also found that people of all ages have their doubts about their local government's ability to prioritize infrastructure upgrades. The research displayed that nearly half of the respondents are concerned about the safety and conditions of school buildings and don't believe their schools are in a better condition, nor safer, than five years ago. Additionally, more than half of Americans don't feel confident that their local governments will make positive and impactful changes to their communities with the incoming stimulus funds. This added challenge of needing to instill community trust in funding decisions heightens the stakes for government leaders. Building trust requires evidence and proof that those we rely on with our assets have the future under control.
Furthermore, 2020 forced leaders to rethink their sustainability strategies after witnessing several organizations save significantly on their electric, natural gas, and water costs by being able to shut down their facilities quickly and strategically. A study from Johnson Controls found that reduced occupancy alone isn't enough to yield significant savings. Only 10 percent of participants experienced increased savings of 20 percent or higher from reduced occupancy. Utilizing data to inform preparations will enable more significant energy savings and sustainability efforts across a multitude of scenarios.
Additionally, America's aging infrastructure is being put to the test with increasingly severe weather patterns and natural disasters. This year alone we've experienced the hottest June on record, back-to-back hurricanes, and dangerous flooding. These severe weather events have cost the United States more than $1 billon each, according to the NOAA. This infrastructure bill is the country's largest climate-focused piece of legislation thus far, dedicating $154 billion to climate programs, including efforts to create more resilient roads, subways, and bridges that can resist weather extremes brought on by the changing climate. The time is ripe for government leaders to innovate and create sustainable change.
Harnessing Asset Data
To address these challenges head on, government leaders will need to turn to data analytics to inform their planning and decision making. Harnessing new and existing data to inform decisions will allow local governments to deliver on notable infrastructure priorities, like maintaining the significant energy savings seen nationwide during the pandemic, as well as addressing urgent infrastructure needs. Having a solid grasp on building operations and asset lifecycles will allow for smarter investments and innovation overall.
For example, if a city plans to implement a new long-term sewer model and land use plan with stimulus funds, it will be important to leverage data to inform what-if funding scenarios with the current and future state of the assets. This will provide visualizations of potential funding's impact on asset conditions, as well as the financial and functionality effects of immediate or prolonged maintenance. This will allow the city to prioritize projects based on location or urgency in order keep the assets at acceptable grade levels. By tackling these city projects from this perspective, governments will see more success with infrastructure projects and a lower overall investment, allowing them to allocate much-needed funds elsewhere, which leads to lower taxpayer burden and increased trust.
The concept of harnessing data to leverage informed decision making is where strategic asset management, or SAM, enters. SAM is the solution to ensuring data is at the center of all infrastructure maintenance and futureproofing decisions. It builds upon current infrastructure planning and provides a view of asset conditions and corresponding service levels. With SAM, local governments can develop proof points before starting a project and prepare for stimulus funds with data-driven insights, ensuring funds will be distributed to where they will have the most impact. The good news is that it's not rocket science, and it simply starts with collecting data.
SAM in Practice
One notable example of how a city harnessed SAM to inform important infrastructure upgrades is the city of Topeka, Kansas. The city utilized data to maximize the impact and efficiency of a public works project on road infrastructure—a project that's often top-of-mind for residents. In fact, the study on Americans' perception of infrastructure found that most respondents believe the quality of their roads has declined in the last five years, but regardless of how necessary the upgrades may be, the same respondents don't want to pay more in taxes to address these issues. When the city informed its public works department that the half-cent retail sales tax used to fund pavement renewal projects was up for reevaluation, the department needed to ensure it was leveraging data to inform next steps. On top of this, the department had to prove it could increase the quality of roads by improving its Pavement Condition Index (PCI) from 55 to 60 within the next 10 years, as well as demonstrate what PCI could be reached with an annual budget increase to $31 million.
The Public Works department leaned into data modeling. Leveraging data around existing pavement inventory and conditions, the department was able to model different funding scenarios and potential PCI ratings over the next 15 years. As a result, they found that a $31 million budget increase would only result in a three-point overall condition improvement, falling short of the goal. Considering an alternative approach and using different treatments, they were able to simulate that their current funding of $24 million spent differently to past practice would yield the desired PCI results. With this in mind, city leaders ultimately decided to focus on improving treatment strategies within the same budget constraints, as opposed to increasing the budget by $7 million. SAM not only allowed the city of Topeka to ensure cost-saving, data-driven strategy was driving its infrastructure upgrades, but also enabled it to increase transparency. The team was able to develop a data map to quickly and impactfully communicate the simulation and its results to constituents, strengthening their partnership and trust.
Data should also be at the center of energy management and sustainability efforts in public schools. For example, Des Moines Public Schools—the largest public school district in Iowa—started with tracking energy across its 70 buildings. These efforts allowed the school district to analyze monthly data and determine where and how they could save energy and measure progress. By monitoring areas of high-energy usage and making necessary adjustments, the school district saved more than $20.2 million and prevented 40,600 metric tons of CO2 emissions since 2008.
As evidenced, with data at the helm, government leaders have an opportunity to secure important stimulus funds—funding that will ultimately help drive sustainable change and urgent infrastructure efforts in their communities. So where should local government agencies start when it comes to creating a data-driven approach to obtaining additional stimulus funding?
1. Start with Allocation Data: Create data points that demonstrate where stimulus funds will be applied to tell a data story to allow governments to analyze where funds will be most impactful in both the near term and long term.
2. Implement Strategic Asset Management: SAM is proven to stretch the dollar further when it comes to infrastructure upgrades. By tracking existing data around the current and future state of assets, governments can make better decisions around how and when to address the concerns and model different funding scenarios, and it does not have to be an expensive data exercise.
3. Share the Impact: SAM allows for government leaders to provide clear data-driven scenarios as proof points around how stimulus funding will improve their communities.
4. Plan for the Future: When governments leverage SAM, they're not only addressing the urgent concerns, but are laying the foundation for more accurate and predictive analytics to drive decisions well into the future.
Building a Sustainable Future
SAM is a journey. One that can help secure a sustainable future for our communities. The government leaders who are tasked with future-proofing our communities can address this challenge by utilizing their data sets to implement long-lasting change, instead of relying on quick-fix solutions that will prove more expensive in the long-run. With a solid SAM plan in place ahead of the incoming $1.2 trillion stimulus package, governments can increase the impact of stimulus funding and effectively address their communities' infrastructure and sustainability needs, all while saving valuable time and money.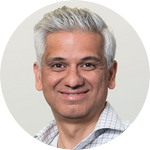 ASHAY PRABHU is vice president of strategic asset management at Dude Solutions.
Register for the ICMA Annual Conference
Join us September 17-21 in Columbus/Franklin County, Ohio for the 2022 ICMA Annual Conference.
JOIN ICMA TODAY!
ICMA provides the tools, resources and connections to help you become part of the international network of 13,000+ local government management professionals.