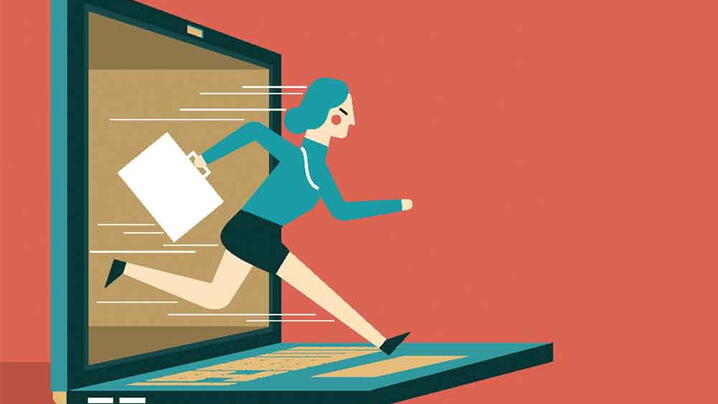 By Marcia Raines, ICMA-CM, and Ryder Todd Smith
Local government managers leave their positions for a plethora of reasons, ranging from newly elected officials to retirement to it just being time to move on. Whatever the reason, they can make sure they take all of the right steps to ensure that IT concerns are put to rest.
1. Ensure access to your contact list.
Today, not many people memorize phone numbers. Most of the contacts you have may be stored on a device controlled by your employer.
The moment your access is cut off, you may also lose all your contacts. Secure the contacts by exporting them to a personal account or into an Excel file that you can take with you.
2. Check work email used to login to personal resource accounts.
If you've been using your work email to login into personal resources (e.g., LinkedIn, Facebook) you'll want to keep in the future, go through all your personal resource accounts and change the email from your work to personal. This way, you'll still receive important notifications and updates and maintain access after you leave.
3. Update your LinkedIn profile.
One great way to have your contacts and network know where and how to contact you is to update your LinkedIn profile. That way your network will be able to see your updated job title and will contact you through your personal devices or ask for the best way to contact you.
4. Check access to your various professional 
memberships.
You may not have access to your professional memberships once your position changes, so it's always a good idea to check and update those profiles and logins if possible.
5. Ensure any personal files or images that you have accidentally received on your work laptop are removed (again, personal and not local government-related records).
Those images and files that you accidentally received on your work laptop? They have got to go.
Make sure you've removed all personal items from your devices prior to returning them to the IT or human resources department. Check with your local government's attorney on what is permissible.
6. Clear out your passwords.
Often, as we use our computers, we agree to store our passwords in our browser to keep ourselves logged into accounts. These passwords remain stored in your profile or browser.
To be safe, clear this cache so that your devices are not lurking around with access to travel files or information on other accounts that are personal to you.
7. Secure any letters of support or recognition for your work.
Achievements and awards are important endorsements to keep handy, especially for future interviews and reputation management.
Often these may be stored in digital files or in your email inbox at your work email. Secure those on a platform that you will have access to after you walk out the door.
8. Make sure you line up a good personal email address, and, if you are using AOL or Yahoo, swap that out for outlook.com or a Gmail address.
These days, everyone is using Outlook or Gmail for their email addresses.
Switching yours is not only a good way to stay up-to-date and relevant, but a great way to sync your contacts and calendars, share documents, and have everything you need all in one application. People might judge you negatively for using an AOL email address that could be considered passé. Don't give them that option, especially when the price of using the other solutions is free.
9. Give yourself enough time to check each of these points off your list.
Make time in your schedule prior to leaving to check (and possibly double-check) that each of these tips have been crossed off your list. If you are unsure how to go about any of these, do not hesitate to ask for help. Your organization's IT department should be able to help you in any way necessary.
You have spent a career building your connections, so don't let them disappear due to lack of foresight in planning for transition. Spending a little time before you transition will make the aftermath smoother and more pleasant, whether your plans entail social connections or promoting your new organization.

Marcia Raines, ICMA-CM, is a retired city manager and founder of Public Sector Services, San Francisco, California (mraines.pss@gmail.com)

Ryder Todd Smith is president, Tripepi Smith, Irvine, California (ryder@tripepismith.com).
Register for the ICMA Annual Conference
Join us September 17-21 in Columbus/Franklin County, Ohio for the 2022 ICMA Annual Conference.
JOIN ICMA TODAY!
ICMA provides the tools, resources and connections to help you become part of the international network of 13,000+ local government management professionals.