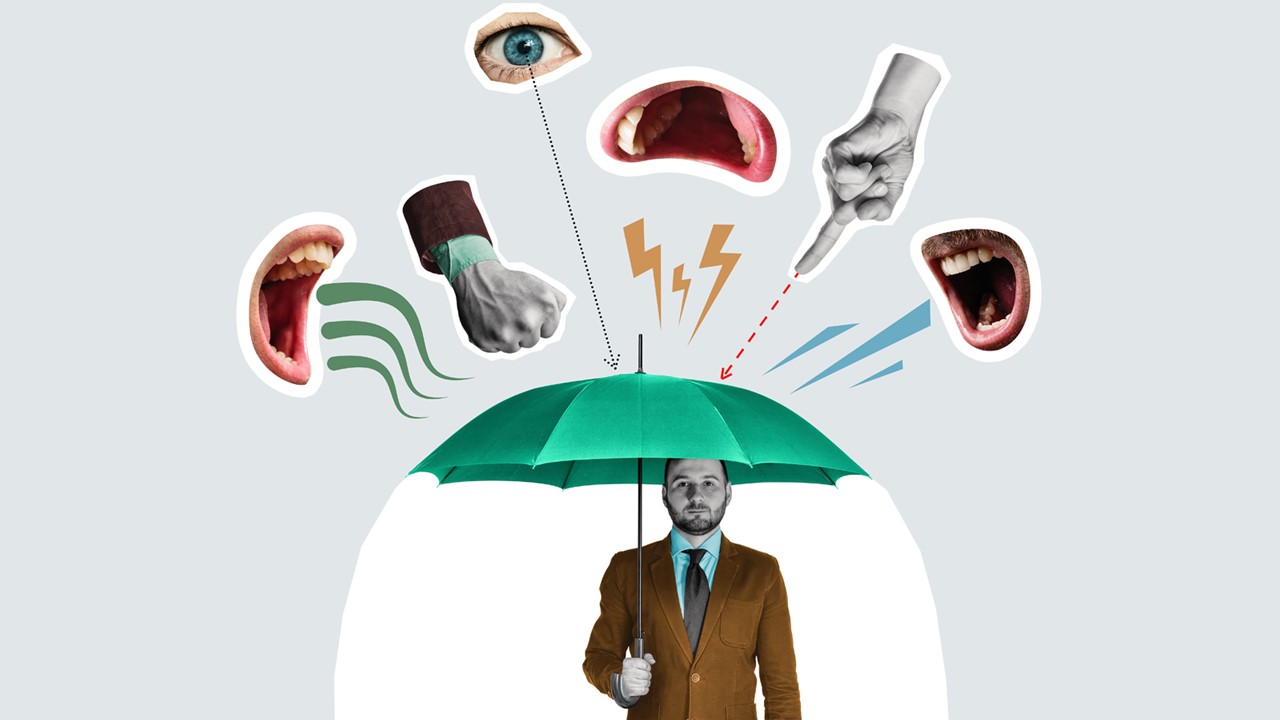 Historically and today, there are many myths and misconceptions associated with mental health. These misconceptions led to widespread acceptance of wellness as defined by physical health, overlooking the critical significance of mental and emotional aspects of health. The pandemic forced us to consider mental and emotional health as key factors of overall well-being as we collectively navigated unprecedented times. This renewed focus and emphasis on mental health manifested itself at workplaces through not only employer-provided mental health programs and initiatives, but also calls to shift organization culture.
On a macro level, team leaders were called to be more aware of their team's mental and emotional well-being and needs, and to adjust the workload accordingly. On a micro level, many team leaders began holding space for team members to share their concerns about external impacts on their work and subsequent challenges in maintaining the workload. We soon began normalizing and accepting that during these times the boundary between our work life and our personal life became more blurry than it was before. This called for greater awareness of the impact that the pandemic and the Great Resignation had on organizations and their team members' mental and emotional wellness.
The Great Resignation
After a mass exodus of local government employees, many municipalities were left to reflect on how and why they should focus on their workplace experience and culture to retain high-quality employees that will serve their community and support the organizational mission. National surveys of public sector employees tell us that local government employees are frustrated with a lack of recognition, training and development, change management, work-life balance, flexibility, equity and inclusion, and pay.
The Great Resignation left many organizations short staffed, which led to burnout and fatigue for the team members that remained. Simply put, local governments did not have the resources, begging the question—how can we adjust the workplace culture to meet staff needs and retain team members?
Burnout and Fatigue
Recently, burnout and fatigue have been widespread across industries, and local government is no exception. The unique public-facing role of local government, coupled with staff shortages and exhaustion on the part of the community, has exacerbated this situation. Research shows that burnout is one of the leading reasons why local governments are struggling to retain employees and maintain operations. William Resh, associate professor at American University, says, "Local governments must understand that many citizen-facing jobs do not simply require 'hard' skills, like speaking another language. They require 'soft' skills, like being able to interact with frustrated members of the public for hours at a time."
What exactly is burnout? Psychology Today defines burnout as "a state of emotional, mental, and often physical exhaustion brought on by prolonged or repeated stress." The signs of burnout, while recognizable, exist along a continuum, differing based on the degree and the individual. Dr. Bourg Carter highlights that the symptoms of burnout stretch across physical, emotional, and mental well-being. We all have experienced burnout at one point in our lives, and you may, in fact, be experiencing it right now as you read this or know of someone on your team going through it.
It is important to recognize signs of burnout early on in yourself and in your team for individual well-being and organizational function. It is important to create and maintain a work culture that values emotional and mental health. "Managers need to get better at listening, shifting, and pushing for their organizations to transform in progressive ways that support the new needs of the workforce." Craig Cowdrey of the Harvard Business Review calls for team leaders to become agents of change in their organizations and to set the precedent that we need to focus not just on employee performance but employee well-being as well.
Stay Interviews
One way to do this is by conducting stay interviews. Stay interviews are a simple and effective way to take a litmus test of your organization and see where your employees need more assistance and support to be satisfied in their position. This special type of check-in gives you the opportunity to connect with your team members, learn how they are feeling, get an insight into their emotional and mental well-being, and identify signs of burnout and fatigue. These conversations can help illuminate areas where you or the organization can provide resources and support to help your team members.
By conducting one to three annual stay interviews and asking key questions, a supervisor can get valuable feedback from the organization and better address the needs of employees to retain talent. Important questions to ask include:
Why do you stay in your position?
Which aspects of your job do you enjoy most?
What are your toughest challenges and could you use assistance in these areas?
What can your supervisor do to support you?
When did you think about leaving the organization and why?
While this dialogue must be followed up with real action, it can be a powerful tool to retain an organization's most talented employees.
Debriefs
Another helpful check-in is to host post-project debriefs designed to assess how employees feel following projects or initiatives that are heavily front-facing. It is important to understand the challenges team members are facing during public engagement processes to find ways to not only mitigate those challenges, but also have team buy-in for future public engagement. Team buy-in and support is a significant component of effective public engagement.
Support Networks
An additional way to navigate burnout is by building and maintaining personal and professional support networks. This network should include peers as well as team leaders who can understand the challenges you are facing, hold space to listen, and provide support. A diverse network of trusted friends and colleagues can help alleviate some of the symptoms of burnout and improve overall emotional and mental well-being.
One factor of burnout is apathy and cynicism toward work, leading individuals to retreat into themselves and only focus on that which is absolutely necessary for their role. However, research shows that by doing the exact opposite, they reduce the impacts of burnout. Dr. Jaclyn Margolis of Pepperdine University found that "being nice, in the form of generosity, support, and kindness, can help employees succeed…from improving their mood to reducing burnout." In other words, helping others can improve mental and emotional well-being! Team leaders can help by creating workplace cultures focused on gratitude and kindness.
So much of local government is front facing that sometimes we overlook the mental and emotional impact of that on our team members. Recognizing burnout and finding ways to help team members navigate can not only improve overall emotional well-being, but also improve staff retention rates.
Trauma-Informed Workplaces
Shifting workplace cultures to reflect an increased awareness of mental and emotional well-being also includes creating trauma-informed workplaces. The last three years have not only exhausted the workforce but changed the psychology of the work culture and environment. We need workplaces and cultures to account for and prepare to address the aftereffects of the last three years; we need workplaces that are trauma informed.
A trauma-informed workplace is "one that operates with an understanding of trauma and its negative effects on the organization's employees and the communities it serves and works to mitigate those effects." In practice, this looks like building a culture that supports psychological safety within an organization. Psychological safety can look like a team environment in which it is okay to make a mistake or express that you don't know something. Psychologically safe organizations create and hold space for team members to express their struggles without fear of job security. A trauma-informed workplace can help meet employee needs for emotional and mental well-being and create a workplace environment that retains team members.
The San Francisco Department of Public Health learned firsthand how successful a trauma-informed workplace can be. "As in the general population, departmental staff previously experienced withdrawal, decreased motivation, and lacked trust in the organization and their supervisors. Diverse and mission-driven employees felt disempowered, thus sapping their initiative and feeding into an "us versus them" mentality. For that reason, SFDPH's Trauma Informed System (TIS) initiative is aimed at transforming the health department's organizational culture into one that proactively empowers people, nurtures and respects their engagement, and is employee-led and self-sustaining."
SFDPH has sought to incorporate mindfulness techniques into a variety of day-to-day operations. They use three- to five-minute check-ins before starting meetings to perform breathing exercises and other mindfulness activities that help improve focus and clarity on the job. They also embed trauma-informed systems trainers within their organization to serve as content experts that support an internal team of TIS champions who "plan, implement, and support activities that promote organizational healing." Consistently evaluating the effectiveness of these efforts allows SFDPH to further fine tune and enhance its approach.
An Opportunity for Change
The Great Resignation and the pandemic have provided us with an opportunity to carefully assess the health of our workplace cultures. Burnout is happening across the country, impacting all local governments in all departments. Prioritizing mental and emotional well-being at work by changing the workplace culture to be more mindful and trauma informed is just one way in which we can help our team members not only do well in their work but also enjoy it.
POOJA BACHANI DI GIOVANNA is the assistant director at the Davenport Institute and works on program development and delivery, communications, and strategic relations.
ALEXANDER DESANTIS is a presidential management fellow and budget analyst with the United States Forest Service.
New, Reduced Membership Dues
A new, reduced dues rate is available for CAOs/ACAOs, along with additional discounts for those in smaller communities, has been implemented. Learn more and be sure to join or renew today!