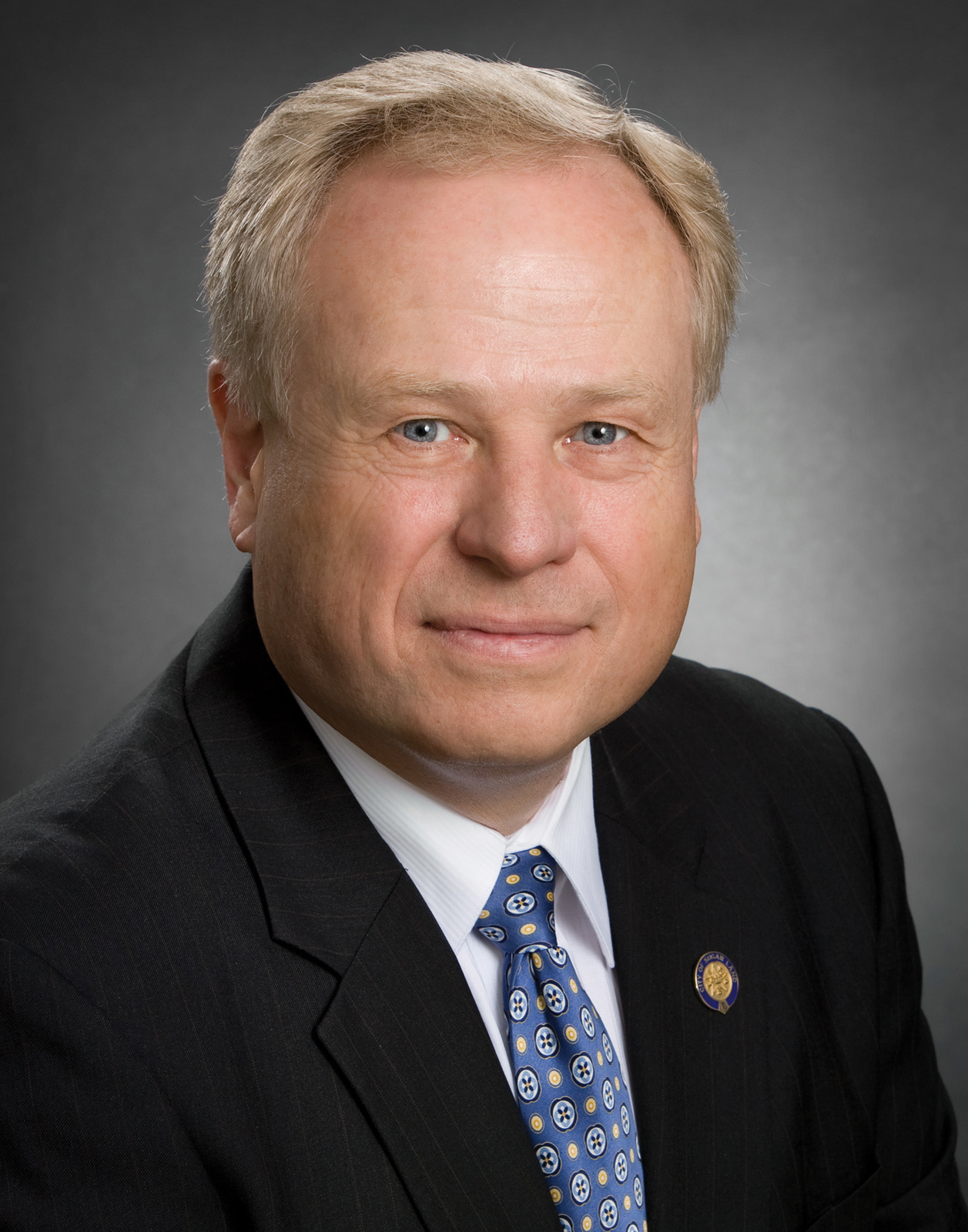 Award for Career Excellence in Memory of Mark E. Keane
Allen Bogard
City Manager, Sugar Land, Texas
This award was established in memory of former ICMA Executive Director Mark E. Keane. With funding support from ICMA-RC, this award recognizes an outstanding local government administrator who has enhanced the effectiveness of government officials and consistently initiated creative and successful programs.
Allen Bogard's leadership and management have greatly contributed to the award-winning success of Sugar Land, Texas. Since Bogard became city manager in 2001, his leadership has contributed to the development of Sugar Land into a destination city with a robust economic development program, a reputation for strong financial management, low taxes, a AAA bond rating, and recognition as one of the best and safest places to live in the country.
During Bogard's tenure, Sugar Land has developed and/or expanded destinations such as First Colony Mall; the Houston Museum of Natural Science at Sugar Land; the minor league ballpark, Constellation Field; and the Smart Financial Centre at Sugar Land, an indoor, live entertainment venue that consistently ranks among the top 10 in the world. With a strong commitment to public-private partnerships and financing packages that do not depend on general fund tax dollars, these venues have been developed in response to citizen demand and as part of a larger strategy to solidify and enhance the city's economic and sales tax base.
Sugar Land also has become an economic powerhouse—a burgeoning employment, educational, and medical center. It is home to more than 66,000 jobs and to high-profile regional and international corporations housed in more than 25 million square feet of commercial space, including numerous Fortune 500 companies. Further, Sugar Land's assessed commercial valuation has more than doubled in just over a decade—increasing by more than $2 billion.
Under Bogard's leadership, the city has intentionally focused on developing resiliency initiatives and innovative constraint in response to periods of uncertainty in the regional economy. Bogard has advocated conservative forecasting of sales taxes (the largest but most volatile operating revenue), implementing and maintaining belt-tightening cuts to recurring expenditures, and ensuring that recurring rehabilitation is funded from diverse and reliable revenue streams.
In this way, Sugar Land has maintained its financial strength while preserving service quality. For example, when falling sales tax revenue and a downturn in the regional economy led the city to identify more than $1.5 million in recurring budget reductions in fiscal year 2018, these efforts were singled out for praise by Fitch Ratings as Sugar Land's AAA bond rating was reaffirmed.
During Bogard's tenure, the city has more than doubled in population and increased in diversity, in part because of annexations. Of its total population of more than 117,000, more than 25,000 residents are foreign-born. Recognizing the population changes, Bogard created the City Manager's Multi-Cultural Advisory Team, with which he worked to host "101" sessions for key staff to ensure the city was able to meet the needs of all residents. This incredibly successful program won an ICMA Community Sustainability Award in 2011.
Bogard has served numerous mayors and council members, working with the council throughout a robust strategic planning process. He also worked with the council to recommit to the "Sugar Land Way," focusing on exceeding expectations, value for tax dollars, responding to both opportunities and challenges, and building community pride. Components include ensuring Sugar Land remains safer than ever before by building on years of investments in facilities and public safety innovations, maintaining aging infrastructure and facilities at a high level, retaining and challenging a champion workforce that consistently exceeds the high expectations of the community, constantly improving the community's appearance, and building on Sugar Land's position as an economic powerhouse and financial leader that allows the city to improve its quality of life and minimize the residential tax burden.
In addition to his city management responsibilities, Bogard mentors new and mid-career local government professionals by creating career development programs for young professionals. For example, he established a management assistant program that has served more than 20 individuals aspiring to a career in local government.
Bogard's 40 years of municipal experience includes past roles in Keller, Winnsboro, Plano, and Dallas. In 2005, his professional leadership and accomplishments were recognized with the Administrator of the Year Award from the Texas City Management Association (TCMA), and in 2011, he was recognized as the TCMA "Mentor of the Year."
Award for Career Development in Memory of L. P. Cookingham

Courtney W. Christensen
City Administrator, Mission Hills, Kansas
This award goes to an outstanding local government administrator who has made a significant contribution to the career development of new talent in professional local government management, in honor of former ICMA President L.P. (Perry) Cookingham, who is credited with creating the local government internship.
Courtney Christensen's commitment to developing new talent in local government is unmatched, as evidenced by an outpouring of support from young professionals she has mentored and her continued passion and focus on attracting and developing those new to the profession.
Christensen began her career in public service after earning a bachelor's degree in social work from Kansas State University. For six years she worked in Kansas with families and children in crisis before earning a master of public administration degree from the University of Missouri-Kansas City.
Christensen has spent the last 32 years working for just two cities, Kansas City, Missouri, and Mission Hills, Kansas, with a wide range of responsibilities in budget and finance, resource management, and emergency services coordination. In 2000, she became city administrator in Mission Hills, where one of the hallmarks of her tenure has been a focus on resident satisfaction and community engagement.
Perhaps Christensen's greatest legacy is her continued support and guidance for those new to the profession, as evidenced by her mentoring of 19 interns in Mission Hills. Anyone who has ever been an intern or supervised one knows that to do it properly requires an investment from the mentor as well as from the intern. Christensen has given unselfishly of her time, hoping to benefit those who are still learning about public service and the profession they have chosen.
Quotes from a few of Christensen's past interns illustrate her impact on them and their public service careers:
From Scott W. Bovick, deputy county administrator, Sarpy County, Nebraska: "Courtney Christensen was a great mentor to me because she was willing to (1) share with me the important issues that she faced as an administrator, (2) assign me substantive projects so that I could grow my skills, and (3) coach and counsel me about the city management profession and possible career paths. . . . Her mentorship has had a lasting impact on me personally and on my ability to progress in the profession."
From Adam Norris, assistant city manager, Independence, Missouri: "Courtney created a learning environment and opportunities for me to be exposed to all aspects of local government. She encouraged questions, provided challenging projects, and instilled a passion for a high level of service to residents and stakeholders. She handed me projects that built a core set of skills that I carry with me today."
From Chris Engel, city administrator, Merriam, Kansas: "I have always appreciated Courtney's investment of time and effort in exposing me to the profession. Even as an intern I always felt that I had a seat at the table within her organization. However, the thing that has probably reaped the greatest benefit in my career was her insistence that I get plugged into the local professional networks."
From Stephen Larson, budget analyst, resource management, Olathe, Kansas: "Courtney always taught me the importance of communicating and being on the same page with your coworkers. She always helps her interns with career paths and interviews through coaching and teaching."
From Meghan Woolbright, assistant to the city administrator/city clerk, Mission Hills: "Courtney shares her knowledge with those around her through the city's internship programs, professional development conferences, and everyday life. She believes in life-long learning and encourages her mentees and staff to think critically, creatively, and continue their education."
Ashley Wooten, intern, Mission Hills: "To her, the staff is a team and everyone is capable of contributing in ways that are impactful, regardless of title."
From Danielle Dulin, assistant to the city administrator, Lenexa, Kansas: "Courtney immediately took me under her wing as an intern. Her passion and dedication to this profession were contagious as I searched for the right full-time position with a city. As I have continued to advance through my career, she is never more than a phone call or text message away, and always makes time for me."
In 2016, Christensen's peers in the Kansas Association of City/County Management honored her with the Buford Watson Jr. Excellence in Public Management Award. Being selected for this prestigious award was a testament to Christensen's love of the profession and true dedication to public service.
Assistant Excellence in Leadership Award in Memory of Buford M. Watson Jr.
Jennifer V. Cunningham
Assistant City Manager, Garden City, Kansas
This award, commemorating former ICMA President Buford M. Watson Jr., honors a local government management professional who has made significant contributions toward excellence in leadership as an assistant (regardless of title) to a chief local government administrator or department head.
Jennifer Cunningham came to her position as assistant city manager in Garden City, Kansas, through a nontraditional route and went on to make significant contributions to the city. Starting as the city prosecutor, she soon demonstrated an acute sense of efficiency in operations and finance that led to a series of promotions in the court system.
As municipal court administrator, Cunningham took an underperforming department that was struggling with identifying and meeting performance goals and quickly turned it into arguably the highest performing department in the organization. She identified staff with talent and a willingness to commit to specific targets and to the values of the organization, she empowered them to work as a team, and she celebrated with them when all the targets were met in less than a year. In the process, she identified opportunities for substantial budget savings once the department was operating at an optimal level.
Cunningham repeated the scenario with the information technology department in 2014, consolidating the information technology and communications departments with cross‐trained personnel. Former city employee Ashley Freburg recalls Cunningham's leadership at the time. "As a supervisor, Jennifer empowers people… She models the leadership qualities she hopes to see from others, and she isn't afraid to take risks."
In 2015, her emerging interest in a more generalist position led to her appointment as assistant manager. She continued to oversee the municipal court, as well as information technology, legislative affairs, the regional airport, the golf course, the zoo, and the city's "Big Pool." Cunningham has organized a best practice learning team among the department directors who report to her, encouraging and celebrating servant leader qualities and strong workplace cultures. Her overall ability to effect positive change in work environments, improve service delivery, and often do it at a lower net cost has made her a highly effective manager and a leader among her peers in the state and the profession.
Cunningham demonstrated analytical skills that benefited cities throughout Kansas during the state legislative session in 2015. A strong and popular conservative movement, led by the Kansas Association of Realtors, was seeking to further restrict local government by imposing a property tax lid. The realtors were using a graph showing that property tax collected by cities statewide outpaced the consumer price index by a substantial margin, adding fuel to a growing "anti‐city" sentiment. Cunningham created a contrasting graph that backed out growth in assessments due to new building permits and annexation. The resulting information countered the story promoted by the realtors, and she helped several dozen other cities create similar graphs to give to their legislative delegations. Her efforts served as the foundation for an erosion of the tax lid in subsequent legislative sessions.
Cunningham also initiated a citizen input process regarding the future of city‐funded aquatics in Garden City. This was especially significant because it openly addressed the inevitable end of the "Big Pool," the city's iconic, nearly century-old landmark. Cunningham traveled to schools, social clubs, church groups, agencies, and informal gatherings and gave a presentation to approximately 6,200 residents on the policy questions facing the community regarding the Big Pool and the future of water recreation. Her presentations generated an outpouring of resident engagement—the completion of nearly 4,500 surveys in a city of 31,000.
Cunningham also serves the profession and community through volunteering her time, energy, and leadership skills, including service on the board of the Kansas Association of City/County Management. Kathy Sexton, vice president of the KACM Board and city manager in Derby, Kansas, says, "Her critical thinking skills are superior, her people skills top notch, and her enthusiasm most certainly contagious." Cunningham has been a youth sports coach and has spoken at middle school and high school career fairs about working in local government. One local 17‐year‐old girl who was coached by Cunningham as a 10‐year‐old basketball player and now works for her as a seasonal lifeguard at the Big Pool, said, "Jennifer was the first woman I remember being around where I saw that it was okay to be smart and speak with authority. She is a role model for me and other young women in Garden City."
Early Career Leadership Award in Memory of William H. Hansell Jr.

Jerrid M. McKenna
Assistant to the City Manager, Santa Clarita, California
Established in memory of former ICMA Executive Director William H. Hansell Jr., this award recognizes an outstanding early career local government professional who has demonstrated leadership, competency, and commitment to local government as a profession.
When Jerrid McKenna joined the city of Santa Clarita as a recreation coordinator in 2012, his forward thinking, positive attitude, and work ethic were quickly recognized as he leveraged technology to streamline everything from scheduling to operations. Tapped as a rising star in the organization, he worked his way up the ranks in just five years, serving as a communications specialist, administrative analyst, and management analyst before assuming his current role as assistant to the city manager.
Trusted with some of the top priorities in the organization, McKenna has delivered, bringing energy, positivity, and ambition. He has taken the lead as the city's annual budget officer, traffic safety team administrator, public safety manager, strategic plan administrator, and homeless services liaison. His major accomplishments include:
• Leading the Traffic Safety Team to a 30-percent drop in collisions and zero pedestrian and cyclist fatalities from 2016 to 2018;
• Achieving the lowest crime rate on record in 2018 through implementation of his Crime Reduction Plan;
• Earning recognition as one of Santa Clarita's "40 Future Leaders Under Forty";
• Receiving $425,000 in LA County Measure H funding to increase interim housing and service capacity; and
• Creating the first multi-organizational Task Force on Homelessness, composed of more than 30 local stakeholders.
McKenna attributes his career decision to an experience he had as a senior in high school. He was captain of the returning league championship basketball team, and his academic and athletic experience and achievements were tailored for a college basketball scholarship. Prior to the start of the season, a grand mal seizure and the discovery of a brain tumor altered those plans. Sitting in a hospital bed after surgery, he realized this experience was a sign his skills were needed elsewhere. Through that experience, he developed a deeper passion for life, family, friends, and public service, ultimately leading to a career in local government where he could positively impact the lives of others on a daily basis.
His passion remained with him throughout his undergraduate studies at California State University, Northridge. While students typically viewed the college as a "commuter school," he was determined to make an impact. He plunged into campus life, joining multiple organizations designed to help and inspire the student body and the surrounding community, and he took advantage of networking opportunities with alumni—all while working at the Boys and Girls Club and University Student Union.
He took that same attitude and passion to his first professional job in Santa Clarita, his hometown. As a recreation coordinator, he enhanced efficiency by harnessing technology to cut costs and maximize resources so much that the department was able to provide new programming free of charge to youth in the community. In 2013, City Manager Ken Striplin selected McKenna to chair the organization's annual United Way campaign, which raised an all-time high of $20,000. After a year on the job, he decided to continue his education and completed an MPA degree in 2015. He was promoted to administrative analyst in the city manager's office and given the opportunity to oversee and manage the city's $25 million contract with the Los Angeles County Sheriff's Department.
After a year, McKenna was promoted to management analyst and then assistant to the city manager in 2017. He works on high-pressure (but high-impact) issues for the community and attributes his accomplishments to effective collaboration, a positive attitude, and hard work. He also credits his work ethic and determination to his parents, who sacrificed a lot to raise three children and always emphasized the importance of helping others. His newfound motivation is to be that same example for his two-year-old son with the help and support of his wife who has been by his side since his life-changing experience in high school.
McKenna said, "I am honored to serve as the assistant to the city manager for a truly inspiring organization full of dedicated employees and amazing leadership in my hometown, which serves 225,000 residents every day." He says the next things on his agenda are to attend leadership courses and begin a doctorate degree in organizational leadership.
McKenna is a true public servant and has aligned his experience and education with his unwavering passion for community.
Academic Award in Memory of Stephen B. Sweeney

Dr. Howard R. Balanoff
Professor & Director, The William P. Hobby Center for Public Service, Texas State University
Established in the name of the longtime director of the University of Pennsylvania's Fels Institute of Government, this award is presented to an academic leader or academic institution that has made a significant contribution to the formal education of students pursuing careers in local government.
In a career spanning nearly half a century, Dr. Howard Balanoff has contributed to the formal education of future local government professionals by teaching public policy and administration and related courses at the undergraduate and graduate levels at Texas State University, establishing the Texas Certified Public Manager (CPM) program, founding and advising an ICMA student chapter, and teaching and managing the university's MPA internship program. As a professor he has not only taught in the classroom, but also has developed and taught several courses that have been delivered in online and hybrid formats.
In the words of ICMA member Terrell Blodget, emeritus holder of an endowed faculty position at the LBJ School of Public Affairs at the University of Texas at Austin and a long-time associate of Dr. Balanoff's at both ICMA and the American Society for Public Administration (ASPA), "Dr. Balanoff has rendered outstanding leadership in educating young men and women to receive their master of public administration, and also in his statewide leadership in the Certified Public Manager program."
The Texas Certified Public Manager program was one of Dr. Balanoff's major accomplishments on behalf of the public management profession. After starting it in 1995, he continued to serve as its director while the program graduated more than 1,900 public sector employees—typically early and mid-career local government managers, small town city managers, and city managers and assistants to mid-size and large cities. The program has eight locations at five universities delivering year-round education through the CPM program. To help support the CPM program, Dr. Balanoff was instrumental in obtaining a $1 million endowment from former Texas Lieutenant Governor William P. Hobby's Foundation in Houston, Texas.
Dr. Balanoff started the ICMA Student Chapter at Texas State University and serves as its faculty advisor. He also started the university's chapter of Pi Alpha Alpha, the global honor society for public affairs and administration, and serves as that chapter's faculty advisor. He has been instrumental in assisting the director of Texas State's MPA program in establishing and supporting the implementation of the ICMA Management in Residence program in collaboration with the Texas City Management Association (TCMA).
In 2016, Dr. Balanoff took over the teaching and management of Texas State University's MPA Internship Program, connecting MPA students with local governments in Central Texas and providing supervision and mentorship for MPA students enrolled in an internship course.
Over the years, Dr. Balanoff has provided significant service to national, regional, state, and local organizations. He served on TCMA's Professional Development Committee, on the board of the National Certified Public Manager Consortium, and as chair of the National CPM Consortium and ASPA Section for Public Management Practice.
As a veteran of the U.S. Air Force, he continues to serve as an advisor and mentor for undergraduate and graduate public administration students who are veterans. And he has developed and promoted international public administration exchange programs for Texas State University faculty and students. Students and faculty from France, Lithuania, Latvia, Mexico, and other countries have come to the Texas State campus to take classes, provide guest lectures, and engage in collaborative research.
As one of the most influential educational leaders in public administration, Dr. Balanoff has received numerous awards, the most prestigious of which was his 2011 election as a Fellow of the National Academy of Public Administration. In recognition of his teaching service, he was named the recipient of the Terrell Blodgett Teaching Award from TCMA and received the Outstanding Educator of the Year Award from the CenTex (Central Texas) chapter of ASPA. In recognition of his service to ASPA, he was the recipient of the Paul Van Riper and Donald Stone Awards, the two highest service awards given by that organization. And for his service to the profession at the international level, he was honored with the prestigious ASPA Boorsma Award for Outstanding Service to the International Public Administration Community.
Through teaching, mentoring, and service, Dr. Balanoff has contributed to the education and careers of hundreds of emerging local government management professionals.
New, Reduced Membership Dues
A new, reduced dues rate is available for CAOs/ACAOs, along with additional discounts for those in smaller communities, has been implemented. Learn more and be sure to join or renew today!