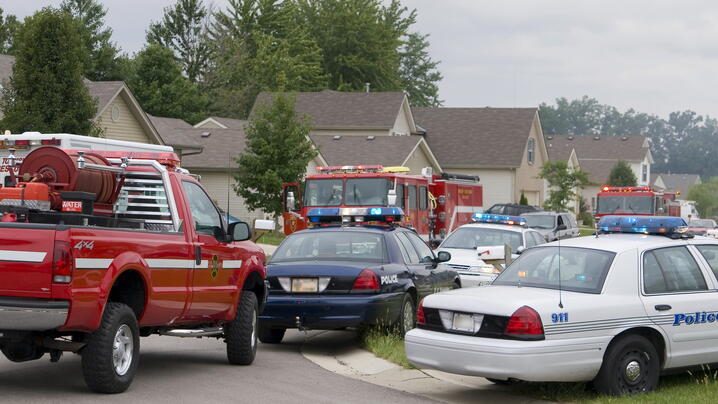 ICMA's Police and Fire Personnel and Expenditures Survey provides an overview of trends in staffing and expenditures across the country. As local governments have wrestled with budgets for the last six years, police and fire departments have not been immune, although they may have been among the last departments to be affected by reduced budgets. Staffing and expenditures are always a topic of discussion as budgets are prepared.
The average entrance salaries are $45,664 for police officers and $40,887 for fire fighters.
The average maximum salaries for police officers and fire fighters are $64,897 and $57,091, respectively.
Both police and fire show average overtime expenditures of approximately $500,000.
The survey also covers staffing shifts and workweeks, which have been a focus of recent questions in the Knowledge Network related to police departments. 
Results from ICMA's 2013 Police and Fire survey show that
 Over 70% of local governments report a 40-hour workweek for police officers.
Slightly more than 50% report 10/12-hour shifts for police officers.
 Other highlights from the 2013 survey include:
For firefighters, a plurality of local governments reports a 56-hour workweek.
Approximately 75% of local governments report that firefighters work 24-hour shifts.
The average number of police officers for responding local governments is 105 and 72 for firefighters, but population size, density, and other factors influence the staffing in each locality.
For both police and fire the average per capita number of officers has decreased since 2012.
The survey summary also includes minimum and maximum salaries for an additional 12 police and fire department officer positions.
A summary of the results can be found in the Knowledge Network. A detailed analysis will be published in The 2014 Municipal Year Book, which will be available in April. ICMA's webinar "Asking Police and Fire Chiefs the Right Questions: How to Make Data-driven Decisions" is available for download. 
Register for the ICMA Annual Conference
Join us September 17-21 in Columbus/Franklin County, Ohio for the 2022 ICMA Annual Conference.
JOIN ICMA TODAY!
ICMA provides the tools, resources and connections to help you become part of the international network of 13,000+ local government management professionals.