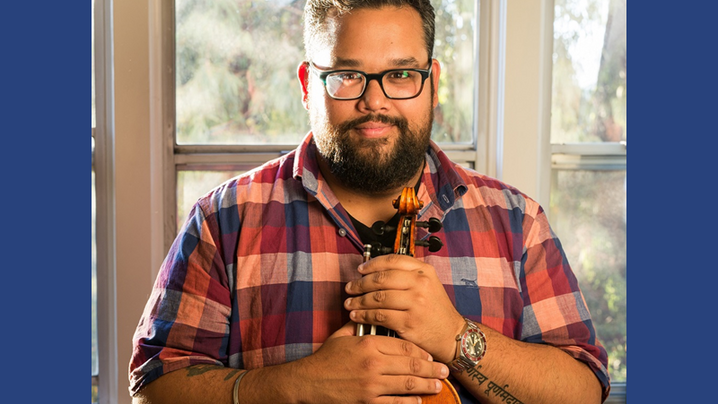 Vijay Gupta is a violinist and educator whose efforts to merge music with mental health are changing the world, note by note. We were eager to chat with him before the conference to learn more about him. Join us for his session on Thursday, September 24, The Medicine of Music, sponsored by Cigna.
You have said that making music is not just a form of entertainment, but that the arts are critical lifelines. How has music been a lifeline for you personally during the pandemic? In light of social distancing, have you still been engaging with communities and continuing your musical advocacy during this time?
Through COVID, we have experienced burnout, loss, and alienation. But we also possibly experienced what it is like to be confronted with the vast open frontier of ourselves, and thought about our purpose in the world. When we confront ourselves with our own freedom, we are compelled by a choice: are we going to sink into a small, walled-off isolation, or will we take the deep, solitary dive into our internal well?
During the pandemic, I found myself leaning into the deep discomfort of cultivating a daily practice—not only of making music, but of "solitary deep dives" into reading, working out, writing—while encouraging my team to do the same. I've had to counter my usual response to burnout, often "doom-scrolling" through social media, by cultivating a lifeline of creative discipline. This is a spiritual practice, and in the Hindu culture of my upbringing, the Sanskrit word sadhana means an "act of daily worship." You can follow my creative sadhana on Instagram where I share music, my love for photography, and insights in the form of quotes and writing. 
The work of my organization, Street Symphony, serves to connect individuals recovering from homelessness and incarceration through music. Through COVID, we've been visiting with our colleagues and program participants in Skid Row through the dedication of our incredible partners, who have prioritized the human connection brought about through music.
We've reconfigured our music programs to be delivered through Zoom, and when possible, we've been visiting our partners in Skid Row—The Midnight Mission and The Weingart Center—just one musician at a time, while our staff joins in through a computer. We're also working closely with the California Department of Corrections and Rehabilitations to continue delivering our programs through prison TV channels, reaching all 35 prisons across California.   
Music does many things, one of which is to help tell stories. Looking at the civil unrest in the wake of George Floyd's death, and the demand for racial justice that we're seeing across the globe, how can music help tell those stories?
Music allows us to hold space for pain and loss, but it also is a touch of grace that reminds us that when we connect to our truest selves, we are far more than just our pain. Music helps us bear witness to pain—both the external pain of injustice and our own internal alienations. Hurt people hurt people. It's our job to find our own path to becoming braver citizens of our world, and to address (perhaps even lovingly confront) own inner unrest. That inner alchemy is the only place where we might begin to manifest a truly amazing grace.  
What are some specific lessons that you've learned along the way that local government leaders should keep in mind when it comes to public service and making life better for the residents they serve?
There is no us and them. Anything which holds "us"—leaders, visionaries, stewards—apart from "them" —the poor, the marginalized, the "other"—is a myth that serves to alienate those who we wish to serve. It's also a myth that alienates us into having to be the people who only engage when there's a problem, who only engage when there's the right amount of money, leadership, and programs. One of the many lessons I've learned from the Skid Row community of Los Angeles is that when you call people a "problem" and you call yourself a "fixer," a toxic power dynamic leads to the further entrenching of those labels. We label people as "cases" to be solved by "case-workers." When we prioritize the problem over the relationship, we create a world where our end goal is not a celebration of humanity and connectedness, but rather a headlong dive into solving "the next problem." What would our world be like if we simply asked: when we are together, how do we want to be?  
Do you have any advice for the next generation of local government leaders, who are just now entering the workforce and beginning their career?
I've been wondering how self-care is the disengagement from systems of self-harm. We often turn to self-care after we've engaged with systems that extract, damage, and outrage us. I wonder if this leaves us in a kind of void, where all we can do is consume "wellness" in ways that leave our whole well-being out of the picture. But what if we chose not to react to pain, but to respond? How might we respond—with a slow, steady courage—in a way that is rooted fundamentally in care for the well-being of the whole? In this way, how might we change the context of our engagement with the world to create a place where we're always nourishing our highest selves? The writer Parker Palmer says that to be whole, we need to "create places between us where the soul feels safe enough to show up and make its claim on our lives." Where does your soul claim your life? I feel my soul show up in the transcendence of service. I'm trying to lean in to what gives me life.
Want More?
Registration for UNITE: A Digital event is still open! All sessions will be available on-demand through December 31, 2020. Register today!
2022 ICMA Annual Conference Content Available On-demand Through December 31!
In-person and digital attendees were emailed credentials for the conference online platform on 9/12/2022. New users can still register for on-demand access.
JOIN ICMA TODAY!
ICMA provides the tools, resources and connections to help you become part of the international network of 13,000+ local government management professionals.