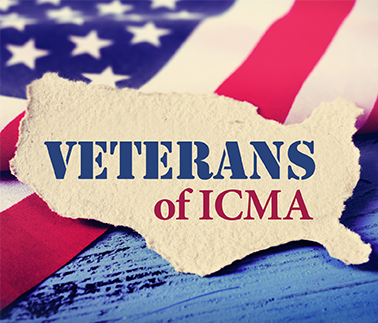 What does it mean to live a life in service? If you head to Google, the common thread throughout is "doing work for others" and "providing a public need," and that is exactly what local government professionals do. They show up every day regardless of natural disasters or pandemics, to make sure that the citizens of their community have the services they need to live the best quality of life possible. That alone is amazing! But there is an even smaller subset of our members who chose to raise their right hand and swear an oath to defend the Constitution of the United States, even if that meant sacrificing their own life. These are our veterans.
Veterans make up less than half of one percent of the American population, but interestingly enough, they make up almost 10 percent of our ICMA membership. During this special week in November when our nation takes a moment to honor all of those who served in the military, ICMA would like to recognize three of its own veterans: Rey Arellano, James Gallup, and J.J. Murphy.
These members know firsthand what selfless service is. Their sacrifices came in the deployments, weeks spent in the field, late-night training, days spent on the firing range, missed dinners, and holidays spent away from home. But none of this diminished their desire to continue a career in service. When they took off the uniform and put on a suit and tie, they continued to be servant leaders in their communities by becoming local government professionals.
Rey, James, and J.J. were nominated by their colleagues and will be presented with ICMA's Veterans Recognition Award, which was created to acknowledge high-performing veterans working in local government. Take a moment to read their stories below that were submitted by their colleagues. And on this Veterans Day, take some time to remember all of the men and women who have served or are currently serving in our armed forces.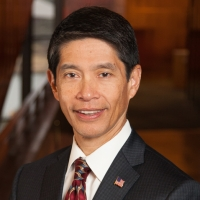 Rey Arellano completed a 22-year career in the U.S. Navy, serving as a nuclear-trained submarine officer. Upon completing his military career, Rey's professional values of duty and commitment and his academic expertise steered him in assuming the role of deputy city manager and chief information officer for the city of San Diego. In his current role as assistant city manager in Austin, Texas, he continues to apply his life lessons from the Navy. Much like he did while serving our country, Rey is always known to keep the big picture in mind, ensuring that resources and efforts directly support desired strategic goals. Rey also safeguards the city's resilience by insisting on the inclusion of change management considerations while also developing and nurturing future leaders.
Rey's contributions extend beyond his services to Austin. He coaches future leaders through the ICMA Coaching Program and was instrumental establishing I-NAPA, the first national professional network created to cultivate and mentor Asian public administrators.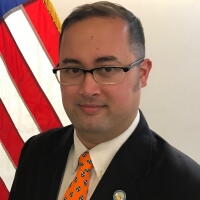 James Gallup served in the United States Air Force for over five years. After completing his time in service, James went back to school and received his MPA. He then completed two years as a public management fellow with the city of Athens, Tennessee, where they valued his skills and professionalism so much, they hired him full time as the assistant to the city manager.
James' experience in intelligence and management during high stress combat situations has added tremendous value to Team Athens. Skills and practices learned in the armed forces have been shared and adopted by the entire leadership team for Athens. His influence is seen throughout the organization, from the process of how weekly staff meetings are conducted, to debriefing after major events and projects. James was also instrumental in the process of reforming the city's social media presence leading to more transparent and democratic practices. James is a patriot who now uses his education and military experience to improve the community that he and his family have come to adopt as their own. Athens is indebted to James for his service and care for his fellow citizens.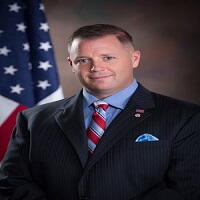 J.J. Murphy served as a Major in the U.S. Air Force Reserves, with the majority of his 20 years of service spent managing command and control centers in Africa, Haiti, and the United States at the Air Force Rescue Coordination Center. J.J. currently serves as the city manager for Palmdale, California.
J.J.'s passion for public service is evident in all he does, and this type of leadership has been infectious throughout Palmdale.  He is not afraid to take chances and encourages city staff to do the same.  J.J. has used his military leadership experience to empower his staff and their community, especially during these challenging times navigating a global pandemic and social justice reform. J.J's belief in  "leading from the front" has encouraged the Palmdale staff to use their strengths and skillsets to engage with the community by building relationships with the residents and with one another.  The staff have learned from J.J. that as a team, all things are possible, even through the toughest of challenges. He inspires the staff to action despite fears and uncertainties, reminding them that they can find the "yes" in any situation. 
New, Reduced Membership Dues
A new, reduced dues rate is available for CAOs/ACAOs, along with additional discounts for those in smaller communities, has been implemented. Learn more and be sure to join or renew today!