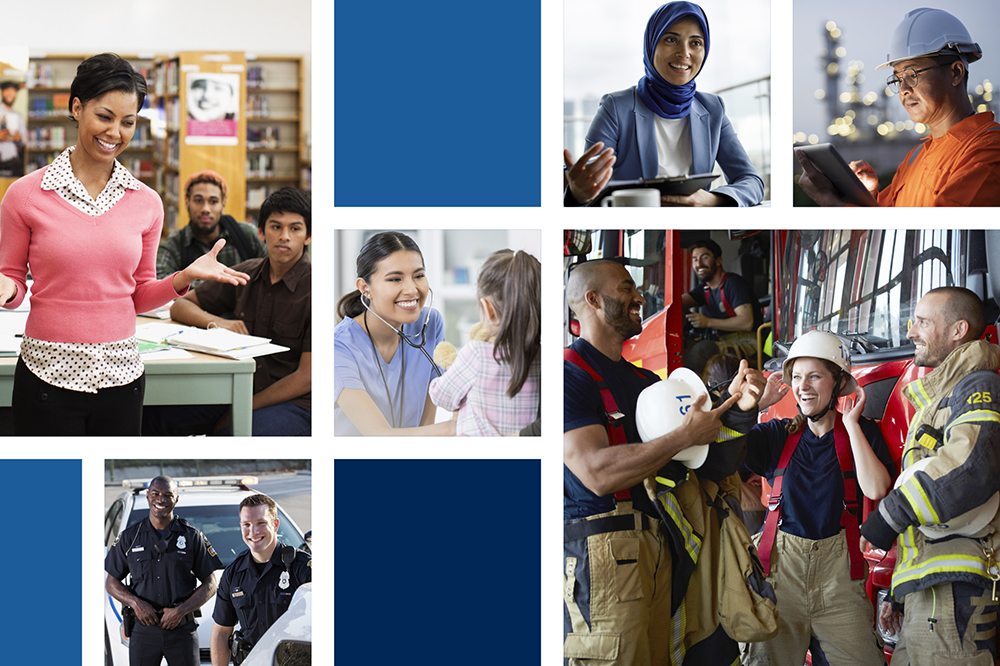 Local government managers rightly focus on equity in the delivery of services to diverse communities. But diversity, equity, and inclusion (DEI) are also key considerations in the recruitment and retention of a talented and effective workforce that reflects the community it serves and brings a variety of perspectives to organizational decision-making.
MissionSquare Research Institute compiled a report on representation in the public service workforce by race, ethnicity, gender, age, veteran status, LGBTQIA+ identification, disability, and other characteristics.  The significance of this data is not only in pointing out areas where more targeted recruiting may be warranted, but also in identifying areas where multiple factors may be interacting to impact labor needs, recruitment, and retention of a diverse workforce.  For example:
Women are highly represented among secretaries (93%) and other customer service employees.  Staffing needs in these occupations are projected to decrease significantly in coming years due to office productivity software and automation.
The median age is high among librarians (83% women) and bus drivers (who are more likely to be African American).  As older workers retire, changes in gender and racial representation may occur rapidly.
People of color are underrepresented in public safety.  Where public-facing service staff do not reflect the community they serve, there may be issues with building trust.
Almost 10% of LGBT employees have left an employer due to feeling unwelcome.
Job applicants who are both over age 45 and from underrepresented communities tend to require more job interviews before receiving a job offer than their younger peers.
As workforce impacts of COVID-19 have led to layoffs in facility operations, education, recreation, libraries, and other services, the impacts have been felt disproportionately among certain groups.  Particularly where initiatives to diversify the workforce have been more recent, seniority provisions may undo any progress that has been made.
Attracting and retaining a diverse workforce is important for all jurisdictions, particularly in a tight labor market, but it is a particularly relevant consideration for smaller employers.  Among governments with 500 or fewer full-time equivalent employees, only 20% of human resource managers feel their workforce reflects the racial/ethnic composition of the community they serve.  Where employers do not actively recruit diverse employees and engage them as valued members of the team, they may find that the few there are on the payroll are more likely to seek opportunities elsewhere.
Effective Outreach
Seventeen percent of state and local government recruitment efforts include demographic or neighborhood-specific outreach.
Twenty percent of all employed veterans work in state or local government, education, or health care.
When names are masked on initial applications, Black and Asian job candidates receive approximately twice as many requests for interviews.
Inclusion efforts feed not only a general sense of belonging, but also a 56% improvement in employee job performance.
To take a more proactive approach, governments can review job descriptions to remove credentialing requirements that screen out nontraditional candidates, recruit via Historically Black Colleges and Universities or non-English language media, establish employee resource groups for underrepresented demographics, and ensure their employee development programs provide broad opportunities for education, job rotations, and advancement.  Not only can such diversity and inclusion efforts contribute to workforce balance and decreased turnover, but it has also been linked to greater productivity and improved results.
For more detail about how DEI can be fostered in the government workforce–from recruiting and onboarding through training and succession planning–download Diversity, Equity, and Inclusion in the Public Service Workforce, compiled by the MissionSquare Research Institute (formerly the Center for State and Local Government Excellence at ICMA-RC). For citations, see the full report.
New, Reduced Membership Dues
A new, reduced dues rate is available for CAOs/ACAOs, along with additional discounts for those in smaller communities, has been implemented. Learn more and be sure to join or renew today!