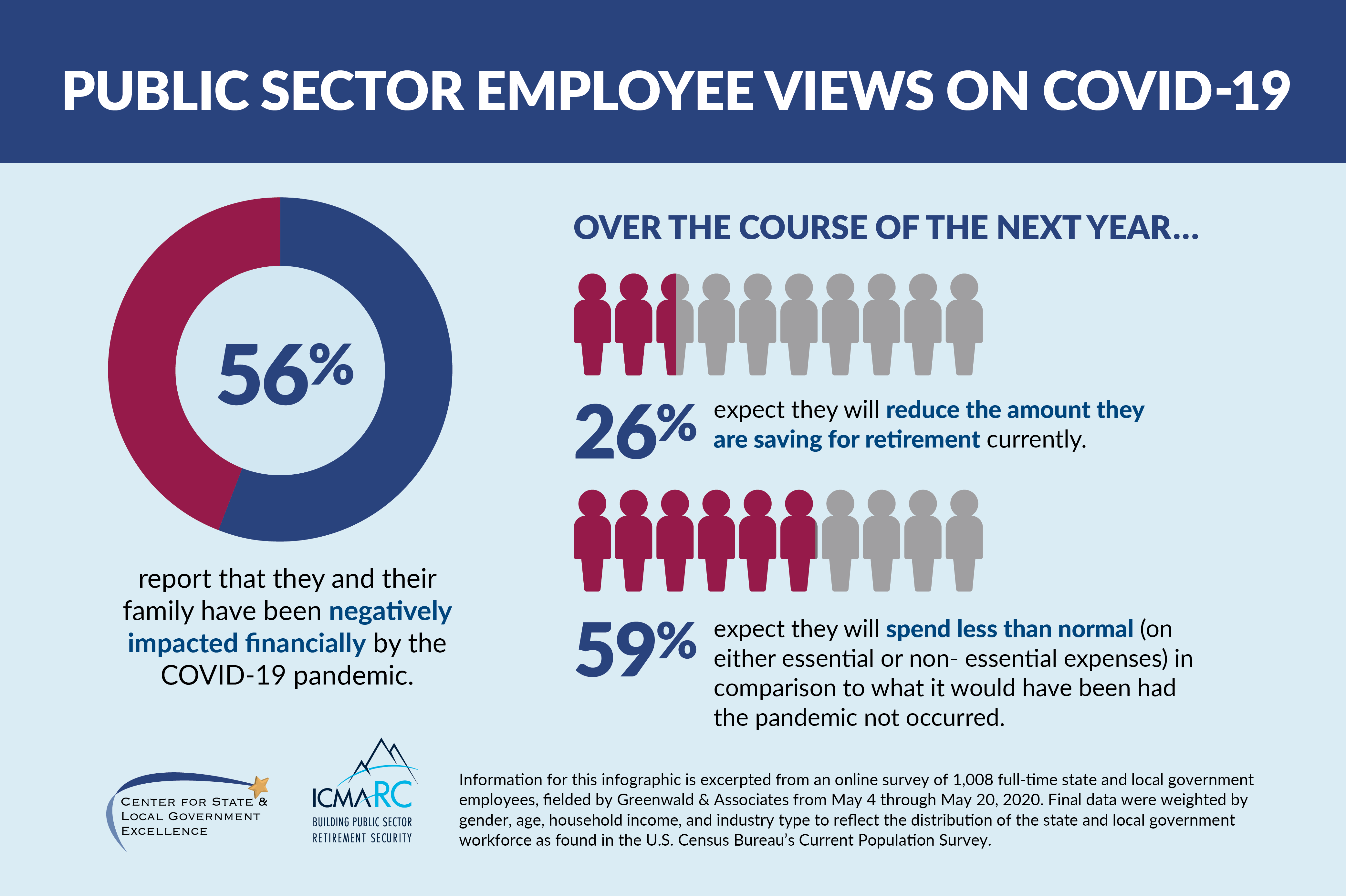 There's plenty of data swirling around about COVID-19 right now–most importantly dealing with testing, infections, hospitalizations, deaths, and the results of efforts to flatten the curve. For local governments, there is also a focus on unanticipated costs, revenue shortfalls, and staffing cuts. To add one more key dimension to that data, the Center for State and Local Government Excellence (SLGE) and ICMA-RC have just completed a new poll of employee views on how COVID-19 is affecting them personally and professionally. This poll reveals that public employees are deeply worried about their personal safety, family finances, losing their job, furloughs, and pay and benefit reductions. Despite their concerns, the research finds that public employees value serving their communities during this difficult time and feel that working in the public sector during the pandemic is a source of pride.
A total of 1,008 local and state government employees responded to the poll, conducted May 4-20, 2020. For further detail on poll, download: 

Among the findings:
Financial impacts
56 percent say their families have been negatively impacted financially.
25 percent expect to take on more debt over the next year.
74 percent are concerned the pandemic will affect their ability to be financially secure throughout retirement.
Job impacts
74 percent are doing at least some work remotely.
Of those who reported that the pandemic has impacted the nature of their job, 63 percent said that it has been a difficult adjustment.
80 percent are concerned about staying protected from the virus while at work.
For 20 percent, the pandemic has made them consider changing jobs.
Going forward, most foresee continuing incorporation of social distancing (70 percent) and health precautions, such as wearing masks or gloves (66 percent), as part of their working conditions.
Personal impacts
22 percent have had a spouse/partner's employment impacted by the virus, whether via layoff or a change in their number of work hours.
44 percent report feeling pandemic-related stress.
70 percent feel they have received sufficient COVID-19-related information from their employer.
While many of the polling results reflect concerns on the part of the respondents, there were also a number of positive findings, particularly regarding being of service to the public:
61 percent value serving the community during this difficult time.
48 percent feel that the public is now more aware of the importance of the work they do.
While burnout and depression were among the emotional reactions (27 and 22 percent, respectively), employees also expressed feelings of gratitude (33 percent) and optimism (15 percent).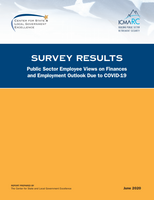 Other topics surveyed included remote work prior to COVID-19, perceived level of on-the-job risk, concerns about pay reductions or job loss, impacts on personal finances and financial decision making, consumption of news media, and trust and perceptions of consistency in what they are hearing from government leaders.
"Since the COVID-19 pandemic hit the United States, the critical role that more than 19 million state and local government workers play has never been so visible and important. Workers like emergency medical technicians, nurses, public safety personnel, public health professionals, and teachers have kept the country running in person and virtually," said Rivka Liss-Levinson, PhD, SLGE director of research and report author.
"As economies reopen and COVID-19 cases potentially spike in many states, it is imperative that state and local governments have a resilient workforce that can respond to these unprecedented and lingering challenges," she explained "Already, we are seeing concerns that, if not addressed, could drive workers out of the public sector. We hope this research serves as a valuable tool for policymakers and stakeholders to support these essential workers."
SLGE and ICMA-RC discussed and interpreted the findings as part of a webinar on June 18.
This COVID-19 project is part of the center's research focus on public sector workforce, retirement, and health and wellness issues, promoting excellence in state and local governments so they can attract and retain talented public servants. For more information, visit the SLGE website and subscribe to the center's e-newsletter.
New, Reduced Membership Dues
A new, reduced dues rate is available for CAOs/ACAOs, along with additional discounts for those in smaller communities, has been implemented. Learn more and be sure to join or renew today!