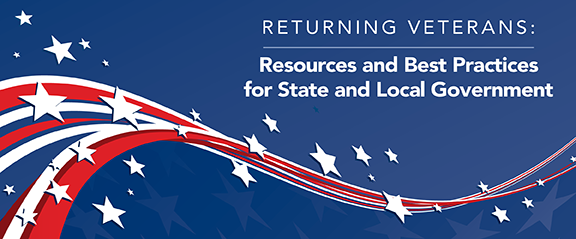 ICMA along with NACo, NCSL, NGA, and NLC recently hosted a webinar series to help state and local governments learn about available opportunities, leading practices, and lessons learned from veteran reintegration programs happening nationwide. 
To view the webinars, select from the links below. 
The webinar topics are:
Thank you for taking the time to review the material and gather the tools your community needs to support America's veterans.
Why? State and local governments are fighting a battle on the home front: How to reintegrate returning veterans into society. The numbers are staggering:
48,000 veterans will return from Afghanistan by the end of 2014.
100,000 troops and Marines will be downsized from the Army and Marine Corps within five years.
2.5 million military men and women are already home from Iraq and Afghanistan.
It is estimated that a veteran commits suicide every sixty-five minutes. They have dedicated themselves to our country, and need to become part of our community again. 
What next? While the quantity of returning veterans varies by community, many of their needs are the same. These include finding new employment and career paths, access to medical care and mental health treatments, affordable family housing, and moving forward with post-secondary education. 
How can I help? The webinars are complimentary, and can be accessed using the links above. We recommend you set aside time to review the webinars that most reflect your community's needs, and engage with ICMA's veteran's group in the Knowledge Network to continue the conversation. You may also forward this information to a colleague in the profession, or another organization.
New, Reduced Membership Dues
A new, reduced dues rate is available for CAOs/ACAOs, along with additional discounts for those in smaller communities, has been implemented. Learn more and be sure to join or renew today!