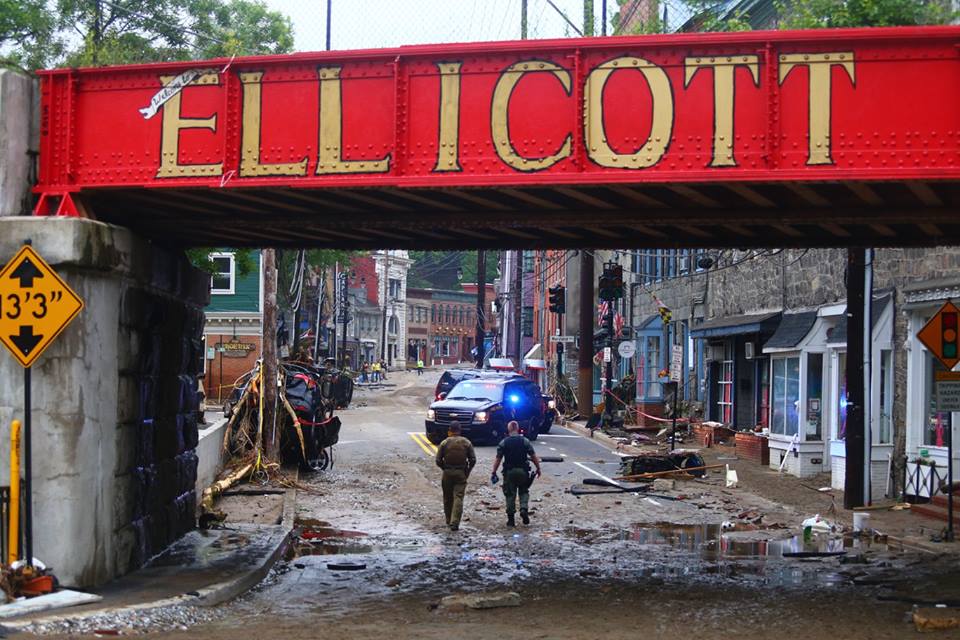 One of the popular activities at the ICMA Annual Conference are the field demonstrations.  Field demonstrations take members out of the local convention center and introduce them to projects underway in the host region. For the conference in Baltimore, ICMA had opted to feature Ellicott City and its story of recovery from a one in a thousand-year rainstorm that occurred in 2016. 
The storm dropped 6 inches of water in a two-hour period. The rain gathered in the upstream watershed and brought a 6-foot wall of water rushing through the steep city streets and alleyways. Hundreds of cars were swept away, nearly 200 residents were displaced, dozens of buildings were damaged, and two people died. Working in collaboration with the Howard County Economic Development Authority, a year after the flood, 98 of the 104 flooded businesses had reopened their doors – a 94 percent reopening rate.
Over this past Memorial Day weekend, however, Ellicott City experienced its second one in a thousand-year storm creating a flash flood that did even more damage than the 2016 flash flood. ICMA will be following the progress of Ellicott City and Howard County as community leaders and residents begin the rebuilding process again. We will keep you informed of their progress and share photos of the recovering efforts underway and, as always, ask that you keep the residents and local government staff in your thoughts as they continue the challenging work of recovery and restoration.
For now, ICMA will not be accepting registrations for the field demonstration titled Historic Ellicott City Flood:  A Story of Recovery. As we get closer to the conference date, staff will work with officials in Ellicott City and Howard County to determine if they will have the time and resources needed to host a field demonstration.
You can find more images of recovery efforts in Ellicott City from Howard County, Maryland.