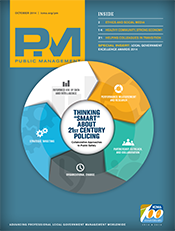 Agencies in Reno, Nevada; Palm Beach County, Florida; and Pullman, Washington, are featured in the October PM magazine's cover story "Thinking 'Smart' About 21st Century Policing," because they have implemented collaboration strategies to reduce crime, to address social concerns, and to build community trust using the Smart Policing Initiative (SPI).
Collaboration, maintains author Vivian Elliott, a research analyst with CNA, Institute for Public Research in Arlington County, Virginia, is a successful public safety strategy for leaders and communities faced with smaller budgets and resources.
In addition to a detailed chart on smart policing initiative targets and strategies, Elliott provides six lessons learned from SPI agencies when approaching collaboration and data-driven decision making:
            Create a diverse "smart" project brand.
            Look beyond typical police and public safety approaches.
            Communicate early and often.
            Inform, consult, coordinate, and partner.
            Be consistent.
            Remember that small successes are important.
The October PM also includes a special insert highlighting recipients of ICMA's 2014 Local Government Excellence Awards. Read about the achievements that local government managers have made, as well as the years of dedicated service they've provided to the profession.
New, Reduced Membership Dues
A new, reduced dues rate is available for CAOs/ACAOs, along with additional discounts for those in smaller communities, has been implemented. Learn more and be sure to join or renew today!