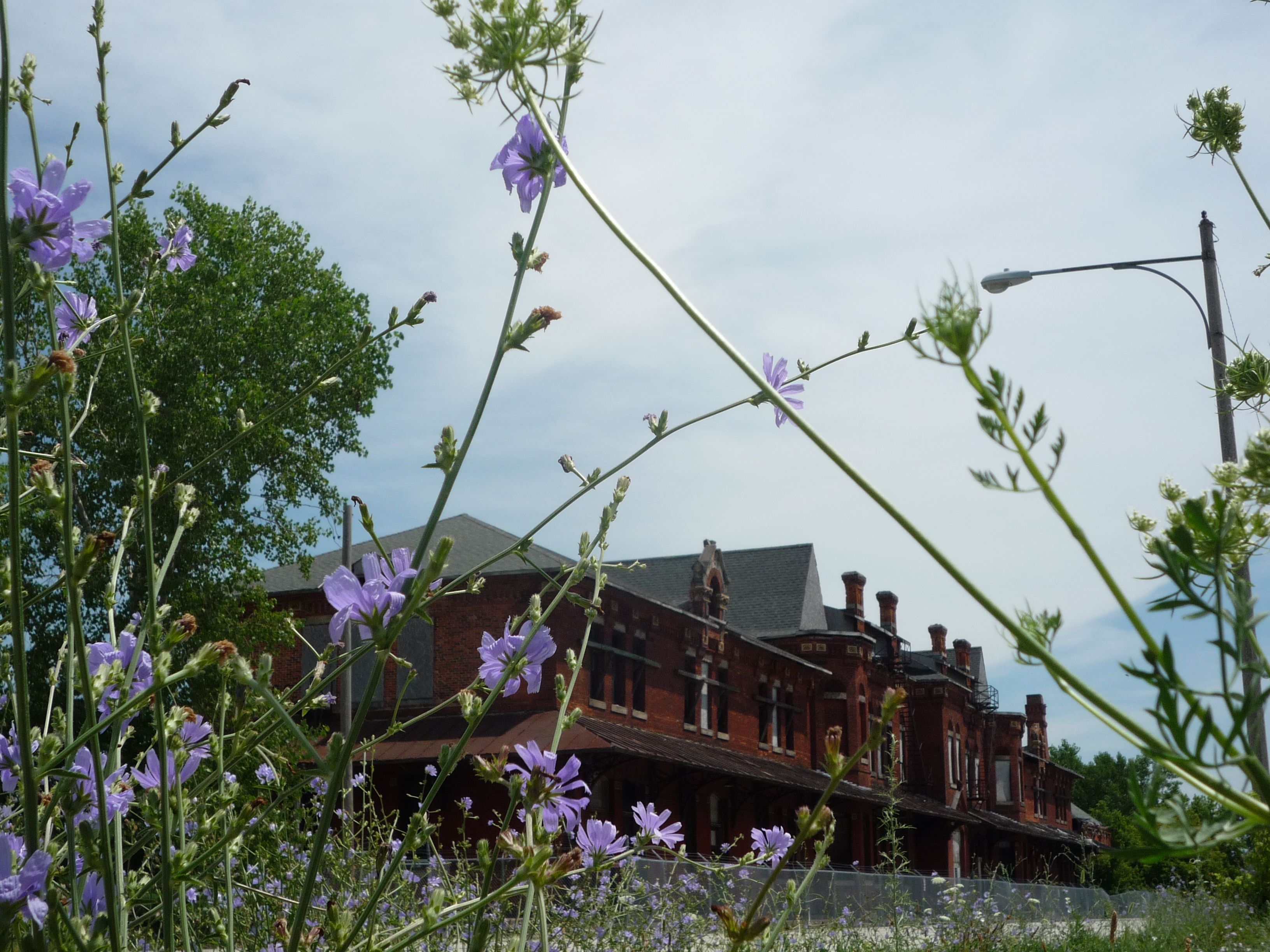 What Is a Brownfield?
Definitions vary around the world, and the term "brownfield" might not be a household word around the globe, but living with land that is, or might be, contaminated by past uses is unifying.  In the United States, the Environmental Protection Agency (EPA) defines brownfield as
 "A brownfield is a property, the expansion, redevelopment, or reuse of which may be complicated by the presence or potential presence of a hazardous substance, pollutant, or contaminant."[1]
Figure 1: A brownfield in South Carolina, USA with unrealized potential
In everyday terms, brownfields are the vacant and underutilized sites once used for industry and commercial uses.  Their activity likely resulted in a release of contaminants that could have compromised the health of vital resources like soil, water, air, structures, and the population living near, downstream, and downwind from them.  These impacts are often the result of common practices of the past before the existence of environmental quality regulatory systems and inadequate understanding of contaminants' long-term and detrimental consequences on the environment, public health, and economy. 
Brownfields are large and small, ranging from hundreds of acres/hectares to small properties measured in square meters/feet.  Brownfields can be found in large metropolitan areas around the world as well as in the countryside and even wilderness. 
Common contaminants found on these sites include, but are certainly not limited to, volatile organic compounds (VOC), such as petroleum-related products, poly chlorinated biphenyls (PCB), solvents, heavy metals, and many more, including a constantly growing list of emerging contaminants we are just beginning to understand.  The impacts of these contaminants have serious economic, environmental, and social consequences.
Prolonged exposure to these contaminants is known to cause such serious human health issues as cancer, brain damage, immune and nervous system disorders, liver and kidney disease, birth defects, and more. The negative consequences of brownfields on human beings are certainly not limited to physical health.  Brownfields are considered an Environmental Justice[2] issue, as across the world populations shouldering the most environmental degradation are low-income communities lacking economic and political power.
The natural environment's response to these contaminants is not dissimilar, with devastating impacts on systems we all depend upon: water quality, soil quality, air quality, and wildlife.  Entire ecosystems can be disrupted, compromising our environmental assets. 
Economies also suffer the consequences of brownfields being left unabated.  They provide no employment or entrepreneurial opportunity, little to no tax revenue, no amenities, and make little use of existing infrastructure thereby enabling costly urban sprawl.  Further, sites adjacent to brownfields face stigma and are often left underutilized, resulting in a domino effect that can leave entire districts distressed. 
The Turnaround
While the process for redeveloping brownfields is variable depending on the country, state, and city/town, there are common elements woven through most if not all of them.  Regardless of location, brownfield redevelopment reverses negative trends and is a catalyst for additional improvement and investment. The following steps are not necessarily sequential, and each one often requires amendment, but they serve to convey a general understanding of the process.
Identify and inventory: Identify potential brownfields and create an inventory.
Regulatory engagement: Working with state agency (U.S.) or equivalent (internationally).
Site reuse planning:   Planning reuse can focus on individual sites or entire districts.
Environmental Site Assessment (ESA):  Conduct Phase I (site history) and Phase II (soil/water sampling) to quantify the extent of contamination (if any)
Remediation planning:  Matching the site conditions to the site reuse, determining what must be done.
Development: Development often incorporates elements of the remediation.  
What Can Brownfields Become?
What can these sites become?  The short answer is "anything."  When looking beyond the terminology, process, and resources specific to brownfields, what we find is that brownfields are land and places familiar to everyone.  Brownfields are properties that have, and will again, host employment, housing, institutions, natural amenities, community building, and more.  As land is not an infinite resource, it is critical we maximize its utility, and brownfields are a perfect way to do that.  
Figure 2: Before image of a former gas/petrol station
Figure 3: Same property as Figure 2, redeveloped into mixed use along a light rail corridor.
The benefits of brownfield redevelopment are extremely compelling.  As highlighted in a 2020 EPA report, benefits include increased tax revenue, leveraged private capital, improved public health and environmental quality, reduction in vehicle miles traveled, greenspace preservation, and much more.  One such outcome of EPA investment in brownfields shows that every EPA grant dollar spent leveraged an additional $20.13 in return[3].
A central theme running through ICMA's brownfield work is the normalization of brownfields as a common element policy, practice, and investment in local governance.  One example of an established brownfield program is the city of Portland, Oregon, whose program uses funding from the EPA and internal resources to guide brownfield redevelopment across the city.  Smaller communities facing capacity issues are partnering with regional agencies that can help manage resources and bring financial and technical assistance to them.  For instance, the Land of Sky Regional Council in North Carolina instituted a brownfield program providing resources to smaller communities in their jurisdiction. 
Around the Globe
As brownfield redevelopment is an increasingly established and effective facet of governance in the United States, it is equally critical internationally.  There are certainly variations across nations such as environmental regulatory structures (or lack thereof), land ownership and taxation, forms of government, and more, but the benefit of cleaning the environment to create jobs, protect human health, and strengthen economies is universal. 
The Stockholm Royal Seaport is a great example of a city that understands the importance of brownfield redevelopment as a long-term commitment.  It is working through public/private partnerships to repurpose 356+ hectares of former industrial land to advance housing, industry, trade, and growth management.  In China, the Szechuan River development project being built by the Shaanxi Provincial Land Engineering Construction Group is a large-scale mixed-use project, reclaiming polluted land for commercial, residential, and public space uses centered on an ambitious river restoration project.
ICMA's Leadership
For the past few decades, the conditions outlined above have been the subject of intervention and assistance by federal, state, and local governments, and the private and nonprofit sectors.  The most important federal resource for brownfields in the United States is the EPA Brownfields Program providing financial and technical assistance to local governments and nonprofit organizations for over 20 years.  ICMA has been there every step of the way.
Since the early 1990s, ICMA has been a part of the movement to reclaim brownfields in the United States, both independently and with EPA.  This includes authoring and distributing an extensive catalogue of brownfield and brownfield adjacent material for local government leaders.
ICMA also cosponsors and leads the organizing of the premier brownfields training, educational, and networking event, the National Brownfields Training Conference.  The event brings together thousands of public, private, and community-based stakeholders engaged in brownfield redevelopment at every level. 
Held every two years, the conference trains participants on every aspect of brownfield redevelopment, reflecting multiple disciplines including, but not limited to, urban and regional planning, regulation, finance, law, economics, community engagement, environmental science, resilience, and more.  Thanks to the conference, entire generations of brownfield professionals have been educated, trained, and connected, establishing a tight community of professionals. Local governments across the United States have made brownfield redevelopment a fundamental part of operating because of their takeaways from the conference.
ICMA also applies its expertise by providing technical assistance through a grant from EPA. As the EPA Region 4 Technical Assistance to Brownfields communities (TAB) provider, free assistance is provided to stakeholders in Kentucky, Tennessee, North Carolina, South Carolina, Georgia, Florida, Alabama, and Mississippi.  ICMA works with local governments, regional agencies, community-based organizations, and other stakeholders to advance their brownfield redevelopment efforts through developing strategies, and providing training and education. 
Next Steps
Once ready to move forward with brownfield redevelopment, organizations in the United States can access free technical assistance through the US EPA TAB program.  If you are in EPA Region 4, reach out so we can provide free technical assistance to see how brownfields can serve you.  Visit ICMA's TAB website to learn more.  If you are not in EPA Region 4, you can visit EPA's TAB website to find your provider.
Internationally, interested parties can contact ICMA directly to learn how the association can support their brownfield redevelopment efforts.  Contact Clark Henry at chenry@icma.org, or Tad McGalliard at tmcgalliard@icma.org. 
No matter where you are, the world's best brownfield training and education can be found at Brownfields 2022 in Oklahoma City, Oklahoma August 16–19, 2022.  Visit www.brownfields2022.org to learn more.
---
[1] https://www.epa.gov/brownfields/overview-epas-brownfields-program
[2] USEPA "Environmental justice is the fair treatment and meaningful involvement of all people, regardless of race, color, national origin, or income, with respect to the development, implementation, and enforcement of environmental laws, regulations, and policies."
New, Reduced Membership Dues
A new, reduced dues rate is available for CAOs/ACAOs, along with additional discounts for those in smaller communities, has been implemented. Learn more and be sure to join or renew today!