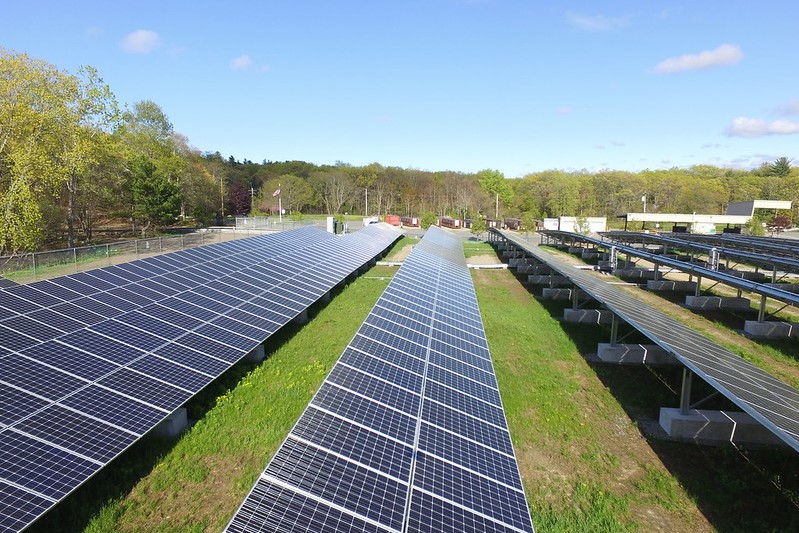 By Gabriel Rusk, assistant program manager, ICMA
Some local governments in search of ways to redevelop their brownfields properties have found a unique way of ensuring their investment provides long-term benefits for the whole community. They are incorporating solar energy in redevelopment of the land, and even going as far as setting up solar farms referred to as "brightfields."
Brownfields are properties previously used for industrial or commercial purposes in such a way that expansion, redevelopment, or reuse of them may be complicated by the presence of hazardous substances or contaminants.[1] Examples of brownfields include certain landfills, scrap yards, mines, and other land that has been potentially contaminated with pollutants. The U.S. Environmental Protection Agency estimates that there are over 450,000 brownfield sites in the United States alone.[2] These sites are often left vacant or underutilized due to contamination, causing blight and eroding the tax bases of communities.
San Miguel Installs Solar on Landfill
Brownfields, [3] such as landfills and mine sites, have unique attributes that can offer significant advantages for developing solar arrays, including unshaded open spaces, preexisting infrastructure connected to the grid, and proximity to population centers. When these advantages are leveraged properly, local governments and property owners can transform unusable land into opportunities for producing clean energy while generating new property tax revenue and job opportunities. Utilities and solar developers can also benefit from certain federal and state government incentives available for businesses that recycle brownfields.
San Miguel County, Colorado, for example, installed a landfill solar array designed to lower the electric bills of qualified low-income residents. While brightfield projects can benefit from government involvement, they generally require permits and approvals from federal, state, and local agencies that are not typically involved in solar projects. Long waits and slow turnover times for obtaining solar permits can place significant financial burdens on the developer. Therefore, a streamlined permitting process and well-trained government officials at the local level are critical to successfully developing a brightfield. Other localities that have moved from brownfields to brightfields include Ypsilanti, Michigan, which built a solar array on a water treatment facility, and Tyngsborough, Massachusetts, which also installed a solar array on a landfill.
Solsmart Streamlines Solar Access
ICMA works with local governments to ensure they have the necessary streamlined permitting and approval processes that can accommodate developers aiming to transform brownfields into brightfields through the SolSmart program. SolSmart is an initiative funded by the U.S. Department of Energy and led by ICMA and the Solar Foundation that provides technical assistance at no cost to help local governments reduce barriers to adoption of solar energy systems. So far, SolSmart has awarded 33 designations to local governments that have built solar installations on brownfields or landfills, including San Miguel County. In total, more than 350 city, county, and regional organizations nationwide have been awarded SolSmart designations in recognition of their efforts to make it easier and more affordable for residents and businesses to install solar energy systems. To learn more about how SolSmart can help your community, visit the Solsmart website.
Brownfields 2019, sponsored by EPA and ICMA, begins December 10, 2019. 
---