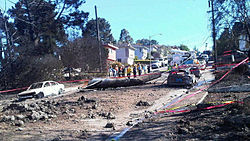 It can happen in a second -- a major disaster that changes a local government manager's career forever. Are you prepared? Is your city or county? The lessons learned from the recent bus crash in Pendleton, Oregon, the pipeline burst in San Bruno, California, or the 35W bridge collapse in Minneapolis, Minnesota, demonstrate the importance of knowing what local, state, and federal resources can be tapped to prepare for and manage a major disaster.
The National Transportation Safety Board (NTSB) is a federal partner that provides investigations to aviation, rail, highway, marine, and pipeline operations. In addition to providing both on-scene and remote coordination with local, state, and federal agencies, the NTSB offers guidance and training courses on transportation disaster response. These courses better prepare emergency responders, local and state agencies and public safety personnel during transportation accidents investigated by the NTSB.
A new course is being offered this February: Managing Transportation Mass Fatality Incidents for law enforcement, emergency managers, and the medical/legal community.  The training will focus on public transportation disasters, mass-fatality scene management, and disaster victim identification from different key perspectives (the medical examiner/coroner, the sheriff/coroner, and the emergency manager). 
The NTSB also offers a 10 most wanted list representing the NTSB's advocacy priorities. It is designed to increase awareness of, and support for, the most critical changes needed to reduce transportation accidents and save lives including train safety, infrastructure, and substance impaired driving.