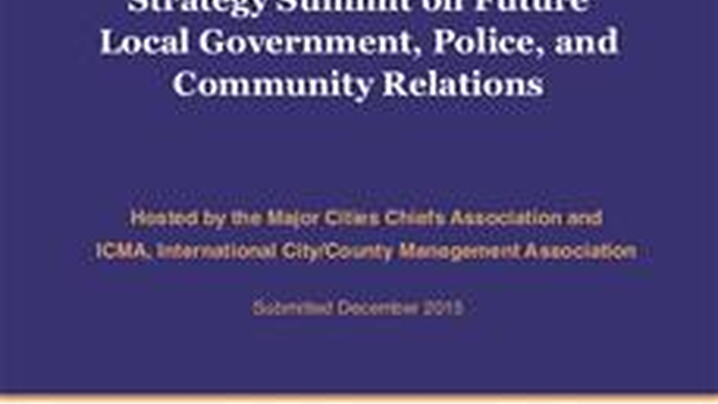 What will it take to restore trust in public institutions—whether it's trust in the police force, the city or county council, or something as mundane as a speed camera or as important as a voting process? There's no denying that disturbing headlines about police-involved shootings have become part of our daily diet, putting alleged police brutality and discrimination center stage.
Given the connection between local governments and their police forces, elected and appointed officials of local government are caught in the glare of this unfavorable spotlight as well. Which drives home the fact that responsibility for improving trust isn't solely a police responsibility but that of an entire community.
When delving into this issue at the Strategy Summit on Future Local Government, Police, and Community Relations in August 2015, ICMA President and City Manager Patricia Martel (Daly City, CA) noted that the manager's job is to "help police and policy makers convene community conversations. In the end, if people don't trust the police, they also don't trust local government or elected officials." That means, Martel emphasized, "we're in it together."
Consistency, fairness, and procedural justice are all elements of building foundations of trust and legitimacy. They can open the door to community-wide conversations about policing standards, transparency and inclusiveness, race relations and social equity. Strategy Summit participants—police chiefs, mayors, city managers, and association and nonprofit executives—identified a number of must-have conditions for establishing trust between law enforcement and the community:
Overtly acknowledging the community's trust and equity issues
Authentic conversations with the right people invited to participate
Engagement—giving a voice to all stakeholders
Allowing stakeholders to vent
Giving stakeholders opportunities to provide input
Listening and being listened to
Being part of the decision-making process
Showing respect and acting with fairness
Acknowledging biases and talking about and acting on issues of different kinds of diversity—racial, generational, gender, language, and so on
Giving the public a go-to person in the police force
Starting and maintaining individual relationships
Educating the police, elected officials, and the public about the community's racial and equity issues
Issuing clear and quick communication after officer-involved shootings
Using social media and other communication channels smartly
Asking stakeholders what they want and how police policies impact them
Consistency, fairness, and procedural justice
Transparency (e.g., beat cops, online data, listening tours)
Involving youth
Using safe, neutral gathering places
Asking citizens to be co-owners in finding solutions
Accountability on the part of law enforcement for bad decisions or actions.
The "Report of the August 25-26, 2015 Strategy Summit on Future Local Government, Police, and Community Relations" captures important conversations ranging from speaking up about social issues to law enforcement recruitment and hiring, to civilian oversight of police and the role of other community service providers. Several underlying themes emerged throughout the Strategy Summit about which the participants were in agreement:
No single entity—be it law enforcement, local government, or community organizations—has all the answers, and none has sufficient resources to effect comprehensive change. All of the community's available resources need to be brought to bear in a coordinated effort.
Success starts with reaching out to all segments of the community, giving voice to the underserved, listening, and building and maintaining collaborative relationships among all organizations that can contribute to making a stronger community.
Diversity in the workforce, race relations, and serving the underrepresented are issues that need to be tackled head on. Mental health and homelessness are two important social conditions that need to be addressed by the entire community, not just by the police, whose expertise and resources are not designed to serve these groups or address these issues.
Assuming a strategic and genuine effort to improve police policies and practices and interactions with the public, an equally strong initiative (in part comprising communications and branding) needs to occur simultaneously to shift the public's negative perception of the police. On the other hand, sometimes it's the laws and policies that are behind the times and need to change.
Comprehensive police training is just as important as smart recruiting.
Each community solution is unique, but shared models of what works and effective practices would be helpful.
Reliable measures of community engagement (as one participant put it, "what you count, people will do") and other police-involved activities need to be agreed upon and accessible in an easy-to-use format.
Organizations like ICMA, the National League of Cities, and others are needed to help at least facilitate the cross-discipline conversations that need to take place in communities.
City Manager and Police Chief Regional Workshops
The Center for Public Safety Management (CPSM), which is an ICMA partnering organization, and the International Association of Chiefs of Police (IAPC) are hosting several regional workshops on "The Power of Critical Relationships: The Roles of the City Manager and Police Chief." Learn more about registration and locations.
The Strategy Summit participants encouraged ICMA and other local government organizations to work with their members to identify leading practices for initiating community conversations around community values and community engagement, and to include the discussion of race issues in those conversations. ICMA is investigating how the Strategy Summit dialog can be replicated at a regional level with leaders of diverse stakeholder groups as well as what additional content and leading-practice resources can be developed and disseminated to ICMA members and other key stakeholders.
For more details about the authentic and rich conversations that occurred during the Strategy Summit, check out the full report.