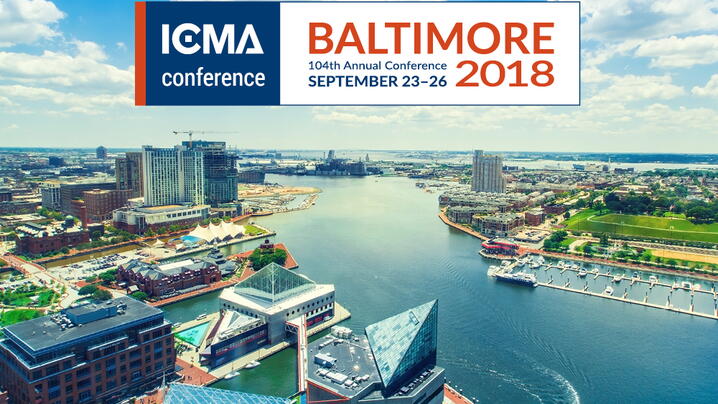 ICMA's 104th Annual Conference, held September 23-26, in Baltimore, Maryland, attracted 2,668 members, the third largest member attendance in the organization's history, and a total attendance of 3,413 (which includes main registrants, partners, and children. This year marks the first time that the conference was held in Maryland.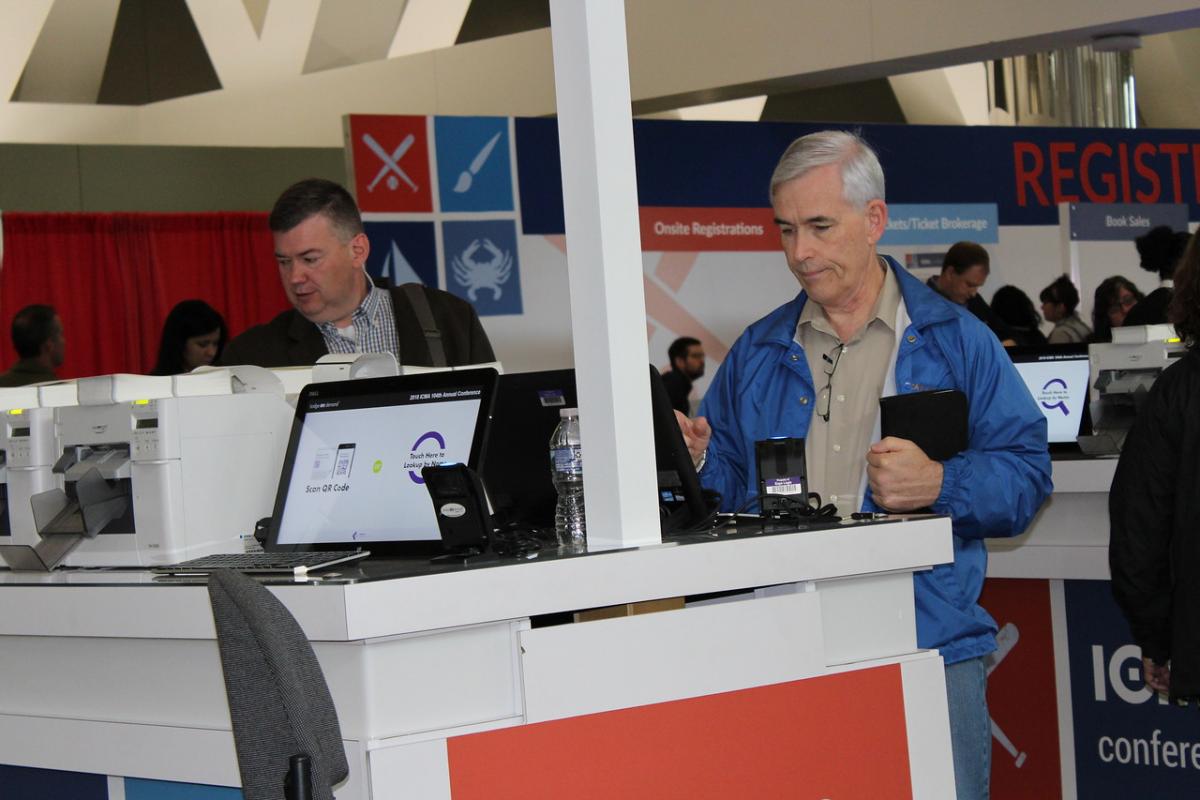 Also new (and highly successful) in 2018: Kiosk registration for conference attendees! This year conference attendees downloaded their badges and tickets using self-serve kiosks similar to the ones used in airports. The initial response from attendees has been positive.
For their ongoing guidance, enthusiasm, and hard work, ICMA thanks the members of the 2018 Conference Host Committee (led by Co-Chairs Barbara Matthews, city administrator, Westminster, Maryland; and Daniel Mears, assistant city manager, Bowie, Maryland); the 2018 Conference Planning Committee (led by Chair Jim Malloy, town manager, Lexington, Massachusetts); and the many volunteers from communities in Maryland and neighboring states.
Conference Highlights
Saturday Special Event: City/County Technology Leadership Symposium
Recognizing the importance of IT leadership to a local government's success, on September 22, ICMA partnered with the Public Technology Institute (PTI) to present a preconference symposium on building an effective manager-IT executive partnership. This special session brought together CAOs and CIOs to discuss strategies for using technology for more effective local government management and efficient delivery of services. Topics included cybersecurity awareness; artificial intelligence; citizen engagement; Blockchain technology; team building; and CIO, infrastructure, and enterprise evaluation.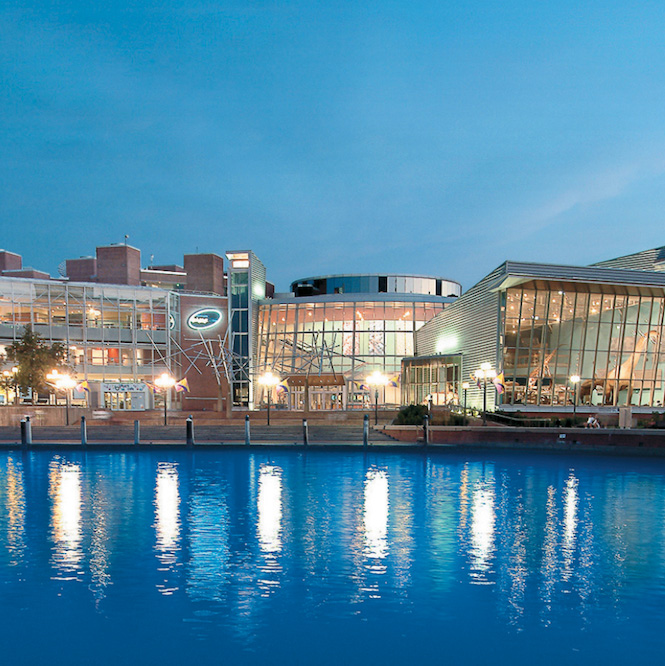 Saturday Reception: Maryland Science Center
Many conference attendees spent Saturday evening networking and exploring at the Maryland Science Center (MSC). Located across from Baltimore's Inner Harbor, the MSC helped drive the revitalization of the city's harbor from industrial center to thriving downtown attraction. Supported by the 2018 Host Committee, this early-evening event venue featured a "Dinosaur Mysteries" section with more than a dozen full-size dinosaurs on display and a special "Kid's Room" dedicated to young children and learning through play.  

Sunday Opening General Session/Welcoming Reception
Following a day of ICMA University workshops, research symposia, the 8th ICMA Annual Leadership Institute, special and regional meetings, tours, field demos, sporting events, and the annual Women's Luncheon (focused on "Crossing the Line: Harassment in the Workplace"), ICMA's 104th Annual Conference officially kicked off early Sunday afternoon with a program of entertainment and celebration presided by outgoing ICMA President David Johnstone, recently retired city manager, Candiac, Québec, Canada.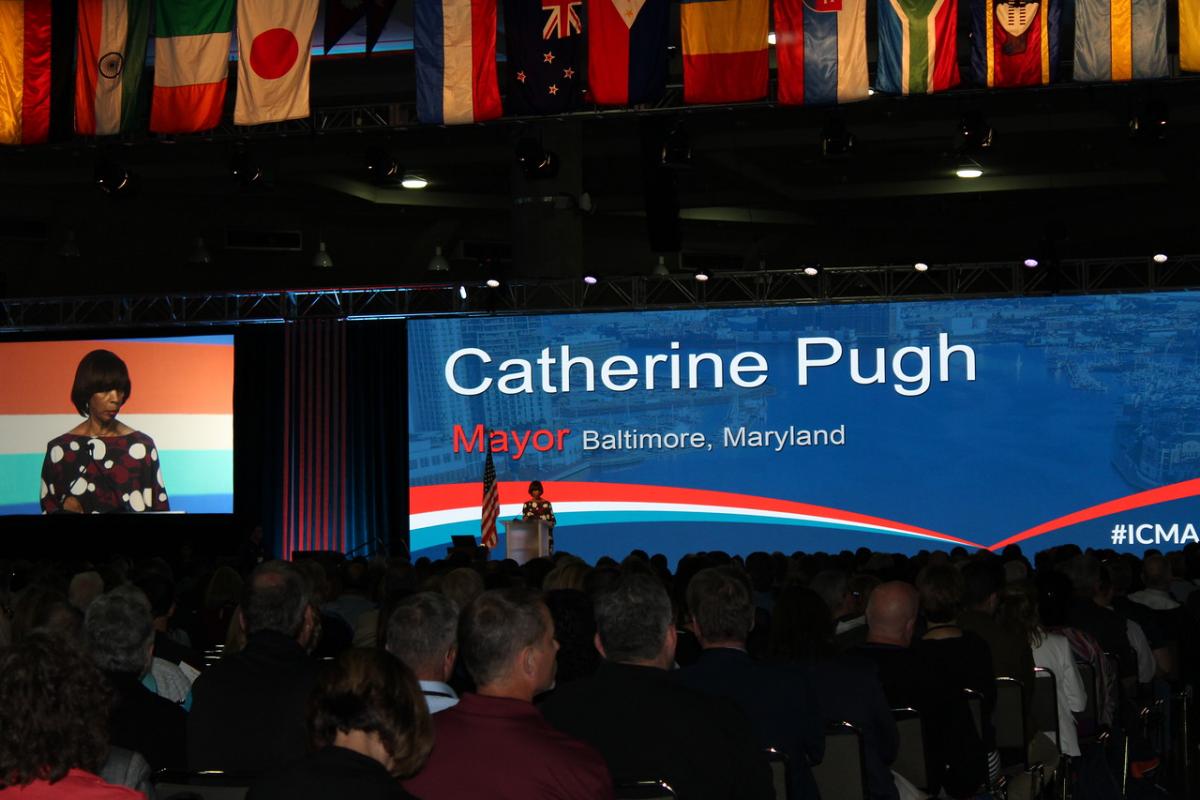 The Harbor City Music Company welcomed attendees with an inspiring vocal performance, followed by the Presentation of Colors by the Baltimore City Fire Department; an invocation by Elder C.W. Harris, Newborn Community of Faith Church; recognition of the members of the conference planning and host committees; and a community welcome by Baltimore Mayor Catherine Pugh. President David Johnstone and ICMA Executive Director Marc Ott then accepted the Baltimore Host Committee's gift to the organization, a crystal crab.
Johnstone recognized ICMA's Strategic Partners and Bob Schultze, president and CEO of ICMA-RC, the conference principal/opening session sponsor. Following Schultze's remarks, Marc Ott walked attendees through a video review of the organization's FY 2018 accomplishments.
During his remarks, Johnstone discussed the theme of courageous, resilient leadership using examples of members around the world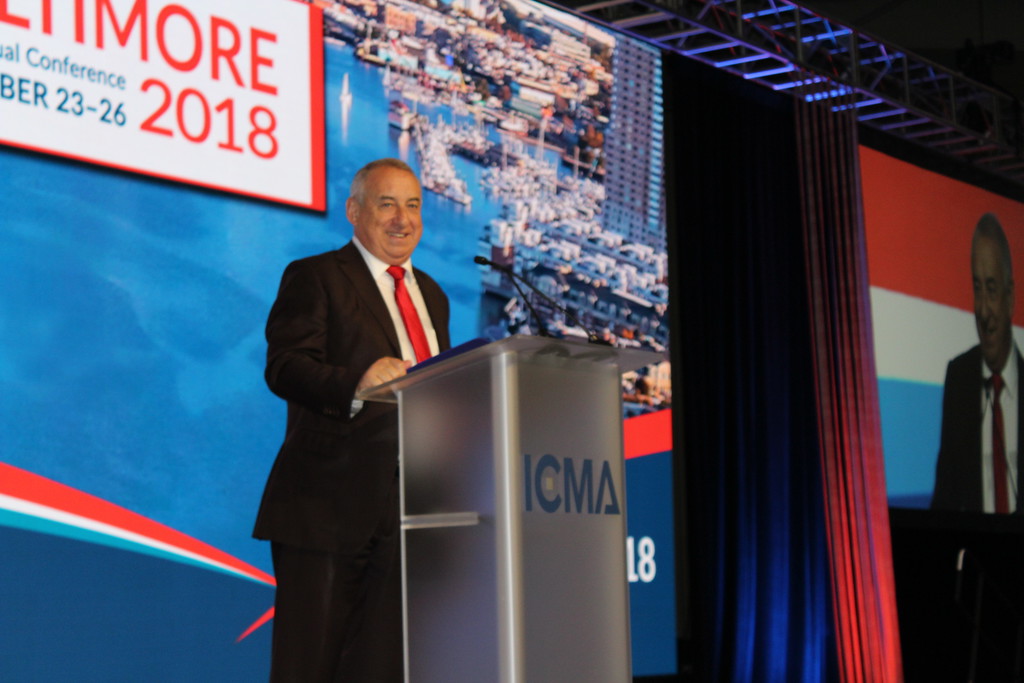 who lead with integrity and innovative approaches in the face of personal and community disasters and environmental challenges. He highlighted ICMA's role in promoting competent, professional local government management, environmental stewardship, transportation breakthroughs, and other major quality-of-life improvement in countries around the world.
He also highlighted the sad realities and unintended consequences of the short-sighted pursuit of unbridled economic growth, which had led to an exploitative period of slavery and human abuse, a polluting industrial revolution, and city sprawl and unwise land development. He noted that the world may have finally come to its senses to recognize the importance of leaving the planet in better shape for the generations that would follow.
Other highlights of the opening session program included:
Recognition of the outgoing members of the ICMA Executive Board, international guests from 24 countries, and conference first-timers.
Introduction of ICMA's 2018 Excellence Award recipients.
Recognition of ICMA members and friends who had passed away since the 2017 annual conference.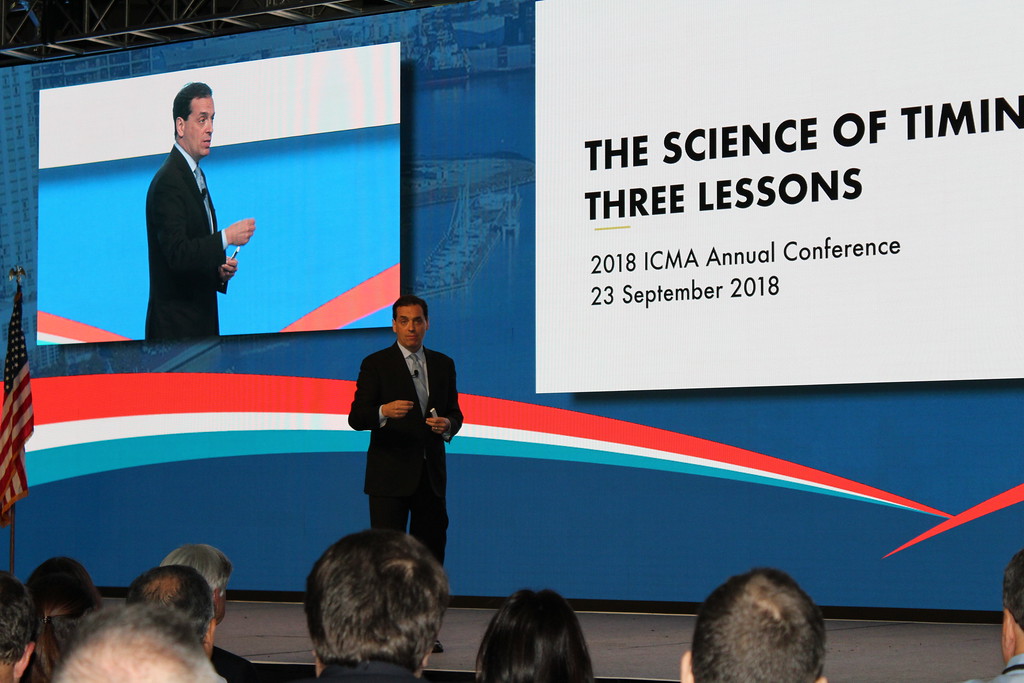 The program continued with the keynote address, "When: The Scientific Secrets of Perfect Timing," presented by Daniel Pink. Drawing on his book of the same name, Pink discussed how individuals can become more productive by pinpointing the hidden patterns of the day when specific types of tasks should be performed.
Following the Sunday plenary, attendees convened in the sold-out Conference Exhibit Hall for the welcoming reception sponsored by the 2018 Host Committee, where guests experienced the diversity of the Baltimore region.

Other Keynote Plenary Sessions
 
On Monday, Pulitzer Prize-winning author and historian Doris Kearns Goodwin returned to ICMA's keynote stage to draw from her newest book, Leadership in Turbulent Times. Her presentation focused on the lives of four past presidents—Abraham Lincoln, Theodore Roosevelt, Franklin D. Roosevelt, and Lyndon B. Johnson. Goodwin discussed how, while each man differed in "temperament, appearance, and physical ability," they shared "a family resemblance of leadership" that included such attributes as "intelligence, resiliency, energy, empathy, verbal and written gifts, and skills in dealing with people."
 
Greg Bell, ICMA's Tuesday, keynote speaker and author of Water the Bamboo: Unleashing the Potential of Teams and Individuals, challenged attendees to start each day by asking what is going well in life to create optimism and help reinforce that "first-day-of-work" attitude in their teams. Bell stressed that courageous leaders build trust by following certain principles, which include nurturing the seeds of new ideas, allowing new initiatives adequate time to grow, and developing deep connections.
 
And on Wednesday, during the Celebration of Service closing general session, Baltimore native and best-selling author Wes Moore returned to the ICMA conference keynote stage and invited attendees to include often forgotten residents in important public policy conversations. Building on the concepts discussed in his 2010 book, The Other Wes Moore, he asked attendees, "What kind of society are we going to foster? Who is it that we will choose to fight for?" He noted that this kind of thinking often means fighting for people who have traditionally been left out of the conversation.
ICMA thanks Principal Sponsor ICMA-RC; Diamond Sponsor Cigna; the 2018 Baltimore Conference Host Committee, and many other contributors and sponsors for their support of the Baltimore conference keynote speakers, other major sessions and events, and much more.
Educational Program
Through dozens of educational sessions, featured speaker and Solution Track sessions, ICMA University workshops, small-group Learning Lounge and roundtable discussions, field demos, tours, and other learning opportunities, members and other public and private-sector experts shared their knowledge and interacted with conference attendees during the four-day period. Members are encouraged to visit the annual conference Educational Session Overview page to view the extensive program and then download the session handouts where available.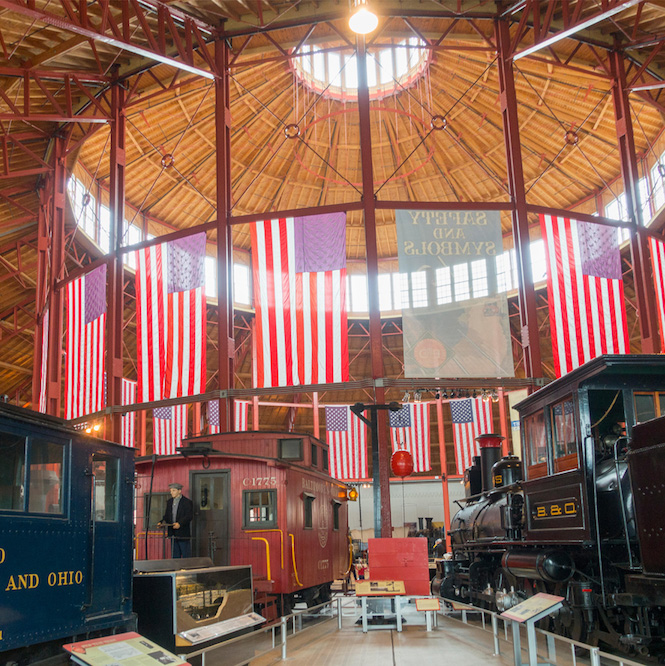 Tuesday Evening Event: B&O Railroad Museum
Designated as a U.S. National Historic Landmark and part of the Smithsonian Institution, Baltimore's B&O Railroad Museum has one of the most significant collections of railroad treasures in the world plus the largest collection of 19th-century locomotives in the United States. The museum provided the perfect gathering place for conference attendees to enjoy dinner, drinks, and entertainment. The event, which was generously sponsored by the 2018 Conference Host Committee, capped off five days and four nights of learning, fellowship, and fun.
Wednesday Closing Celebration of Service
The final plenary session of ICMA's 104th Annual Conference, presided by President David Johnstone, featured the induction of the incoming ICMA Executive Board, the organization's 2018 Celebration of Service, and a final keynote address.
Nashville Host Committee Co-Chairs Angela Carrier, municipal management consultant, Institute of Public Service-Municipal Technical Advisory Service, Knoxville; and Kirk Bednar, city manager, Brentwood, aired a video promoting Nashville, Tennessee, as the site of the 2019 ICMA Annual Conference. The recipients of ICMA's Service and Local Government Excellence awards were recognized, and the audience heard inspiring remarks from Distinguished Service Award recipients Peter Marshall and George Flores on behalf of Joel Valdez; and Honorary Member Alan Bojorquez. Read about all of this year's award recipients in the October 2018 issue of PM magazine.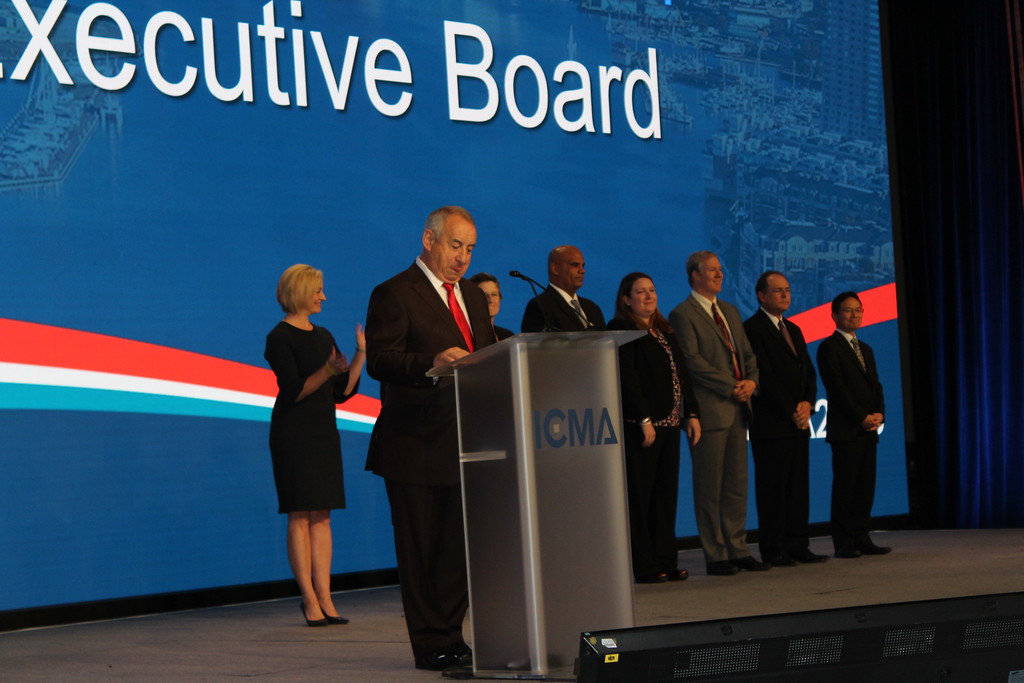 President Johnstone then recognized ICMA's retired and Life Members, Legacy Leaders and Legacy Leader Candidates (currently 38); contributors to ICMA's Future of Professional Management Fund; and the 2018 Conference Planning and Host Committee chairs. Johnstone then inducted the incoming members of the ICMA Executive Board and charged them with enthusiastically pursuing ICMA's mission, working diligently as trustees on behalf of and representatives of all ICMA members, and always championing the ICMA Code of Ethics.
Following remarks from the Honorable Gabriel Quinto, mayor; and Scott Hanin, city manager, both of El Cerrito, California, Karen Pinkos, assistant city manager, El Cerrito, was inducted as the 105th president of ICMA.
Pinkos sees Envision ICMA, the organization's strategic plan, as a roadmap for the future work of the organization in creating and fostering a learning community. There are a lot of initiatives under that umbrella, she noted, including coaching. Coaching is not just for forming future leaders; Pinkos relies on her own dream team of coaches. She cited Stephen Curry of the Golden State Warriors, who continues to work with a coach despite his NBA success. We all can use a coach no matter what age, she said.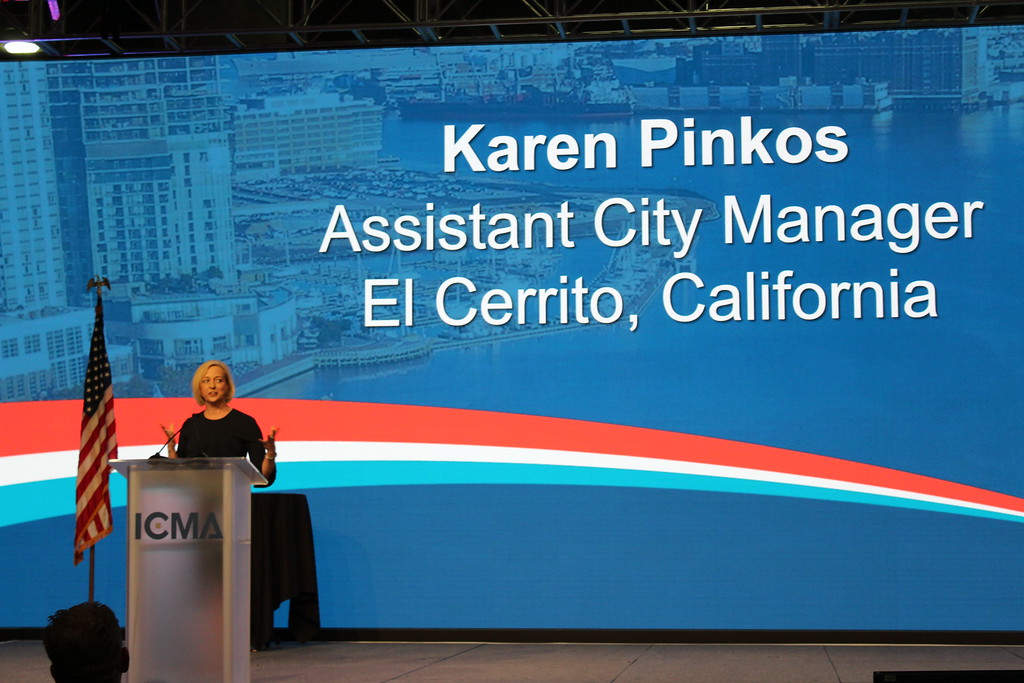 The turbulent times that Doris Kearns Goodwin talked about on conference Monday and other outside forces such as hurricanes, pipeline explosions, and community scandals all require local government leaders to strengthen their skill set for resilience, according to Pinkos. It's all in how we bounce back, how we adapt and overcome.
During her term, Pinkos said she will focus on resiliency, building trust, and ensuring that everyone ICMA represents feels included. As the fourth woman president in ICMA's history, Pinkos was delighted that she is also the first president to be followed by another woman. It is, she said, kind of a big deal. She urged ICMA members to be fair and ethical and to include and appreciate other people. She said that attendees need to make their organizations and communities places where people feel valued. "These are humanitarian issues, and we'll keep conversation going until we don't need to have it anymore. It's not politically correct," said Karen. "It's just correct."
Pinkos then returned the program to Outgoing President David Johnstone, who introduced Closing Session Speaker Wes Moore. Following the closing plenary, President Johnstone led attendees in a standing ovation for ICMA Annual Conference Director Ross Hoff, who will retire in November after 20 years of leading the conference and nearly 38 years with ICMA.
ICMAtv
For the twelth year in a row, ICMA partner WebsEdge Inc., combined a Baltimore travelogue and "conference floor" interviews (which featured conference attendees, partners, and special guests) with pre-recorded segments highlighting the best of 10 communities to produce four days of ICMAtv programming.  Visit the ICMAtv YouTube channel to view the Baltimore conference content.

2018 Virtual Conference
For the eleventh year in a row, ICMA offered a virtual option to individuals who were unable to attend the conference onsite. While 113 individuals and sites live-streamed the 22 annual conference sessions offered, including the opening general session and four keynotes, an additional 238 purchased the archives. Learn how you can access the ICMA Virtual conference archives and share the conference experience with your staff by visiting http://icma.org/virtual.
---
Visit ICMA's Facebook, and Instagram pages to scroll through postings from the conference floor, and check out the action on Twitter with the hashtag #ICMA2018.
Your feedback regarding the conference is important to staff and the members of the current and future conference planning and host committees. Help us improve this annual event by taking a few minutes to complete the conference survey. A link has been sent to all member attendees.
Plan now to attend ICMA's 105th Annual Conference in Nashville, Tennessee, October 20-23, 2019! 

Register for the ICMA Annual Conference
Join us September 17-21 in Columbus/Franklin County, Ohio for the 2022 ICMA Annual Conference.
JOIN ICMA TODAY!
ICMA provides the tools, resources and connections to help you become part of the international network of 13,000+ local government management professionals.