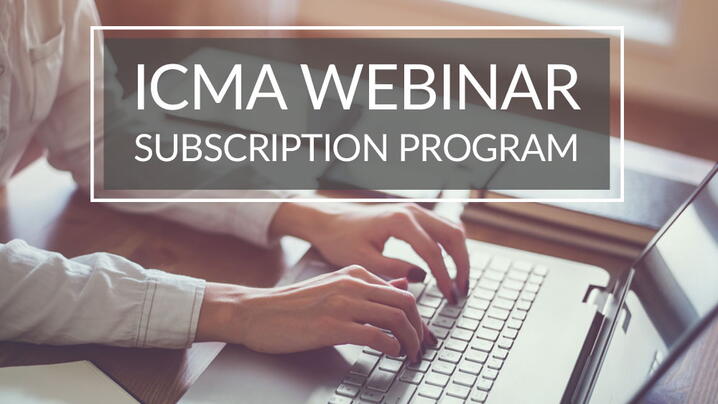 Now, members can maximize their membership benefits and training budget all while staying on top of emerging trends and issues facing local government. With our Webinar Subscription Program, you and your staff can have year-round access to subject matter experts and industry-leading education delivered right to your desk or conference room.
Start Learning More Throughout the Year. The Webinar Subscription Program gives members access to more than two dozen 90-minute webinars a year and addresses key areas such as budgeting, public safety, citizen engagement, human resources, and council-manager relations. Our webinars have long been used by jurisdictions to stay on top of trends in the profession and master new skills. Many members even create learning events around ICMA University webinars -- hosting their teams in a conference room for viewing and discussion.
What's Included in the Subscription
There are at least 24 webinars per year, typically one every other week. 
Each webinar is roughly 90 minutes long with the ability for viewers to submit questions to presenters via chat.
On-demand access is available if you miss the live event.
Webinars include shareable and printable PowerPoint presentations.
How the Program Works
Members may purchase an annual subscription for $695. This gives access to all of the regular webinars that ICMA produces in a year — at least 24 events for a $3,576 value. (These webinars are listed at the member rate of $149 each, so if you or your staff only watch 5 webinars per year you are saving money.) 
Webinar Subscription Program Policies
Subscription is valid for one (1) year from date of purchase.
Subscription is for members only. Join ICMA.
You may attend any ICMA University regular webinar scheduled during your subscription period, and included in your subscription.
Webinars excluded from the Webinar Subscription Program include: Local Government 101/201, Effective Supervisory Practices Webinar Series, Budgeting Guide Webinar Series, Ethics 101 E-Course.
The Webinar Subscription Program may not be cancelled once you have attended more than one webinar.

Subscribe Now