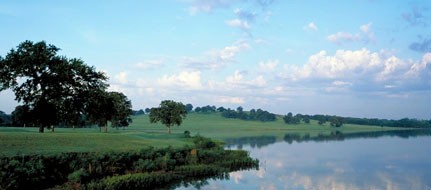 What do you do when your community quadruples in size? Can you still be a small town?
In the last 10 years, Westlake has grown 380 percent in permanent population, from 207 to 992.
At the same time, a number of major corporations, including Deloitte, Wells Fargo, Pfizer, and Fidelity Investments' southwest regional headquarters, have located in Westlake, bringing the town's daytime population to between 12,000 and 15,000.
As Westlake's needs changed with its growth, it started looking like the town's dependence on a sales and use tax alone was unsustainable for the long term. The town needed a broader funding base.
Town Manager Thomas Brymer and his staff began discussions with the town council about introducing the town's first property tax to stabilize its financial forecast.
In line with Westlake's traditional fiscal conservatism, the tax would be set at a lower rate than that of neighboring communities. Nonetheless, the proposal split the town: some residents favored it, others opposed it, and some wanted to dissolve the city government entirely.
Along with a broader funding base, it was obvious that Westlake needed to find more varied and effective ways to communicate with residents.
The town council came up with a new top-priority project: "Westlake Windows: TGIF!" (Transparent Government in Focus). Its goals were to:
maintain residents' sense of community
foster innovation at the local government level on issues such as water conservation
increase community involvement in major projects through face-to-face contact
educate residents on the town's long-term financial outlook and efforts toward fiscal sustainability
Brymer coordinated the project, which set up different communications mechanisms to engage residents:
A quarterly newsletter to introduce residents, old and new, to city services and employees
Satisfaction surveys. Working with a consulting firm, the town surveyed residents' overall satisfaction with the town and its services. Results were posted on the town's website and are updated semi-annually.
email blasts and phone calls to remind residents of public meetings, community events, council agendas, zoning hearings, or other news.
An expanded website that is updated regularly
Home meetings in each of the town's neighborhoods as well as within the business community to educate residents on the need for a property tax
Video spots residents can watch on their home computers
The property tax passed and, according to the town's surveys:
Seventy-four percent of residents are satisfied with the efforts to keep them informed.
During discussions of the property tax, 91 percent felt the home gatherings were informative and 84 percent felt their ideas and concerns had been heard.
Westlake Windows TGIF has also given a boost to participatory democracy in the town by
Increasing attendance at board meetings
Fostering relationships between town staff and residents
Promoting honesty, integrity, and transparency in government
Meet the Manager
Thomas E. Brymer
Town Manager
Thomas Brymer has more than 30 years of experience in public management. He became Westlake's town manager in April 2008. As town manager, he also serves as the superintendent of Westlake Academy, the only municipally owned, open-enrollment charter school in Texas. Previously he was assistant city manager of Olathe, KS, and served as manager or assistant manager of other Texas towns. He has a bachelor's degree from Northern Illinois University and MPA from University of North Texas. Early in 2013, he was named Public Administrator of the Year by the North Texas Chapter of the American Society of Public Administrators.