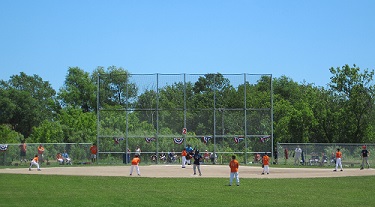 Cedarburg had never offered recreation programming before, but in October 2009, the town board directed Administrator Jim Culotta to create its first recreation program.
Until that time, Cedarburg residents paid annual taxes to support a shared service agreement for recreation with a neighboring city. They also paid a user fee for each program — essentially paying for the same service twice.
The board wanted Culotta to create a program that was cost effective and 100 percent self-supporting.
Since Cedarburg had never offered recreation programming before, it didn't own any athletic facilities or equipment and would have to start from scratch.
Research
Under Culotta's direction, the town's staff began with research to ensure the new program would meet residents' needs and maximize its chances for success.
Staff first surveyed residents and analyzed all recreational offerings in the area to identify the most needed activities, one of which was baseball/softball. Next, they performed a strengths, weaknesses, opportunities, and threats (SWOT) analysis to assess opportunities and pitfalls that could help or hinder the program.
Little League International Partnership
It became clear that the new recreation program had to become known quickly as a credible alternative to existing recreational opportunities in the area. A partnership with Little League International on the baseball/softball program, gave the town access to the organization's established credibility, name recognition, professional support, and resources.
Outreach
The town publicized the program to residents through all available channels — its government access station, website, newsletter, and e-mail bulletin, along with ads posted at local businesses and in the newspaper.
Construction: Using Available Resources
Now it was time to build the ball fields themselves. Taking advantage of existing resources, the public works department built the fields on vacant town-owned land, designing them to accommodate both levels of softball and three levels of baseball. By using its own land, the town saved money and ensured maximum flexibility in scheduling games. The town also partnered with local schools and a church to use some of their existing fields.
Sponsorship Campaign
Next came the challenge of generating non-tax revenues to make the program self-sustaining. The town developed an aggressive, three-tiered sponsorship campaign to appeal to local businesses, with levels ranging from less than $25 to $1,000, which entitled sponsors to advertising perks. The town also sold field and facility naming rights, which have helped enhance town ball fields and keep participant fees low.
Home Run!
As the saying goes, the program hit a homerun and is 100 percent self-sustaining. Since 2010, it has saved taxpayers $256,000 and generated more than $100,000 through sponsorships and donations.
The program, which is now led by Assistant Administrator Eric Ryer, has also gotten more kids involved. Program participation has grown more than 26 percent since its inception — in the first year of the program alone, 150 more kids played baseball/softball in the Cedarburg area than during the previous year. Ninety-three percent of those kids want to play again next season.
Parents have eagerly supported the program, acting as unpaid coaches to train and lead the kids.
The program's success has been recognized by the Wisconsin City/County Management Association's Outstanding Program Award and the Wisconsin Good Government Award.
Meet the Manager
Jim Culotta
Town Administrator
Jim Culotta served as Cedarburg's town administrator from 2006-2015. He is now the city administrator for Washington, IL. Previously, he was assistant to the village manager of Barrington, IL; director of administration and project manager of Fishers, IN; and senior tax analyst with the state of Indiana. He began his career as a research analyst with the National Association of Counties (NACo). He earned his bachelor's degree from St. Norbert College and a master's of public administration from George Washington University.