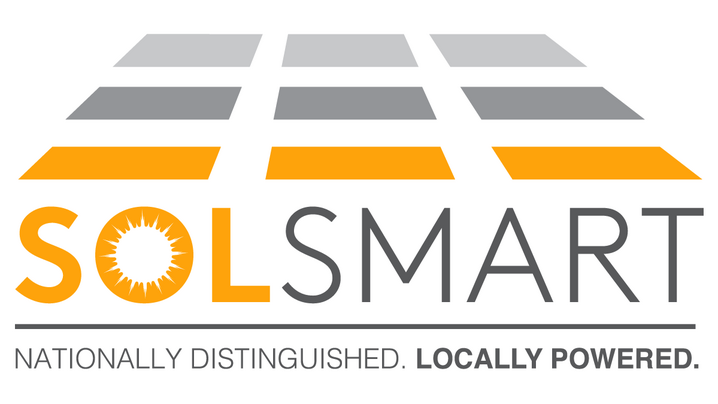 Key Project Information
Funder
U.S. Department of Energy
Period of Performance
-
Location
United States
ICMA's Role
SolSmart is a national designation program that recognizes communities that have taken key steps to address local barriers to solar energy and foster the growth of solar markets.
Project Details
In 2016, ICMA, in partnership with the U.S. Department of Energy (DOE) and The Solar Foundation, established SolSmart, a national recognition and a no-cost technical assistance program for local governments—driving greater solar deployment and making it possible for even more American homes and businesses to access affordable and renewable solar energy to meet their electricity needs.
Learn more about SolSmart & Apply
Local governments have tremendous influence over the prospects for solar energy growth. Unnecessary paperwork, red tape, and other burdensome requirements increase the cost of solar and discourage solar companies from moving to the area. By streamlining these requirements and taking other steps to encourage solar development, communities become "open for solar business." And since the solar industry is a leading source of American job creation, attracting solar investment in your community is a great way to promote economic development and new jobs.
Since the program launched in 2016, more than 360 cities, counties, and regional organizations nationwide have achieved SolSmart designation.
SolSmart Program Success
Take a moment to hear local government organizations share about how participating in SolSmart has benefited their operations and procedures, and as a result, their communities' businesses and residents.
How SolSmart Helps Your Community
SolSmart uses objective criteria to designate communities that have successfully met these goals at three levels. To help communities achieve designation, SolSmart provides no-cost technical assistance from a team of national experts who work with local governments to evaluate programs and practices that impact solar markets and identify high-prospect opportunities for improvement.
ICMA and The Solar Foundation have lead roles in the SolSmart Program. ICMA manages the designation process, while The Solar Foundation manages technical assistance. ICMA's role includes:
Promoting SolSmart to cities, counties, and towns through ICMA's outreach channels, including the ICMA website, social media, and conference sessions
Inviting communities to apply for the SolSmart designation by completing an online application
Evaluating applications for designation and awarding points based on documentation
Recognizing outstanding participants with special awards
Recognizing and publicizing communities that achieve the SolSmart designation
Learn more about SolSmart & Apply
For additional information, see the frequently asked questions on the SolSmart site, or contact admin@solsmart.org.
New, Reduced Membership Dues
A new, reduced dues rate is available for CAOs/ACAOs, along with additional discounts for those in smaller communities, has been implemented. Learn more and be sure to join or renew today!