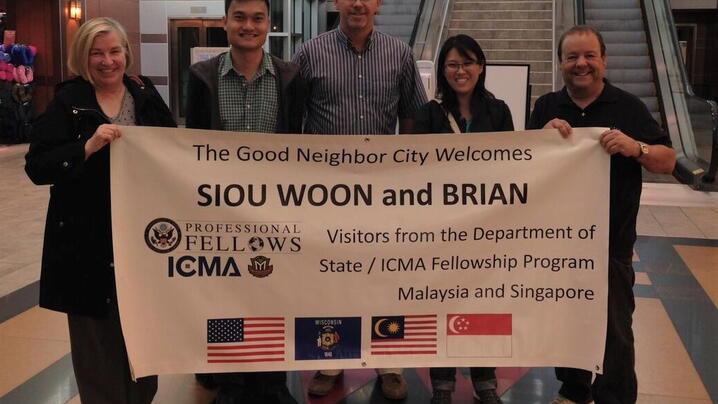 ICMA, with funding from the U.S. Department of State's Bureau of Educational and Cultural Affairs (ECA), offers the Professional Fellows Program--an opportunity for young professionals from Southeast Asia to learn about the legislative process and governance through a four-week fellowship. Fellows are part of the Young Southeast Asian Leaders Initiative (YSEALI), a program that enables young leaders from ASEAN countries to work directly with counterparts in local government offices across the United States to enhance their practical expertise, leadership skills, and professional contacts to address challenges and create new opportunities in their home communities. 
Fellows come from Brunei, Cambodia, Indonesia, Laos, Malaysia, Myanmar (Burma), Philippines, Singapore, Thailand, and Vietnam. The goal of the program is to create institutionalized long-term partnerships that support these emerging leaders and their institutions in the ASEAN countries and the U.S. to inspire change in creating responsive, open, and accountable governance.
Here are examples of participating host communities in the United States:
Albany, Oregon
Basalt, Colorado
Decatur, Georgia
Dubuque, Iowa
Iowa City, Iowa
Kennedale, Texas
Lee's Summit, Missouri
Pearland, Texas
Rocky Mount, North Carolina
Sugar Land, Texas
Tulsa, Oklahoma
Yellow Springs, Ohio
Participating host communities have an opportunity to apply for a two-week reciprocal exchange at the end of the program. Selected participants then travel overseas to spend approximately two weeks with their ASEAN counterparts on projects of mutual importance.
"The opportunity to work with the nation of Indonesia has been a chance for my organization to broaden their perspectives of municipal government responsibilities and focused it on our best practices. As City Manager, I personally have seen a new appreciation by my staff for the challenges of municipal government beyond our borders. I believe the continued opportunity to work with Indonesian counterparts allows me to grow professionally and obtain new ideas for use in my American city." – Mark Watson, City Manager, Oak Ridge, Tennessee.
ICMA works with the following
international affiliates
and partners to implement the program:
Please contact fellows@icma.org for more information.