Key Project Information
Funder
United States Agency for International Development (USAID) and Fhi360
Period of Performance
-
Location
Georgia
ICMA's Role
ICMA worked with the Ministry of Regional Development and Infrastructure of Georgia (MRDI) and the Ministry of Environment and Natural Resources Protection of Georgia, and municipalities to collaboratively analyze waste management assessments and best practices to prepare waste management strategies for Kakheti municipalities in line with the new requirements of national laws. Strategies emphasize timeliness, affordability, sustainability, and environmental impact.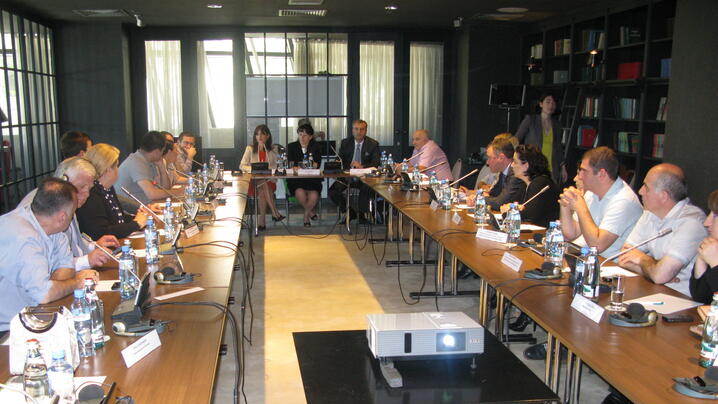 Project Details
In 2014, ICMA was awarded a four-year cooperative agreement under the USAID-funded CityLinks™ program to assist the Government of Georgia in designing adequate waste management and recycling systems in the Kakheti and Adjara regions.
To accomplish the goals of the project, the Waste Management Technologies in Regions, ICMA is set to implement pilot projects in selected municipalities to support a cleaner and healthier environment, minimize adverse impacts from waste on human health and natural resources such as air, water, soil, and biodiversity, and reduce greenhouse gas emissions from landfills.
Georgia has approximately 65 uncontrolled landfills covering 300 hectares (about 741 acres) of Georgian territory. Most of them fail to comply with international standards and do not include methane capture or waste-based energy production. Thus, the landfills emit greenhouse gases into the atmosphere.
In addition to these landfills, hundreds of unofficial dumpsites exist in rural areas where municipal waste services are inadequate or nonexistent. These rural areas face health and environmental problems due to improper waste disposal, including disposal along rivers and burning waste next to residential areas, both of which are harmful to the environment and human health. Recycling facilities are scarce and those in operation are small-scale, privately owned operations.
The Solid Waste Management Company of Georgia Ltd. was established by the Ministry of Economy and Sustainable Development in April 2011. Starting from the end of 2012 the company fell under the governance of the Ministry of Regional Development and Infrastructure (MRDI). The Company and MRDI plan to reduce the number of landfills from 65 to fewer than 10 and to close the small dumpsites and uncontrolled landfills through a gradual transition to established regional landfills.
Based on initial assessments in the two regions, the project is designed to work with local and regional authorities to develop an integrated waste management system that includes international sanitation standards, plans for efficient waste collection and transportation to landfills, separation of recyclable materials from solid waste and sorting by type and quality, and development of linkages between waste collection and recycling companies to ensure a consistent supply of recyclable materials by the landfill waste separation service. ICMA will provide technical assistance with the following objectives:
Promote the mitigation and sequestration of greenhouse gases from landfills
Support the growth of the recycling industry, initially in Adjara, by improving waste separation and assisting recycling companies to improve their technology, business practices, energy efficiency, marketing, and product quality
Minimize pollution of natural resources from landfills by closing old, illegal landfills and dumpsites, based on best practices for landfill remediation and closeout
Enhance public awareness of waste management issues; provide education on waste separation, recycling, and reusing; and ensure public participation in the decision-making and design process for the waste management system
Work with relevant governmental and nongovernmental entities to establish an appropriate tariff or fee for waste collection and disposal services to ensure a financially sustainable system
Establish systems and practices at the community level for composting, recycling, truck routing, and disposal of medical, hazardous, and construction waste.
An early step in the project was a meeting to consult with a group of stakeholders that included representatives of state-level institutions, government organizations, local nongovernmental organizations, private-sector partners, and international organizations.
After assessing local needs and capabilities, ICMA will establish CityLinks™ partnerships between municipalities in Georgia and cities or counties in the United States that can provide expertise and share innovative and practical approaches to environmental management, including solid waste collection and disposal, landfill siting, and recycling.
Throughout the project, ICMA will collaborate and coordinate with appropriate donors, government entities, and other stakeholders such as local communities, nongovernmental and community-based organizations, youth, and the private sector. Relevant government entities include the Ministries of Regional Development and Infrastructure, Economy and Sustainable Development, Energy, Finance and Environment, and Natural Resources Protection, as well as the Government of Autonomous Republic of Adjara (for activities in Adjara region).
Like other USAID programs, the project is designed to develop local capacity to manage services in the future. It includes a grants component to promote technological advancement and institutional development and build capacity of recycling companies and community-based organizations (CBOs) engaged in solid waste management and recycling. The program will also use the grants mechanism to fund CBOs and schools to purchase necessary materials to set up composting. Overall direction of the project will transition from expatriate staff to Georgian staff in year four.
JOIN ICMA TODAY!
ICMA provides the tools, resources and connections to help you become part of the international network of 13,000+ local government management professionals.