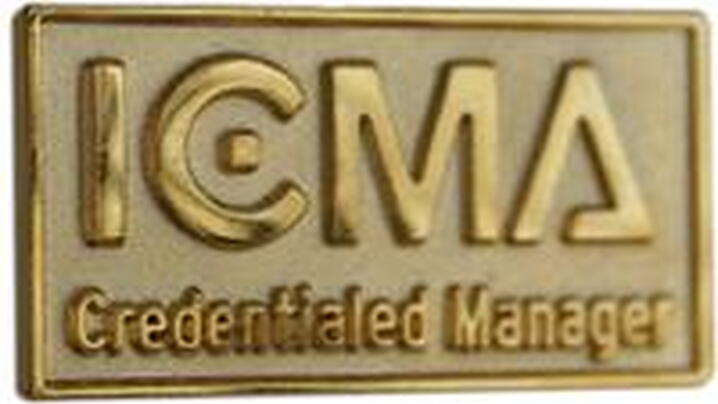 The ICMA Voluntary Credentialing Program recognizes professional local government managers qualified by a combination of education and experience, adherence to high standards of integrity, and an assessed commitment to lifelong learning and professional development. Managers are recognized by ICMA through a peer review credentialing process, and this self-directed program offers an opportunity for interested ICMA members to quantify the unique expertise they bring to their communities.
The program also assists ICMA members in focusing and reflecting upon their lifelong professional development experience. Members who participate in the program may earn the designation of ICMA Credentialed Manager granted by the ICMA Executive Board. ICMA Credentialed Managers are viewed with growing distinction by local governing bodies and progressive, civically engaged communities.
---
What Are the Benefits?
Recognition as a professional local government manager.
Quantification of the unique expertise you offer.
Demonstration of adherence to high standards of integrity.
Demonstration of commitment to lifelong learning.
Structured and focused professional development plan.
Peer review of professional development activities and learning.
Eligibility for Legacy Leaders Program.
Access to special workshops and other training for ICMA Credentialed Managers and Candidates, such as the ICMA Gettysburg Institute.
All of us know the importance of continuous learning. ICMA's Credentialing Program gives us an easy way to focus and structure that learning, as well as become involved in coaching younger managers. As members of ICMA, we are already required by Tenet 8 of the Code of Ethics to commit to at least 40 hours of professional development every year. This program encourages you to reflect on your learning, and receive feedback and recognition. Please consider beginning the process today and join your colleagues who are already credentialed.
---
What Steps Are Involved in the Credentialing Process?
Managers often ask whether they can make the time to become credentialed. The application process does not take a lot of time. Applying is quite easy, yet the benefits of the program itself are immeasurable. There are three simple steps:
1. Verify that you are eligible
Your work experience must be full-time and appointed, and your degree must be from a regionally accredited or DEAC (formerly DETC) accredited university.
You must also be a full member of ICMA.
Contact credentialing@icma.org if you're not sure. 
2. Complete the Management Assessment (formerly Applied Knowledge Assessment)
Your Management Assessment (or Applied Knowledge Assessment) results must be less than three years old to make an initial application.
3. Apply Online
Login at icma.org.
Click MY ICMA.
Click on the Credentialing tab and select Credentialing Apply/Renew.
Click Apply to complete the online application, including a professional development plan, before the deadline.
Navigating the Credentialing System Video
View the video tutorial on navigating the new credentialing system here.
---
What Are the Application Deadlines and Fees?
October 3, 2022
January 2, 2023
April 3, 2023
July 3, 2023
In addition to the $75 cost of the Management Assessment, the online application fee is $50. Paper applications are no longer available.
---
What Happens After I Apply?
The Credentialing Advisory Board will review your application within 45 days of the application deadline. For example, if your application is submitted before the April deadline, it will be reviewed by the end of May.
Recommended names will be printed in the Leadership Matters e-newsletter for member review by mid-June.
Approval will be granted by the ICMA Executive Board by mid-July.
Notification will be sent via e-mail by late July.
Online annual reports will be due every year after executive board approval of ICMA Credentialed Manager or Candidate status to renew your credential. Be prepared to provide at least one specific example of something you learned from each activity. Visit the Credentialing Resources page for frequently asked questions and a sample annual report.
Within the first five years of being in the program, you must complete a multi-rater assessment. If you cannot complete a multi-rater assessment for political or financial reasons, e-mail credentialing@icma.org so the Credentialing Advisory Board can help you devise another method of external feedback.
Click here for a full page of credentialing resources, including frequently asked questions about the multi-rater assessment requirement, PowerPoints, and previews.
Title: What Is the Credential Called?
ICMA-CM or ICMA Credentialed Manager. Initials or title can be used after the name on letterhead, business cards, or other professional documents.
How Are ICMA Credentialed Managers Recognized?
Members receive certificates or lapel pins by mail upon request to credentialing@icma.org. ICMA-CMs and Candidates are also invited to a special reception at the annual conference and are invited to attend special sessions and seminars during the conference and throughout the year. The online Who's Who record also indicates whether a member is an ICMA Credentialed Manager. 
How Do I Renew? 
Members are required to renew annually. This video tutorial will provide step-by-step instructions on how to access your credentialing history and renew your credential. The process is quite easy; just remember to submit your annual report before the due date. Questions? E-mail credentialing@icma.org or call 202-962-3504 (Star-Aisha Boyd).
What Happens After I Retire?
Retired members who have been credentialed for at least five years are eligible to become Retired Credentialed Managers. Retired Credentialed Managers do not have to submit annual reports unless they desire to retain the "active" credential. E-mail credentialing@icma.org to find out whether you are eligible.
Questions?
E-mail credentialing@icma.org or call 202-962-3504 (Star-Aisha Boyd).