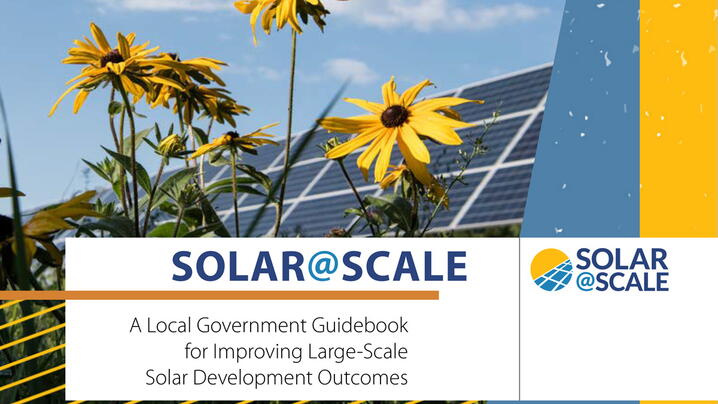 The purpose of the Solar@Scale guidebook is to help local government practitioners—including planners, economic development professionals, local government managers, and elected and appointed officials—make decisions that improve large-scale solar development outcomes. Given the variation between state and regional contexts and priorities in the United States, the guidebook avoids a "one-size-fits-all" approach. Rather, users will need to apply the guidebook's key points to the social, political, environmental, and economic situations in their community or the communities they serve.
This guidebook contains eight related, but semi-independent, modules and each concludes with key takeaways and a list of references and links to supplemental resources. Modules inside the guidebook include:
Module 1: Defining large-scale solar development
Module 2: Understanding the market for large-scale solar development
Module 3: Community planning for large-scale solar development
Module 4: Zoning for large-scale solar development
Module 5: Improving land-use decision-making for large-scale development
Module 6: Hosting large-scale solar development projects
Module 7: Assisting large-scale solar development
Module 8: Maximizing success
About Solar@Scale
Solar@Scale is a partnership between the International City/County Management Association (ICMA) and the American Planning Association (APA) that aims to help cities, towns, counties, and special districts understand and realize the potential benefits of large-scale solar development. For additional information about Solar@Scale visit icma.org/programs-and-projects/solarscale.