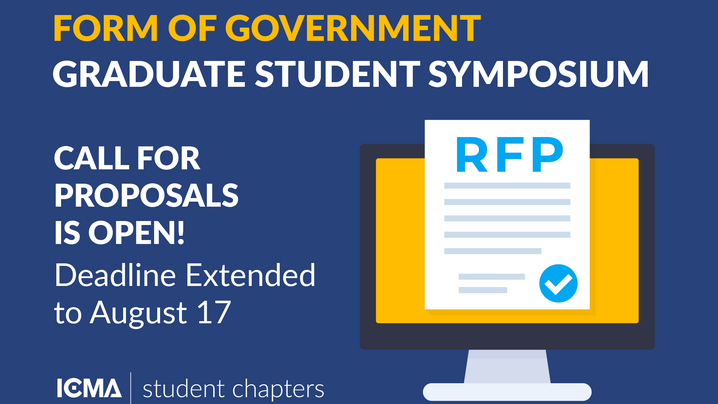 ICMA announces a call for proposals for a planned "Form of Government Graduate Student Symposium" to be held during the 2022 ICMA Annual Conference in Columbus/Franklin County, Ohio. This event will enable graduate students to submit papers or presentations that will help guide our understanding of the council-manager form of government.
The U.S. Constitution is silent on the establishment of local governments. And so, in accordance with the 10th Amendment, which reserves to the states all powers not granted to the United States or prohibited by the Constitution, states have the power to determine how local governments may be established and abolished. Due to the differences in state constitutions and state codes, local government structures (along with the powers conferred upon local governments and their officials) vary greatly throughout the United States – not only between states but even between local governments within the same state. Internationally, ICMA has engaged with several nations that have established various practices to enhance local autonomy to better meet the needs of the people. 
Central to the decisions regarding the local government's powers, authority, and structures at the local level is an emphasis on meeting public needs. Yet, what is often neglected in these policy discussions is a clear definition of the public. 
Does it include all people within a jurisdiction? 
Is it only those who vote? 
Does it include businesses and visitors or only residents? 
With the lack of clarity regarding who the public is, evaluating policy decisions meant to serve that public becomes particularly murky. Further, how does a jurisdiction establish a more responsive, equitable, and accountable form of government without a clear understanding of the public? Specifically, to whom is the government responsive and accountable, and how do we measure equity if we do not clearly understand who the local government is designed to serve?
As academics engaged in public policy and public administration, we would do well to clearly define what is meant by public in both theoretical and practical terms. To this end, ICMA is seeking papers that explore the concept of the public (or publics) and its particular importance at the local level. Papers may present specific research findings or explore theoretical concepts that help to unpack the idea of the public. 
Proposals are due by August 17, 2022, and should be no more than 800 words in length (excluding bibliography) to ecooper@icma.org
Define the concept of the public(s) theoretically and practically. 
Discuss the importance the concept of the public(s) plays at the local level. 
Provide a 60-word abstract that engages attendees and demonstrates how defining the concept of the public(s) will benefit policy decisions. 
Clearly articulate the methodology and any hypotheses/findings to be addressed in the paper/presentation.
This is an opportunity for graduate students to engage with practitioners, academics, and other graduate students as we collaborate to find ways to improve the quality of life of communities through effective government administration.
Individuals whose proposals are selected will be notified by August 24, 2022.
Accepted papers and presentations will be published online at icma.org,
Authors/presenters will have the opportunity to present their research to ICMA members during the ICMA Annual Conference in September 2022. (ICMA will provide travel and lodging scholarships to accepted authors/presenters.)
Papers will be considered for publication in ICMA's PM magazine.
Individuals with questions can email ecooper@icma.org.