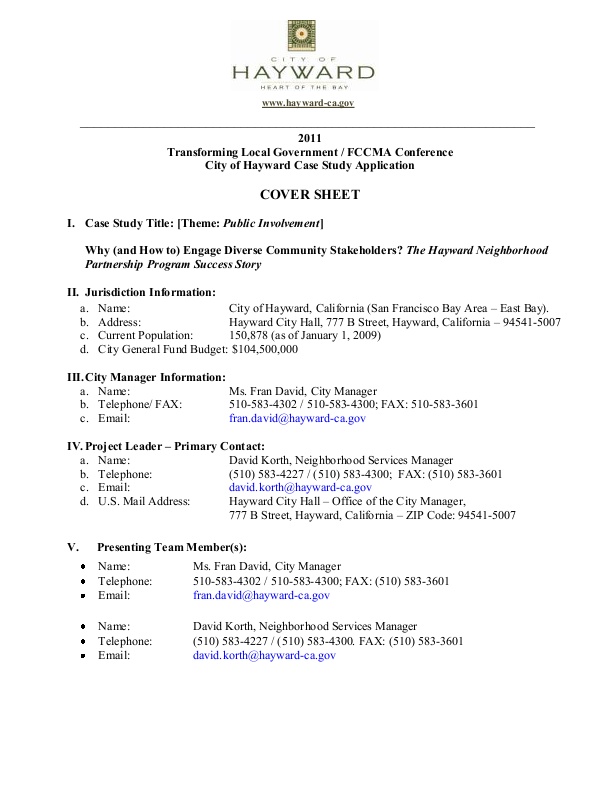 The Hayward Neighborhood Partnership Program changes the way in which City officials and community members relate to one another. That is, from one where the role of the City is primarily limited to that of a "service provider". While often an appropriate and necessary role, the Neighborhood Partnership strategy has local government officials (at all levels of the organization) to also be conveners, conduits, brokers, catalysts, leaders, and partners.
The Hayward Neighborhood Partnership strategy changes the traditional transactional interaction between City representatives and constituents to one that is capacity building in nature. Through well-established neighborhood partnerships, both community members and the City as an organization build the capacity to share responsibility for the welfare of the community – something that is particularly important to do in an austere economic environment.
As federal, state, and county governments face increasing economic challenges, local communities are required to find ways to more independently address their community needs. The point of the Hayward Neighborhood Partnership Program aimed at utilizing available City resources (i.e., money, knowledge, skills, equipment, supplies, time, etc.) strategically. It is an approach designed to get the "best bang for the buck" by using the full force of various City resources in targeted neighborhood locations for limited periods of time – in partnership with other community stakeholders. It is a comprehensive, neighborhood-focused, approach that recognizes that the City cannot (nor should it in principle be required to) meet all of the community's needs alone. It provides neighborhood stakeholders an authentic voice in what City priorities need to address, as well as opportunities to be part of the solutions to the many community problems and challenges they face.