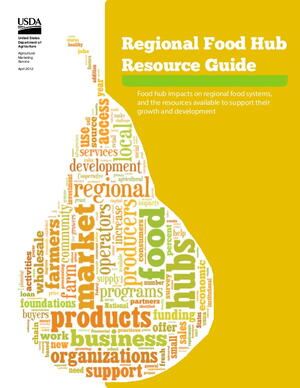 The target audiences for this guide are food entrepreneurs and their supporters  who are interested in starting food hubs and operators of food hubs who are interested in expanding. This guide will also help philanthropic foundations, public agencies, lending institutions, and economic development organizations understand the nature, function, and operating models of food hubs, helping them to engage hubs in their areas. Both newly established and more seasoned regional food hubs have expressed certain needs as they start or grow their business. This guide addresses some of those needs by answering a number of frequently asked questions, including: 
What is a regional food hub? 
What kind of impacts are regional food hubs having in their communities? 
What are some of the barriers impeding regional food hub growth and how might they be addressed? 
What financial resources are available to support regional food hub development?

In order to answer these and other relevant questions, this guide is organized into four main sections:
Clarifying the regional food hub concept
Regional food hub impacts
Economic viability of regional food hubs, barriers to growth, and strategies to address them
Resources available to support regional food hub development
Taken as a whole, this resource guide is designed to give readers a greater understanding of what regional food hubs are, their impacts, strategies to assist their success and growth, and direction on where to find
financial resources to support them. It should be noted that this guide is not intended to provide a blueprint for starting or expanding a food hub operation. That is a much more technical and place-based endeavor that would require a greater level of tailored strategies and plans than is appropriate to offer here. Over time, however, the intention of the National Food Hub Collaboration is to continue to gather information on best practices and lessons learned so that we can augment the information currently contained in this guide and provide additional resources that will further support the development of regional food hubs.
Another helpful resource is USDA's Food Access Research Atlas, which provides food access data for populations within census tracts. The Farmers Market Search is also a handy tool to identify farmers markets in and around your community.