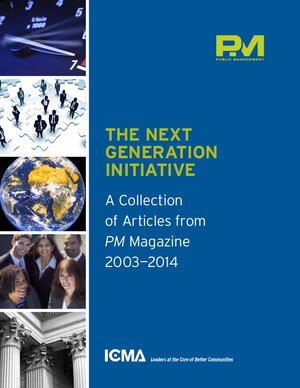 At the 2008 ICMA Annual Conference in Richmond, Virginia, ICMA released a collection of next generation articles published in PM Magazine. This collection includes an introduction by Dr. Frank Benest, ICMA's senior advisor on Next Generation Initiatives, with articles appearing in PM magazine from 2003 onward. Articles are added annually and it is currently up-to-date to August 2014.
This collection addresses three critical questions facing local governments and the profession:
1. How do we accelerate the development of those already in the local government pipeline.
2. How, as senior managers, can we capture existing institutional knowledge and transfer it to the next generation of professionals before we exit local government?
3. How do we attract young people into the local government pipeline?
The PM Collection is part of ICMA's ongoing efforts to prepare the next generation of local government managers.