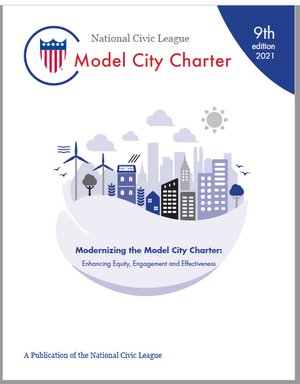 The Model City Charter is used by hundreds of cities to guide their charter language and governance structure. The newly released Ninth Edition continues the National Civic League's tradition of recommending the council-manager form of government. The new edition also includes a new emphasis on civic engagement and equity, along with other changes listed below.
The National Civic League began a revision process for its Model City Charter in November 2020. First published in 1900, this effort is the first full revision of the document since 2000. The process was led by a Steering Committee of 22 national representatives and experts.
Key Changes to the Model City Charter
Equity: The Model incorporates the need for social equity throughout the document, providing a guide for cities to use in their own revisions, and includes an appendix with further discussion on the need for equity measures and how cities might address it.
Public Engagement: The new edition stresses the importance of community engagement in local affairs, with an article describing principles for meaningful participation/engagement and how these principles can be reflected both in a city's charter and in other operational structures.
Elections: The new edition encourages the direct election of mayors and discusses options for council elections for cities of different sizes and demographics. The Model also recommends local elections be in November of odd years, with discussion to allow for alternatives.
City Managers: The introduction adds new commentary on the role of city managers as innovators and non-political facilitators of partnerships among city government, nonprofit groups, and community/resident groups, and underscores the accountability of the professional manager to the council and public.
City Attorneys: The Model seeks to clarify the role of the city attorney as the sole legal officer for the city as an organization and not to the council, manager, or agencies of the government as separate clients.