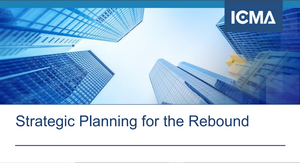 PowerPoint Presentation/PDF Slides
This presentation addresses the key considerations and factors for re-opening and utilizing community assets as a piece of your community recovery strategy.
Presenters:
Listen to the podcast at Local Gov Life
Get the latest Coronavirus news and resources at ICMA's website.
Get more content on the topic of COVID-19 in your mailbox!