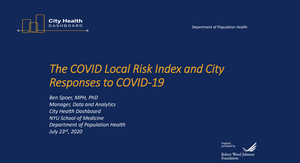 PowerPoint Presention/PDF
This presentation focuses on the City Health Dashboard's new COVID Local Risk Index, a new measure of COVID risk and severity for cities - and neighborhoods within them-that provides this needed granular data.
---
Get the latest Coronavirus news and resources at ICMA's website.
Get more content on the topic of COVID-19 in your mailbox!