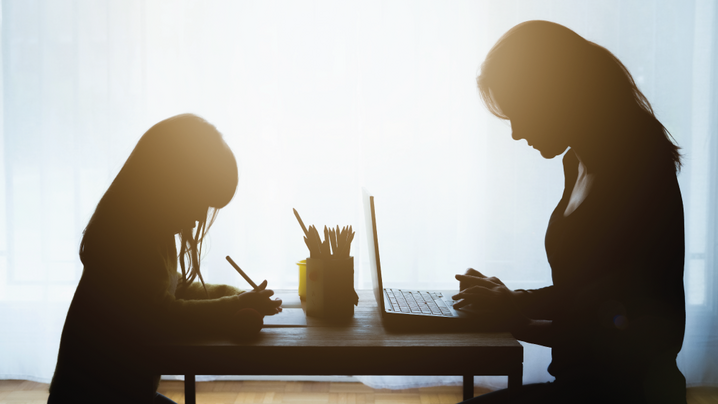 In a poignant section of Richard Russo's novel Nobody's Fool, two of the main characters, Ruth and Sully, argue about who was at fault in a non-fatal tragedy involving Ruth's (and possibly Sully's) daughter. When confronted with the accusation, Sully plays the only card he can think of, declaring that the incident cannot be blamed on him because he could not possibly be in two different locations at the same time. He was not there when the event happened. 
Ruth was having none of it.
She'd let this statement hang there until the words themselves began to form, like skywriting in the air between them. "I know you weren't Sully," she told him, lowering her gruff voice like she always did when she was about to deliver a direct hit. "But when was the last time you were there for anybody that needed you."
As the pandemic rolls on, challenges for working families continue, many of them trying to balance the need to be in two places at once.  Unlike Sully, local government managers are looking for strategies to help overcome this need for bilocation, not only for their organization's frontline and public safety workers, but also other working families and single parents in their local economy facing the same issues. 
A Challenging Time
Childcare, supplemental education, and afterschool programming are services often provided by the private sector or nonprofit organizations.  Those organizations that have made it through the initial economic onslaught of the pandemic are struggling to remain afloat.  According to the U.S. Department of Labor, more than 300,000 childcare workers have lost their jobs since February 2020. Other challenges include increased costs for public health requirements and social distancing rules that limit the number of children that may be allowed, according to a survey by the National Association for the Education of Young Children.
CARES Act resources were allocated for childcare providers. Like other small businesses, childcare providers are eligible for Paycheck Protection Program loans.  Other additional resources were included specific to childcare providers, including an additional $3.5 billion for the Childcare and Development Block Grant program for entities that accept subsidies. In some communities, additional programs have spun up to ensure local solvency of childcare and early education centers.
In Allegheny County, Pennsylvania, investments from national and regional foundations capitalized a grant program for childcare and early education providers that are impacted by the pandemic and economic downturn. Foundation partners include the Hillman Family Foundations, Richard King Mellon Foundation, Pittsburgh Foundation, and Heinz Endowments.
In Washington, DC, a group of several philanthropic entities, including the Bainum Family Foundation, A. James & Alice B. Clark Foundation, Esther A. and Joseph Klingenstein Fund, the J. Willard and Alice S. Marriott Foundation, and the Richard E. & Nancy P. Marriott Foundation, created a funders network to support more than 115 daycare providers in the DC region.
This economic distress in the sector adds an additional level of complexity for local government leaders, who have identified the lack of supervisory support as an acute issue in their communities.  This challenge is particularly acute as K-12 education is starting the school year, with many districts using full or partially virtual strategies that may keep students home on all or some days of the work week.
Repurposing People and Places
Early in the pandemic, localities quickly moved to repurpose closed facilities as locations for childcare and other related services.  Facilities such as libraries, community centers, schools, and other temporarily closed facilities were converted to childcare and early education locations for first responders and essential workers.  Similarly, temporarily closed facilities such as the YMCA, church properties with industrial kitchens and larger spaces suitable for distancing, and other nonprofits pivoted to offer up their locations for acute childcare needs.
In some places, the innovations of March are leading to continued, or even longer-term, programming.
According to Spearfish, South Dakota, administrator Michael Harmon:
During the early stages of the pandemic, we converted several spaces in our recreation center to facilitate childcare services.  We asked rec staff who were no longer serving our rec center customers to staff the daycare, given many had appropriate training. The model worked so well, we decided to make some of the changes permanent. We issued an RFP looking for a public private partnership to provide childcare service in our facility. I am proud of the innovation and believe we are helping fulfill a major community need, while bringing an additional revenue source to our rec center.
As of this article's writing, city of Spearfish was seeking approval from the city council for the selected provider. Administrator Harmon expects the project to fully transition to the providing organization in September 2020.
The town of Vienna is offering a distance learning center for the town's employees.  According to Leslie Herman, the town's director of parks and recreation,
The distance learning center will be held at the Vienna Community Center, Monday through Friday, from 6:30am to 5pm.   The program will provide supervision and limited academic support.  There will be planned recreational opportunities throughout the day.  Safety will be the utmost priority.  The DLC program will be closed on all town holidays. The VSS State Licensing Exemption allows the town to hold a school age program, in a government building, operated by local government.
The Covid Sitters Network is a growing movement started by medical students who wanted to help their peers already in the profession.  The program, which started in March, has expanded across the nation to more than 20 locations and is still growing.
Several local governments are implementing distance learning support programs.  Fairfax County, Virginia, is offering a new initiative—Supporting Return to School (SRS)—at 37 schools in the county. The program is focused on kindergarten through sixth graders providing a full day of services for parents in need.  The program will include a full day of support programming for distance learning, as well as meals and recreational activities. 
Howard County, Maryland, is offering a similar program, RecZone, to help families with the childcare and distance learning support.  The program is run by the county's parks and recreation department.
Identifying Providers
Finding openings for childcare and other related services was tough and expensive even before the pandemic. Many of those same challenges continue, even as organizations have pivoted to reframe services and offerings.
Allegheny County, Pittsburgh, and various partners are working with support from the Heinz Foundation, nonprofit organizations, and private firms to shore up the childcare sector in the greater Pittsburgh region. One output of the project is a digital platform, Allegheny Child Care, that enables local users to search for home- and center-based childcare in the metropolitan region.
Childcare Aware of America supports the operation of more than 400 "childcare resource and referral" registries across the United States.  The service provides access to local childcare resources and information and keeps up-to-date information about openings with centers and household providers. Different states are offering other programs to help workers identify childcare, afterschool, and other early education programs.
Other resources and search engines for various states are available in a system run by the Afterschool Alliance, as well as from a detailed databased maintained by the Hunt Institute.
Several apps that had been in existence for normal times have pivoted to be even more supportive of essential workers and other working families.  Many of these firms also work with employers to identify acute needs for care that are the result of the pandemic and recently the full or partial remote learning of K-12 education in many communities. There are apps that help families locate childcare, preschool options, babysitters, childcare pods, distance learning support, adult care, homebased services, and more. Many of the companies behind the apps are also working with employers to design benefit programs for their staff.  Figure 1 provides some links to various apps and websites that are providing services to essential workers and employers.
Internationally, entities have created tools to help their populations. An app and web-based program in France matches volunteers with frontline workers or vulnerable populations that need help. Similar to apps in the United States, Koru Kids, connects parents and nanny providers in the London area. NannyFy in Spain connects families with different needs to vetted providers.
 
Figure 1: There's an app for that
Winnie helps families locate childcare and preschool options using simple zip-code-based searches.  The site also enables users to search for providers that can support working families with distance learning support.
Sittercity allows families to post jobs and receive inquiries from sitters, nannies, tutors, and other services.
Helpr provides parents with information on vetted babysitters and other childcare providers.  The company also offers a range of services to create childcare options as a benefit package for companies.
Komae is a childcare cooperative app that helps groups of family identify "pods" of childcare and other similar needs. The company has also created a program for essential workers and first responders that can be operationalized by employers.
Care.com provides parents and families with numerous options for identifying care for a variety of needs, including child, adult, distance learning/home schooling, special needs, and even pet care.
Kinside works with parents to find the care they need and with employers to develop solutions for their employees.
NeighborSchools connects people to home daycare early education providers like the way AirBnB links customers to the short-term housing.
WeeCare like other apps connects parents and families with different kinds of providers in their community. 
MyVillage helps people find home-based early education services.  The company also helps entrepreneurs to set up and establish MyVillage education centers in their homes.
Pandemic Pods and Micro-Schooling
Another idea emerging, especially in places where virtual learning has been mandated, is the "pandemic or learning pod."  There are some apps that exist; however, many families are using social media pages to identify small cohorts of students and families that can share responsibilities for monitoring the educational needs of the group.  Various organizations are starting online systems to help parents form "nano" or "micro" schools.  Available apps and systems offered by Schoolhouse, and learningpods.com are helping to connect parents who want to form nano-schooling for their children, while their districts may be fully or partially using distance learning.
The idea of a "learning pod" is not without its critics, as there are concerns about the equity of this solution and its availability for lower-income families, as well as issues of some teachers/educators potentially being "hired" as in-home tutors during the school day. There is also concern about students with special needs or ESL students who may be particularly vulnerable during a prolonged distance learning environment.
In various places, school districts, nonprofit organizations, and local governments are exploring ideas for learning pods for vulnerable students.  At least one district in the Denver metro area is setting up learning pods for students in their district, 40% of whom are eligible for subsidized meals. Also near Denver, the Edgewater Collective, a small nonprofit is also exploring options for learning pods for low-income families.
In Memphis and Shelby County, Tennessee, in partnership with the YMCA, a plan is being developed for parents that need childcare but are not considered essential employees. Project partners are working to identify more sites where students in groups under 10 can gather to log into online classes while their parents are working. The goal is to provide additional space for 10,000 students across the county. The district is also partnering with churches to increase their Wi-Fi bandwidth as potential locations for distance learning pods.
The Boys and Girls Clubs of St. Joseph County, Indiana, in partnership with the South Bend Empowerment Zone, South Bend Community School Corporation, and the City of South Bend Venues Parks & Arts is offering a key program to support e-learning and daycare monitoring.  The initiative is a full-day program with drop off hours convenient for a typical workday. Services include help with technology, internet access, assistance with class assignments, recreational activities, meals and snacks, and general supervision.  The program has a nominal fee of $25/week per child.
Some socially minded families have started crowd funding sites to help raise revenue to cover the costs of learning pods for essential workers.  While in other locations (Indianapolis, Indiana, and Marin County, California) school districts and city governments are being encouraged to provide some in-person services for at-risk and vulnerable students, including that those that may be experiencing homelessness or living in shelters.
Overcoming the Need to Be in Two Places at Once - Local Policy and Program Ideas
Quantum entanglement theory hypothesizes that very small particles like electrons may in fact be capable of "being" in two place at one time.  However, until quantum physicists learn how to make it possible for people to be in two places at once, systems and services are needed to help working parents be in one place, while their dependents are cared for, educated, or supervised in another. 
Childcare during the pandemic for working parents, including those providing frontline, public safety, and other essential services, is presenting many with the paradox of bilocation, the absurdly impossible need but inability to be in more than one place at the same time.  Unlike the Sully character referenced in the introduction, simply stating that they were not there or cannot be there is often not an option for essential workers and others.
As has been the case so often the past six months, local and state governments, nonprofit organizations, and motivated parents are all working hard to identify solutions appropriate for this unprecedented landscape.  Ideas for managers to consider might include a few of the summarized options below. 
Finding New Purposes for Public Facilities. Consider repurposing facilities to provide daycare, afterschool care, and distance learning support for working families and/or children of vulnerable populations.
Leveraging Facilities of the Community. Identify local nonprofit, ecumenical, or even private sector organizations that can provide similar repurposing of their facilities for working families and school age children in full or partial virtual learning environments.
Increase Awareness of Online Services. Ensure that your employees, as well as local families, are aware of any online services, such as those offered by Childcare Aware, to help your staff and stakeholders find longer term or emergency childcare, afterschool programming, or distance learning support.
Leverage State Programs. Make sure your employees and your community's employers and families are aware of programs and wayfinding systems that may be offered by your state for purposes of connecting customers with providers.
Go Hyper-Local with a Matching Program. Consider working with local and regional community foundations, philanthropic organizations, and nonprofit organizations to establish a hyper-local system for matching providers with families in need of child-centered support.
Increase Staff Awareness of Potential Apps. Provide information about available apps and online systems to your employees, ensuring that the technology solution covers your jurisdiction and/or the surrounding region from which employees may commute.
Explore New Partnerships with App-Based Services. Connect with technology companies to see what specific programs related to childcare, afterschool programming, and distance learning they may be able to offer your staff as well as the local community.
Local Government Learning Pods. Consider establishing low- or no-cost learning pods for your frontline, public safety, and the other essential employees on your staff who may not be able to work remotely.
Vulnerable Population/ESL Learning Pods. Consider working with the local school system and other organizations to develop ESL learning pods for any vulnerable segment of your population.
Small Business Support Learning Pods.  Consider working with the local school system and other organizations to develop ESL learning pods for the families of small business and other challenged elements of your local economy dealing with acute needs for daycare, afterschool programming, or distance learning support.
Wi-Fi Asset Management. Identify and maintain a list of public sector and willing community locations with Wi-Fi that potentially can be used for distance learning support to vulnerable populations.
Elevate Awareness.  Ensure that your local network of daycare, afterschool, and distance learning providers are taking full advantage of any public sector funding to support their operations and increased expenses for health and safety.
Leverage Local and Regional Philanthropy.  Identify potential local funders to help support any financial needs for the local ecosystem of providers, particularly those that support vulnerable populations in the community.
To assist members and local government leaders in responding to these urgent needs, ICMA is collecting additional examples of innovative programming in development or operation to support working families. Use this short form to tell us what your community is doing!
New, Reduced Membership Dues
A new, reduced dues rate is available for CAOs/ACAOs, along with additional discounts for those in smaller communities, has been implemented. Learn more and be sure to join or renew today!