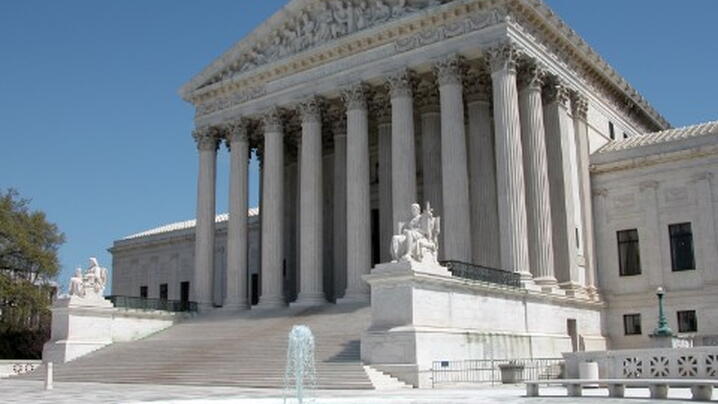 In CVS Pharmacy v. Doe, the U.S. Supreme Court will decide whether disability disparate impact claims may be brought under Section 504 of the Rehabilitation Act and, therefore, under Section 1557 of the Affordable Care Act (ACA). In an amicus brief, the State and Local Legal Center (SLLC) asks the Supreme Court to rule that such claims cannot be brought.   
The Does are individuals living with HIV/AIDS who rely on employer-sponsored health plans for their medications. Per their prescription plan, to receive "in-network" prices they can only obtain specialized medication via mail or pick up at a CVS pharmacy. This means they must "forego essential counseling and consultation from specialty pharmacists."
The Does sued CVS for disparate impact disability discrimination under the ACA.
Section 1557 of the ACA prohibits federally funded health programs from discriminating based on race, color, national origin, sex, age, or disability. Section 1557 of the ACA incorporates the anti-discrimination provisions of various civil rights statutes including, for disability, Section 504 of the Rehabilitation Act. So, to be able to sue for disparate impact disability discrimination under the ACA it must likewise be possible to sue for disparate impact disability discrimination under the Rehabilitation Act.
As CVS notes in its certiorari petition, the Supreme Court "expressly left open whether . . .  the Rehabilitation Act, provides a disparate-impact claim for disability discrimination" in Alexander v. Choate (1985). The Court agreed to decide that question. The Ninth Circuit assumed that disparate-impact claims could be brought under Choate, stating "the Supreme Court concluded that not all disparate-impact showings qualify as prima-facie cases under Section 504." 
Section 504 of the Rehabilitation Act applies to all states and local governments that receive federal funds.
In arguing that disparate impact claims shouldn't be possible, the SLLC amicus brief points out "because federal funding is conditioned on compliance with § 504, expanding the Act to include disparate-impact liability would threaten to deprive state and local governments of critical federal funds without any proof of purposeful discrimination."
The brief also argues that expanding liability is unnecessary because "existing federal and state legal schemes either expressly provide for disparate-impact claims or have been interpreted to support such claims. In contexts ranging from schools to land use regulations to prisons, disabled plaintiffs have ample avenues for relief available to them."     
The SLLC amicus brief was joined by ICMA, National Conference of State Legislatures, National Association of Counties, National League of Cities, U.S. Conference of Mayors, International Municipal Lawyers Association, National School Boards Association, and National Public Labor Employer Labor Relations Association.