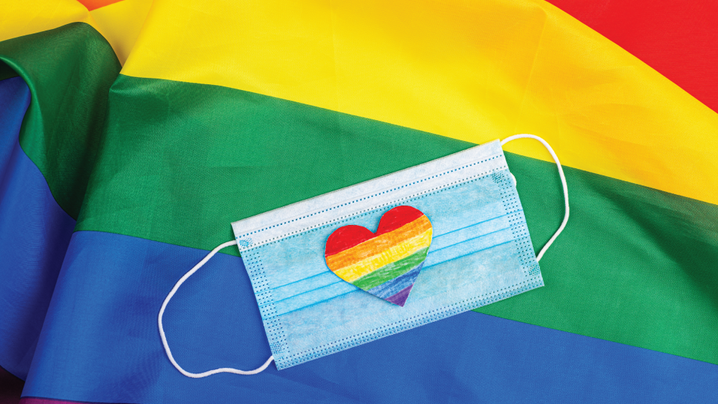 Everyone's experiences in the COVID-19 pandemic are different, and while the virus does not discriminate, we know our systems do. Systems like healthcare, schools, politics, housing, food security, and employment are all deeply rooted in white supremacy and oppression and it is in times like these when the disparities are most visible. So, what happens when an indiscriminate virus walks into a biased society?
While it is still too soon to know the long-term impacts, here are a few ways that COVID-19 is hitting the LGBTQIA+ community differently:
Socialization
While the pandemic is a defining time in our lives, it is a difficult time for us to be defining ourselves. When coming out to their community, it is common for people in the LGBTQIA+ space to experience a form of rebirth that might come with a new orientation, image, and even a new name. Newborn queers must be socialized into society, to make sense of their new identity and how they fit into the world. A lot of this work centers on routine—the beauty regimen, where we go out, who we talk to. However, distancing in a pandemic deprives us of formative and affirming experiences like having the proper pronouns used and being called by the correct name. Socializing with friends is especially important for people who experience rejection/stigma at home and/or work. Furthermore, falling out of routines can agitate feelings of dysphoria and stunt feelings of acceptance with ourselves and others.
How you can help:
Help normalize the use of pronouns.
Include your pronouns in your email signature and social media account in a friendly format like this:

Taylor Reimann
Assistant to the City Council
(Pronouns: She/Her/Hers) What's This?

Struggling to remember your friend's pronouns? Save their name in your phone with their pronoun, that way every time you see their name pop up on your phone you're reminded of their proper pronoun. For example, my name would be saved like this: Taylor (she) Reimann.
Support LGBTQIA+ friendly businesses. Try using a directory like PinkSpots, GAYBORHOOD, and Gay Pages; and do not support businesses that speak against LGBTQIA+ rights and donate to anti-gay movements.
Always stand up for people, LGBTQIA+ or otherwise, if they are being harassed because of their identity.
Shelter in place
The economic reality from COVID-19 means that LGBTQIA+ people are more likely to struggle with shelter-in-place and its financial implications short-term, with a more difficult recovery on the horizon. In times of crisis, it is common for people to fall back on family as a support system. However, queer people that experience social stigma are more likely to be rejected from their family and ultimately face homelessness, particularly queer youth. According to a recent report from the Williams Institute, LGBTQIA+ adults ages 18-25 have a 2.2 times greater risk of experiencing homelessness than non-LGBTQIA+ young adults. With widespread discriminatory practices still in place, housing and homeless services do not offer as much reprieve either. Social rejection often persists into adulthood, and today queer seniors are more likely to live alone than non-queer seniors.
How you can help:
Health disparities
Since there is much overlap between the experiences of different minority groups, it is important to think about issues, such as health disparities, with an intersectional lens. Early data from the pandemic demonstrates that people with preexisting illnesses like asthma and diabetes are less likely to survive COVID. After decades of living in poorer neighborhoods near polluting factories, insufficient access to healthy foods, and facing aggressive strategic tobacco ads targeting LGBTQIA+ and low-income minorities, it is not shocking that research shows LGBTQIA+ and low-income minorities are more likely to have these preexisting illnesses, compared to non-LGBTQIA+ peers. At this time, there is almost no one collecting gender and sexual orientation in their COVID data, but early COVID research shows that people of color make up the majority of fatalities in communities where they hold a minority in the population. Furthermore, queer people and low-income minorities statistically have less access to healthcare, and less or no paid leave to take care of loved ones.
Second, due to social stigma, discrimination, and oppression, both youth and adults in the queer community are statistically more likely to experience mental illness and experience suicidality, compared to their non-LGBTQIA+ peers. People in the middle of a gender transition/reassignment process will have to put things on hold, and uncertainty around this process can aggravate preexisting mental stress.
How you can help:
Find out if your public health agency is tracking SOGI data (sexual orientation, gender identity data) in your area, and if they do not, write to your local leaders and urge them to start.
Donate to one of the COVID emergency response funds on this list.
Take Action - The 500 Women Scientists organization provides dos, don'ts, and resources on how to support #blacklivesmatter, a movement created by queer black women.
Dr. Fauci is our ally
This is not the first time that Dr. Anthony Fauci has appeared as a knowledgeable, respected, and vocal figure in a public health crisis. In the early 1980s, Fauci was one of the first to support HIV/AIDS activists demanding more research and protesting clinical trial rules that were preventing patients from pursuing potentially life-saving treatments. He not only helped restructure these rules, but also used his political clout to encourage the necessary attention and funding that eventually led to development of more life-saving treatments.
Talk more about LGBTQ+ issues related to COVID-19 by heading over to ICMA Connect to keep the conversation going.
Taylor Reimann is assistant to the city council, Boulder, Colorado, and secretary of CivicPRIDE.
New, Reduced Membership Dues
A new, reduced dues rate is available for CAOs/ACAOs, along with additional discounts for those in smaller communities, has been implemented. Learn more and be sure to join or renew today!